How to Use Appointment Types
An Appointment Type represents a booking calendar. The settings here outline your availability schedule and the rules for your booking calendar.
At the basic level, you'll be able to set:
When you're available for that Appointment Type
How and when your clients can book on your calendar
What information you'll need to collect from clients for the appointment
But, depending on your integrations (Google Calendar sync, Mailchimp, Payments), you'll see more tabs and options here.
To get to these settings, go to Appointments > Appointment Types > Select one from the list or Add New.
---
Independent Availability
By default, all of your Appointment Types are dependent on each other. That means when someone books a time slot for one of your Appointment Types, all other Appointment Types block off that same time slot.
This is because the plugin assumes a single person is managing multiple service calendars, and they wouldn't want double-bookings between them.
If you need each Appointment Type to be independent and have its own schedule, turn on the Independent Availability option.
---
Basics
General information about this type of appointment.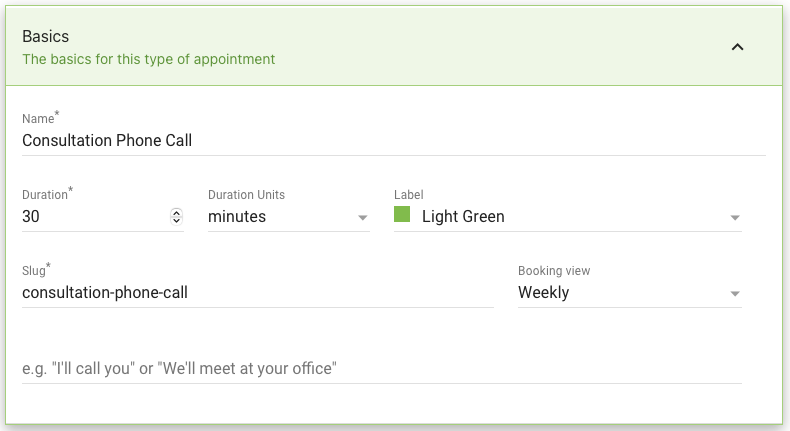 ---
Availability
When are you available for this type of appointment?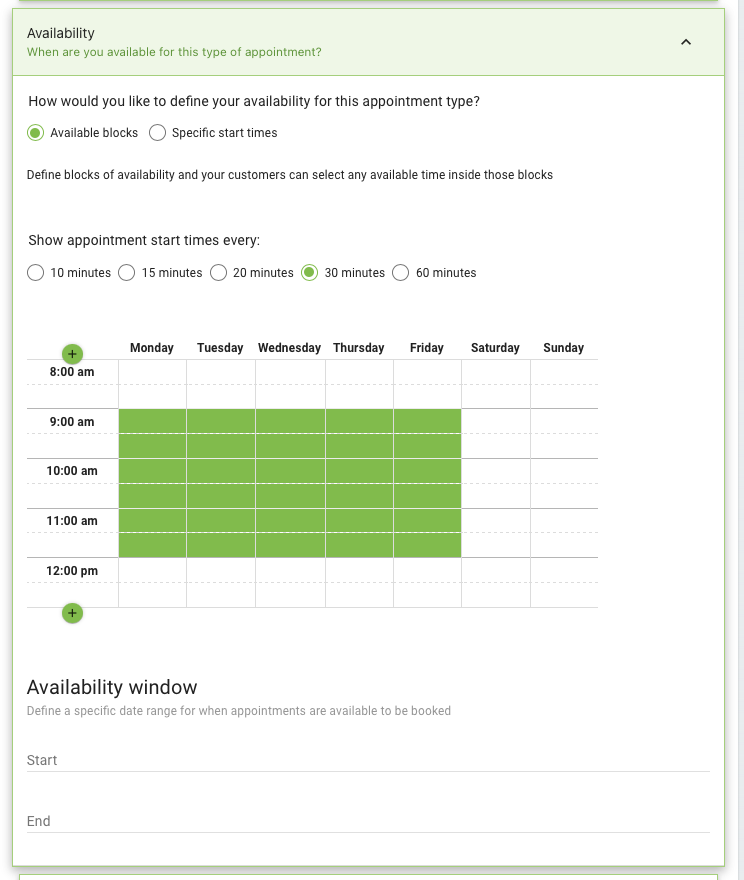 ---
Team Members
Which team members can take appointments of this type?
Available in the Business Edition only.
---
Capacity
How many customers can book at the same time?
Available in the Plus, Pro, and Business Editions.

Find more information on how this setting works in our Capacity guide.
---
Scheduling Options
Rules about how and when people can schedule this type of appointment.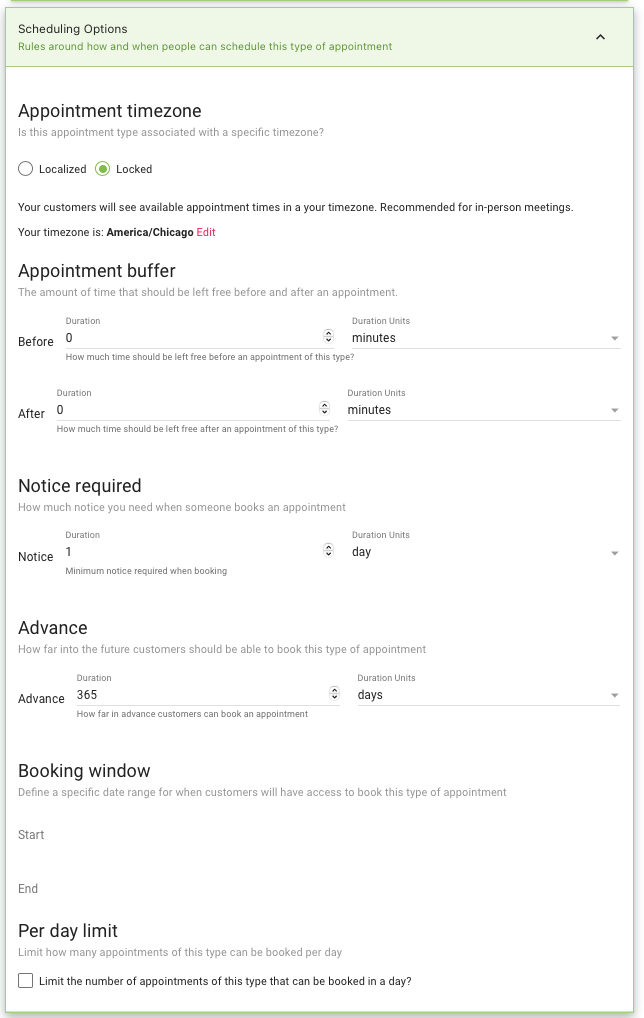 ---
Payments
Take payments at the time of bookings.
Available in the Pro and Business Editions.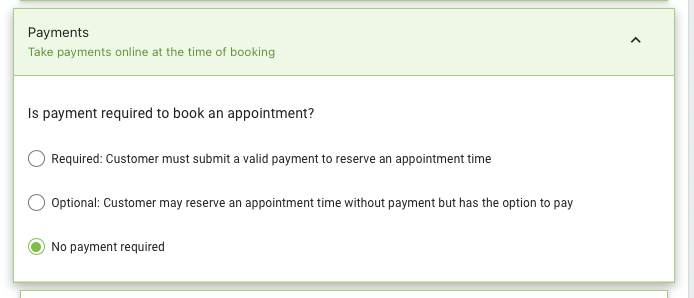 ---
Google Calendar
Available in the Plus, Pro, and Business Editions.
This tab lets you choose whether you'd like to sync this appointment type with your Google Calendars.
Visit the following guides to help you get started with Google Calendar sync: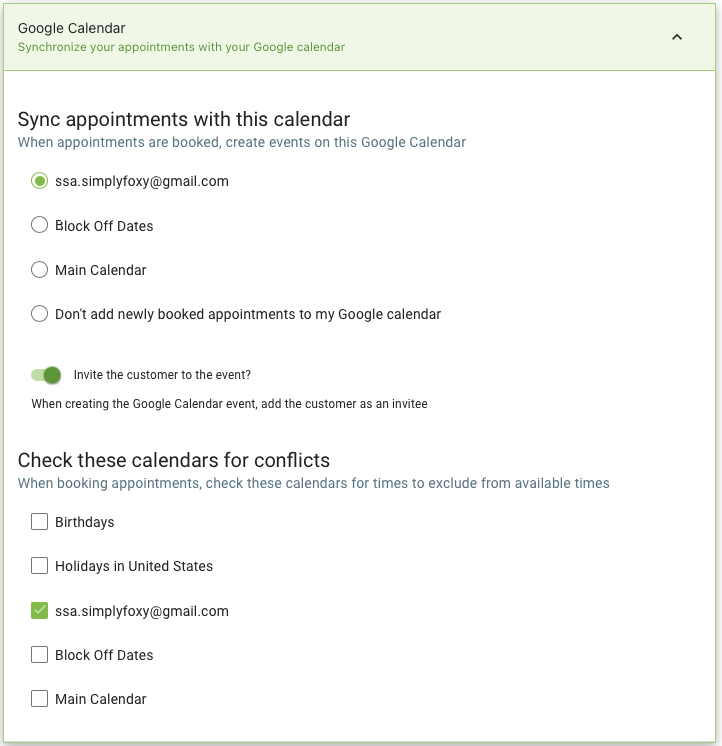 ---
Web Meetings
Tie either a static or a dynamic web meeting link to this appointment type.
Visit this guide for more information on the Web Meetings features.
---
MailChimp
Allow your customers to subscribe to your MailChimp list when booking an appointment.
Available in the Plus, Pro, and Business Editions.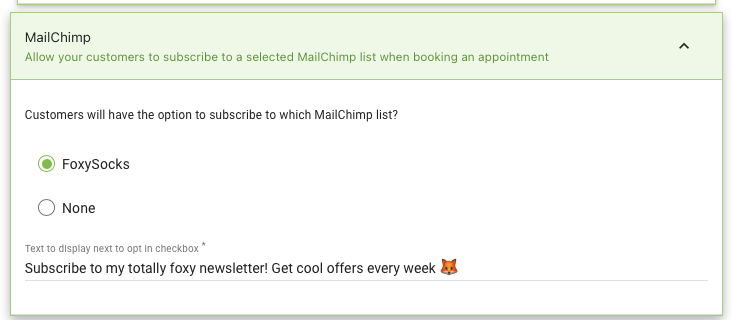 Choose the list where you'd like to add new subscribers. Customers will see an opt-in checkbox in the booking form when this setting is enabled.
Visit the following guides for help with the MailChimp settings:
---
Webhooks
Integrate SSA with your custom apps, or use Zapier and Make to make the connections!
Available in the Pro and Business Editions.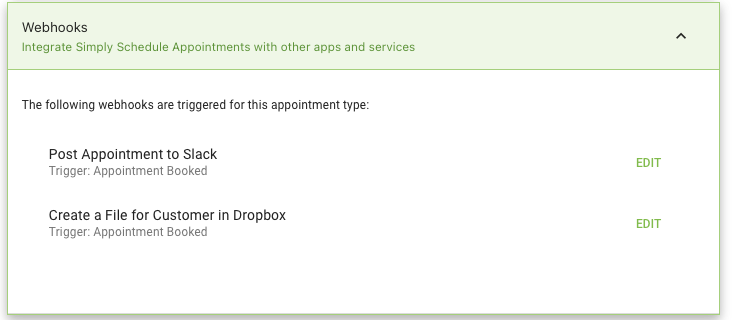 You'll see a list of active triggers for sending the webhooks. You can use the Edit buttons on the far right to modify the settings for each trigger.
The possible integrations are endless. Zapier and Make can help you create connections to thousands of services and software that are part of your business flow.
Visit our guide on how to set up Webhooks.
---
Customer Information
What do you need to know about your customer?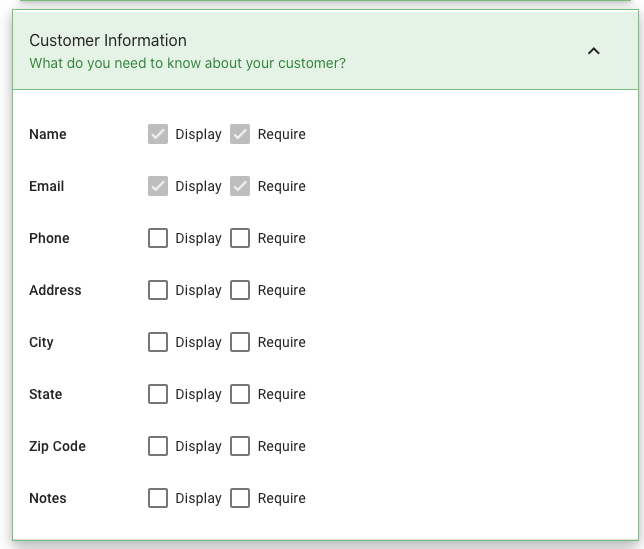 Check all the boxes for the fields you'd like to collect from your customers.
To show a field and have customers optionally fill it out, only tick the Display box.
To show a field and make it mandatory to fill out, tick both the Display and Require boxes.
---
Notifications
Options for sending customer and admin notifications.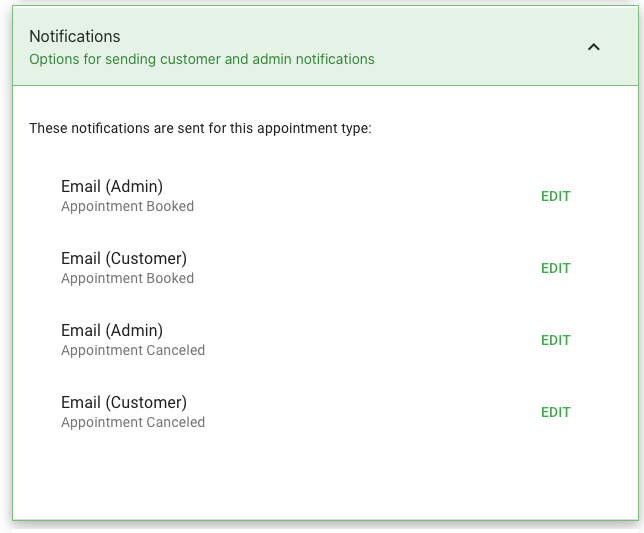 Visit the following guides to help you customize your notifications:
By default, email notifications are sent to both the admin and customers at the time of booking and cancellation.
Use the Edit buttons to jump directly into the notification editor to make changes.
Upgrade to the Business or Professional Edition to send out SMS using Twilio!
---
Booking Flow
Available in the Pro and Business Editions.
The Booking Flows feature allows each Appointment Type to have its own sequence of Views or screens for its booking form. Each View also comes with a few options to customize the layout of each screen.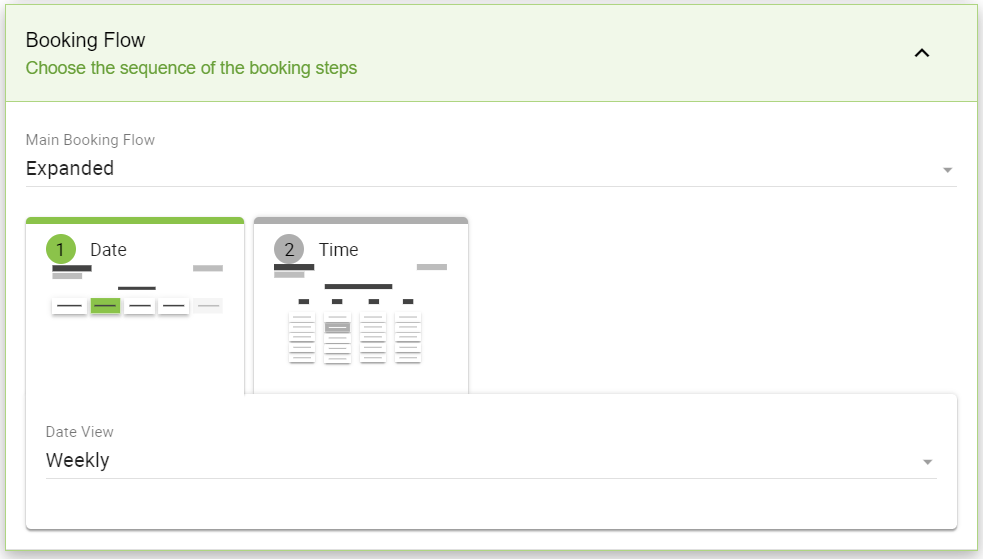 ---
Booking Info
Let customers book this specific appointment type.
Finally! When you're done making changes to the Appointment Type Settings, copy this shortcode to embed this specific Booking Calendar into your post or page.
Or, use the general [ssa_booking] shortcode to embed all your Appointment Type Calendars into a post or page.
Also, use your favorite page builder blocks to embed your Booking Calendar.
After tweaking your Appointment Type settings, learn how to display your booking calendar.

---
---
Related Guides
---