How to Use Appointment Types
The Appointment Type settings sum up your availability and the rules for your Booking Calendar.
At the basic level, you'll be able to set:
When you're available for that appointment type
How and when your clients can book on your calendar
What information you'll need from clients
---
In Depth Look at Appointment Type Settings
This guide will cover only the basic level settings. To get to these settings go to Appointments > Appointment Types > Select one from the list or Add New.
Note: A different guide covers the Advanced Scheduling Options. That includes:
Availability Window,
Booking Window,
Advance
---
Basics Tab
Name
The name of the Appointment Type, e.g. 30 Minute Phone Call. This name will display to your customers.
Duration
The length of the Appointment Type. Units set in minutes, hours, days, or weeks. The duration will display to your customers too.
Label
A color label for this Appointment Type. This is for admin use only and does not display to your customer. Organize and coordinate by colors!
Slug
The slug is used with the ssa_booking shortcode to display a specific Appointment Type calendar.
You won't see the slug field if you're creating a new Appointment Type. The first save creates a slug for you. After that first save, you'll be able to see and edit the slug field.
Booking View
The Booking Calendar can show customers the available dates in a monthly or weekly view.
Instructions
Brief memo for your customer with appointment information. The Booking Confirmation and Email Notifications show this message to your customer.
---
Availability Tab
Time Slot Start Times
This gives two options for when start times can happen.
Available blocks will show customers time slots as long as they fit in with the rules and other booked appointments (buffer times, availability, notice, etc).
Specific start times will strictly show time slots only on the Time Slot Intervals.
Time Slot Interval
Set the available starting times. Appointments can be available every 10, 15, 20, 30, or 60 minutes.
Availability Table
Use the table to mark the times that you're available for appointments each week.
Use your mouse to click and drag the pencil cursor on the white boxes to add new time slots. To remove time slots, use the eraser cursor to click and drag on existing time slots.
The hours in the day expand with the + button at the top and bottom of the hours column
By default, the table sets the availability from Monday-Friday 9AM – 5PM, with one hour from noon to 1PM for lunch.
Note: The Advanced Scheduling Options covers info on Availability Window settings.
---
Scheduling Options Tab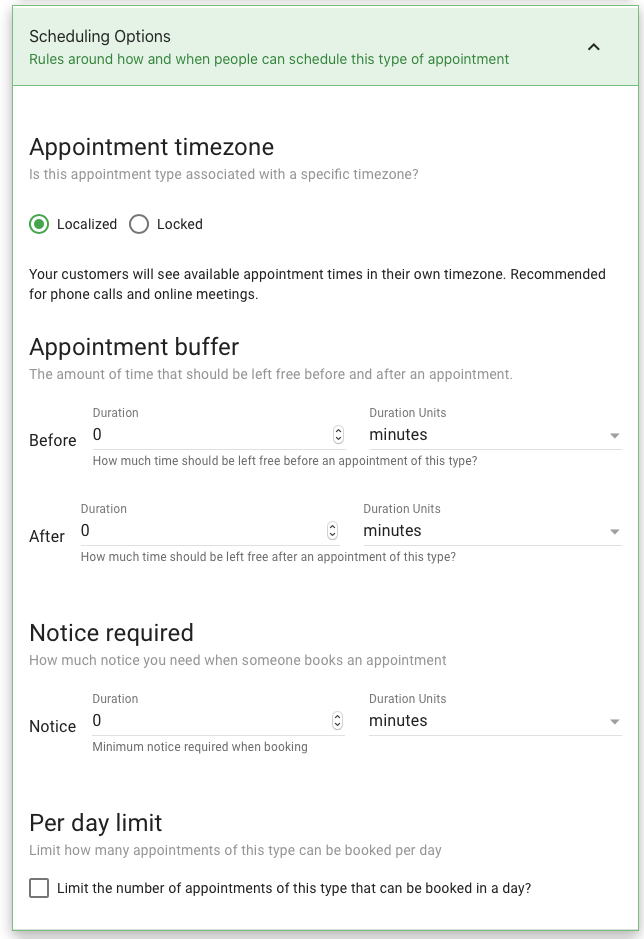 Appointment timezone
Set the timezone associated with your Booking Calendar.
Localized lets your customers see time slots in their own timezone. Recommended for online meetings and for people with long-distance customers.
Locked lets your customers see time slots in the timezone set in Settings > General Settings. Recommended for in-person meetings and for people with local customers.
If your customers are in a different timezone than you, they'll see a timezone related message in the corner and each time slot will show the timezone abbreviation.
Buffer Before
An amount of free time before an appointment. Used to give you time to prepare.
Buffer After
An amount of free time after an appointment. Used to give you time to wrap up afterwards.
Notice
The amount of time you need to take note of new appointments. Used to avoid customers booking at the last minute.
Per Day Limit
Limits each days' total bookings.
Note: The Advanced Scheduling Options covers info on Booking Window and Advance settings.
---
Customer Information Tab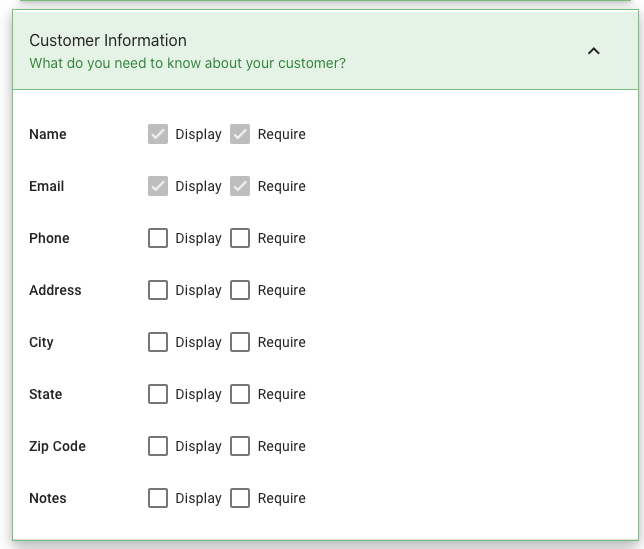 Check all the boxes for the fields you'd like to collect from your customers.
To show a field and have customers optionally fill it out, only tick the Display box.
To show a field and make it mandatory to fill out, tick both the Display and Require boxes.
Note: Upgrade to a Premium Edition to create Custom Fields.
---
Notifications Tab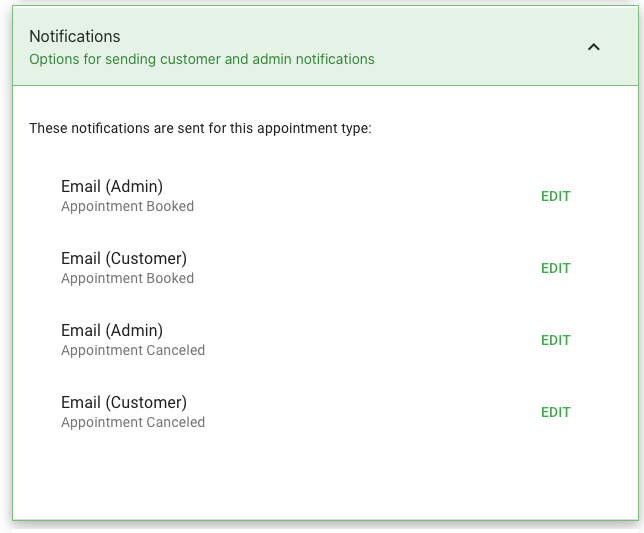 By default, email notifications send to both the admin and customers at the time of booking and cancellation.
You can edit or disable these in Settings > Notifications.
Use the Edit buttons to jump directly into the notification to make changes.
Note: Upgrade to the Business or Professional Edition to send notifications at a specific time before or after the time of the appointment using Time Triggers.
---
Booking Info Section

Finally! When you're done making changes to the Appointment Type Settings, copy this shortcode to embed this specific Booking Calendar into your post or page.
Or, use the general [ssa_booking] shortcode to embed all your Appointment Type Calendars into a post or page.
Also, use your favorite page builder blocks to embed your Booking Calendar.
---
---
Related Guides
---