What You Need First
Version Release: x.3.8.5
How to View Appointments as the Administrator
A website administrator can view the list of appointments by selecting Appointments > Appointments from the left-side menu in the WordPress dashboard.
Or, selecting Appointments from the left-side menu in the WordPress dashboard to take you straight to the Admin page of the plugin.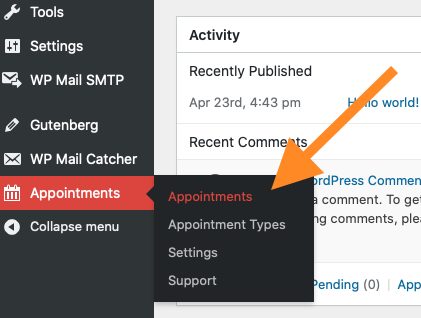 Switching Views from Upcoming or Past Appointments
To switch between the Upcoming and Past Appointment views, click on the the Upcoming/Past Appointments header.
Upcoming Appointments: All Today and future appointments
Past Appointments: All Past Appointments
Date Range: Choose a Start and End Date to view appointments inside that range
Note: All views are displayed in chronological order based on the start time of the appointment.
Chose the view you'd like to see from the drop-down menu.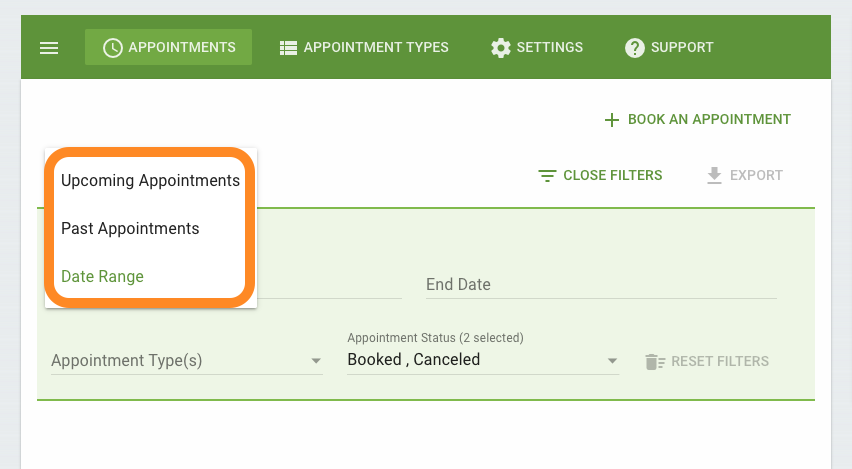 If there are no upcoming appointments, a message is displayed:
Viewing Appointments with Filters
To use the Filters on the Date Range, Past or Upcoming Appointment Views, select the Filter option on the top-right corner.
There will be two fields – one to choose Appointment Types and one to choose the Appointment Status. The filters should automatically be applied, if you'd like to remove the filters select Reset Filters.
Appointment Types: Choose none or more (if none selected, then includes all the appointments)
Appointment Status: Choose one or more

Booked
Cancelled
Pending Payment
Pending Form Submission
Date Range Filters
The Date Range view also includes two more fields to filter your appointments: Start Date and End Date.
You could use both of the Date fields to create a range between two dates. For example I can get all the appointments booked between July 1 12AM to July 4 12AM.
Or, you could just use one of the Date fields.
Only Use Start Date: Get all appointments beginning at this date
Only Use End Date: Get all appointments up to this date
Canceled Appointments
Canceled appointments still appear in the list, but will look faded and note that they are canceled:
Load More Appointments
If you have more appointments than those that are loaded on the page, to continue looking at the older appointments select Load More Appointments from the end of the list.
It should glow green when there's more to load and fade to grey when there is no more to load.
---