Introduction
By default, when someone books a time slot for an Appointment Type, all your other Appointment Types block-off that same time slot. Simply Schedule Appointments works this way to avoid double-bookings.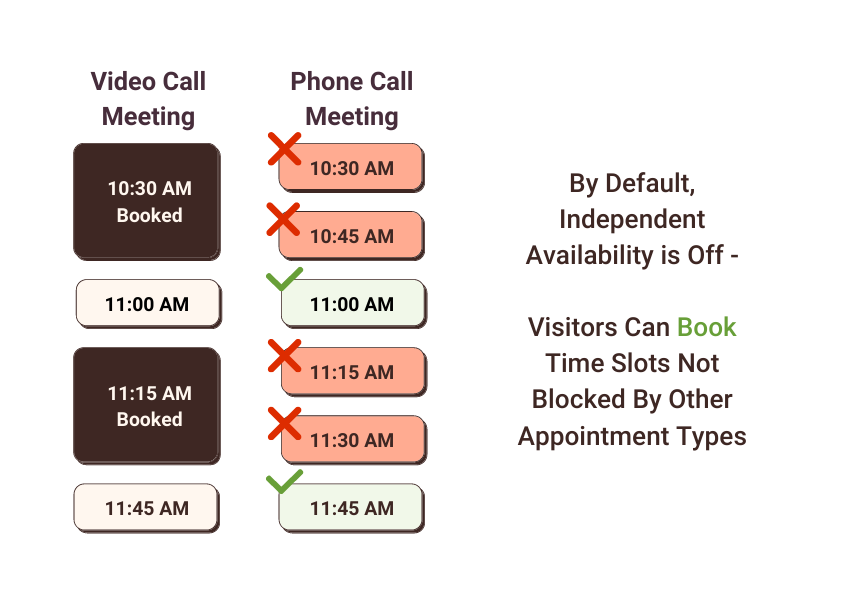 For example, let's say someone booked a 30 minute Video Call Appointment at 10:30 AM. This means that all time slots in Phone Call Appointment are now blocked between 10:30AM and 11AM.
What You Might Be Seeing
When someone books a time slot for an Appointment Type, time slots in other Appointment Type disappear.
---
How to Make Appointment Types Independent of Each Other
Sometimes you need to change this setting to let each appointment type have independent time slots.
For example, if you have multiple Appointment Types tied to Meeting Rooms, then you don't have to worry about double-booking. Since each one of your rooms is independent of each other.
Change this by going to Settings > Developer Setting > and toggle on Give appointment types separate availability.
---
Note on the Business Edition
A better way of managing schedules and availability for multiple staff, resources, and/or locations will be a part of our upcoming Business Edition.
However, in any edition of Simply Schedule Appointments, you should be able to give each Appointment Type independent availability.
This lets you to set up an Appointment Type for each person or resource, and manage their availability.
---
---
Related Guides
---