Everything You Need to Know About How Google Calendar Syncs with SSA
See below for some of the most asked questions on how syncing with Google Calendar will affect your Booking Calendar on SSA:
🦊 Is There a Two-Way Sync With Google Calendar?
Yes! As of right now SSA syncs by:
Creating events on Google Calendar based on newly booked appointments
Reading existing events from Google Calendar to exclude those time slots on your Booking Calendar
How About Editing and Cancelling?
SSA will only update the event's Title if the appointment is cancelled or edited. You'll have to manually delete the old event on Google Calendar.
When someone cancels or edits an appointment via SSA, the original Google Calendar event Title will then include the word – Canceled. For example, Phone Call Meeting – Canceled.
And, the Booking Calendar will open the original time slot again.
Also SSA doesn't know if you've edited or cancelled an event on Google Calendar. You have to cancel or edit the appointment from the SSA Admin page or the client won't see any change.
🦊 What Fields From the Appointment are Used to Create the Event in Google Calendar?
The Client Name and the Appointment Type are used as the Title of the event.
The Time and Date are set.
All the fields from the Booking Form are added to the Description.
Here is an example of a Booking Form with all the field types used: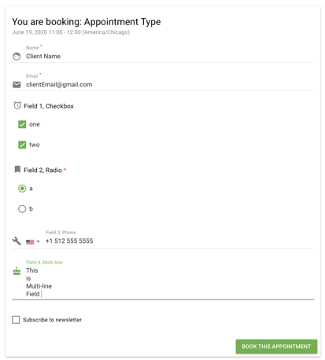 And here is how that looks in Google Calendar: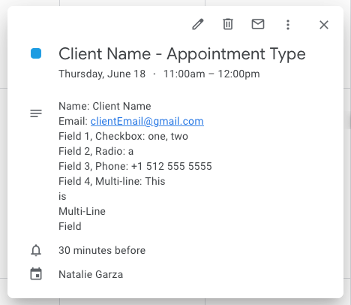 🦊 Can I Send a Google Calendar Invite for the Booked Appointment?
No, at the moment we don't support this feature. This is on our to-do list and we will consider this for future releases 😊
Send us an email at support@simplyscheduleappointments.com to show interest and get this ranked higher on our to-do list.
🦊 Can I Connect More than one Google Calendar Account for Employees?
Not directly, but here's a guide that should help you setup our best workaround: Connect Multiple Google Accounts to Google Calendar Sync
🦊 I've Enabled Google Calendar and Connected it With the Client ID and Client Secret. Why is it Not Working on my Booking Calendar?
After enabling Google Calendar and filled out the client keys, you need to finish setting up by going to the Appointment Types and updating the Google Calendar settings.
---