Introduction
Everything you need to know about how MailChimp works with SSA.
See below for some of the most asked questions on how this integration affects your Booking Calendar on SSA.
Use our MailChimp Setup guide to get more email sign-ups to your audience list today!
---
What Appointment Fields go into the New Contact in MailChimp?
The only two fields that transfer over to the new contact are the Name and Email.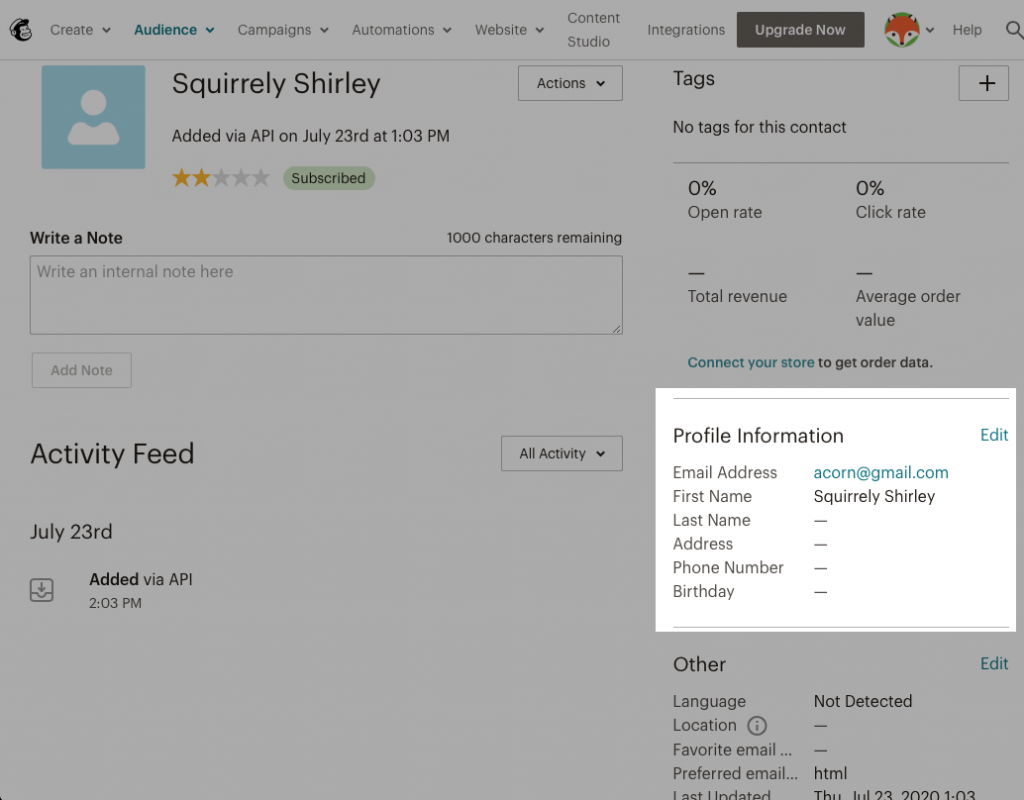 The First Name field in MailChimp uses the entire SSA Name field; there's no way to split that up at the moment.
We're hoping to map more fields to MailChimp in future releases.
---
Could I Automatically Add Booking Clients to My Audience List?
No, for us to continue integrating with MailChimp, we need to follow their API Use Policy.
We can't skip the opt-in box; your clients must have the choice to sign themselves up for your marketing list.
In their Acceptable Use Policy, they state that, "You must be able to point to an opt-in form or show other evidence of consent for any bulk email you send."
---
How Can I Create A New Audience List?
MailChimp has a great guide to walk you through the process, Create a New Audience.
After setting up your new audience list, you should immediately be able to select the list in the SSA Appointment Type Settings.
---
Do you sync with Sendinblue, MailerLite, or ActiveCampaign?
No, at the moment, the only marketing tool we directly sync with is Mailchimp.
But! We offer two different options for integrating with your favorite CRM.
WP Fusion Integration
WP Fusion is a WordPress plugin that can help you easily integrate and automate your WordPress website with CRMs and other services you use every day.
Webhooks Integration
You can integrate indirectly using our Webhooks feature and a third-party service like Zapier or Make. Here's our Webhooks guide to get you started.
Here are some links to check out Zapier's available integrations:
---
---
Related Guides
---