Introduction
The Google Meet option will allow you to add a unique meeting link to your Google Calendar events. You can use this to create a common location where you and your clients can meet.
Before start this guide, you must set up Google Calendar sync in SSA first.
After you set up Google Calendar sync, you should see a new setting called Google Meet Web Meetings within the Google Calendar settings.
If you're using the Team booking feature, please note that the host has to be the primary Google Account for the event, and the host must be present to admit people.
---
Enable First in the Google Calendar Settings
First, go to SSA Admin settings > Google Calendar. You'll need to toggle on the Google Meet Web Meetings; this will enable a new section in the Appointment Type settings.
---
Web Meetings Tab in the Appointment Type Settings
Next, you'll want to head on over to the appointment type that requires web meetings. Inside the Appointment Type settings, you'll now see a Web Meetings tab under Google Calendar.
Before we click on the Web Meetings tab, you'll need to ensure you have a Google Calendar selected to 'Sync appointment with this calendar'.
Or else, you'll get an error message like this!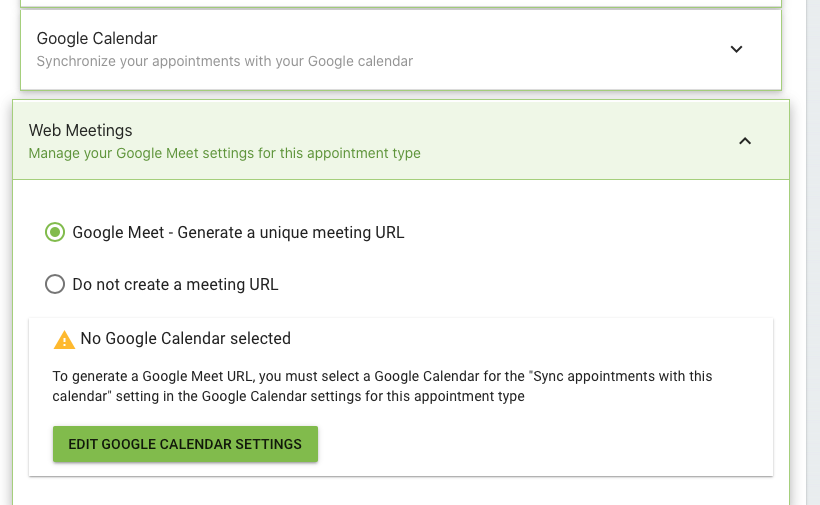 After selecting a calendar to sync appointments with, you can safely enable the Web Meetings option. Just select Google Meet – Generate a unique meeting URL.
---
How the Meeting Link Looks
When the customer finishes booking an appointment, the new Google Calendar event will include a Join with Google Meet location.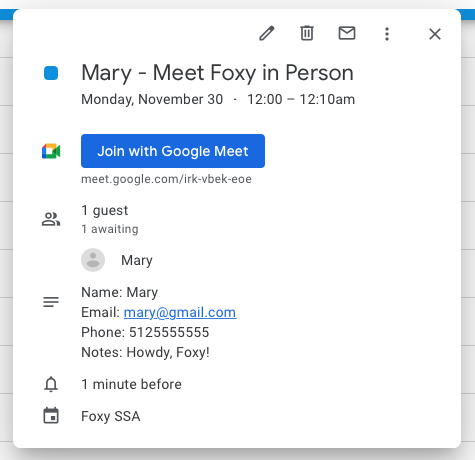 We also add the customer's email address as a guest so they can access the web meeting link. You can learn more about Google Invites in our other guide.
---
---
Related Guides
---