Introduction
You can reach the Simply Schedule Appointments Admin Dashboard Page by going to the WordPress Dashboard > Appointments.
This is where you can manage all your Appointments, make changes to the Booking Calendars or Settings and contact support with one click.
---
Appointments Tab
Inside the Appointments tab, you can do all of the following:
Viewing Your Appointments
You can easily view all of your upcoming and past appointments and your appointments within a specific date range, Appointment Types, and status you want to view.
You can also easily view more details about a specific Appointment to cancel, reschedule, edit, or delete that appointment.
Searching Appointments
Search your appointments using keywords from the booking information such as the user's name, email, or anything else collected via custom fields.
Filtering Appointments
You can also filter your appointments by just the Appointment Type and the status.
Booking An Appointment as Admin
By clicking on the + Book An Appointment button, you can easily schedule an appointment for a customer yourself.
Exporting Appointments
You can easily export all visible appointments on the screen by clicking on the Export button. This will download a .CSV file that you can then analyze or import into your CRM.
---
Appointment Types Tab
The Appointment Types tab helps you manage your Booking Calendar, Availability, and Booking Form all in one place.
Inside the Appointment Types tab, you can do the following:
Use the + Add New button to create a new Appointment Type.
Edit existing Appointment Type to update their settings by clicking on it or clicking on the cog to help you edit, clone, or delete that Appointment Type.
Reorder your Appointment types to organize them.
Use the dropdown to view Deleted Appointment Types and Recover them.
Creating New Appointment Types
Click on the + Add New button to create a new Appointment Type. To see all the different settings you can change, look at our Appointment Type settings overview.
Edit Existing Appointment Types
You can easily edit, clone, or delete an Appointment Type by clicking on the cog.
You can also bulk edit your Appointment Types to edit them all at once.
Reordering Appointment Types
Use the Reorder button to organize by dragging and dropping elements in your Appointment Type list. How they're ordered is displayed to your visitors with the [ssa_booking] shortcode.
Viewing Deleted Appointment Types and Recovering
You can use the Appointment Types dropdown to switch to the Deleted Appointment Types view. This will list all the Appointment Types that were deleted but remain in your database.
From here, you can click on them to view their settings or use the cog to Recover them.
Filter Using Labels
Each Appointment Type is assigned a label with a color and name. Use the Labels button to help you filter using the labels.
Learn more about using Appointment Type Labels.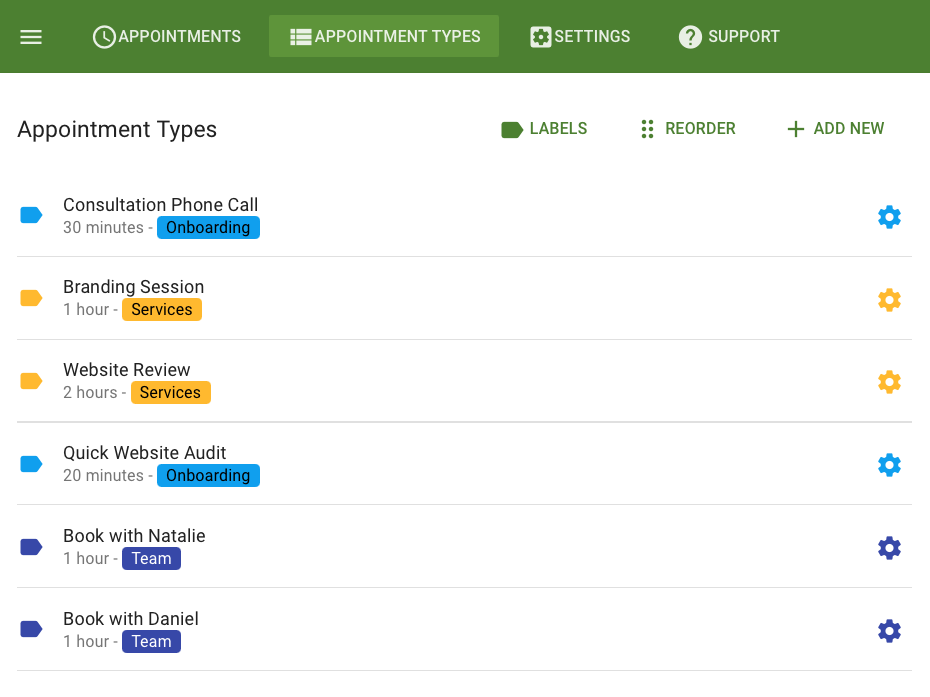 ---
Settings Tab
The Settings tab helps you manage the following settings:
---
Support Tab
Inside the support tab, you can use the Contact Support Team button to send our support team a message. Feel free to reach out anytime you need help or have a question.
And, also get a quick overview of the plugin and site diagnostics. As well as review your license status and plugin version.
---
---
Related Guides
---