Introduction
With software development, bugs and issues are just a fact of life. No matter how much we test and check, we can't predict every possible plugin and theme configuration. But, luckily our 5-star support team is here to help!
If you find the built-in Plugin Support Button isn't working, please let us know by asking us a question in the Help Center or getting support from your SSA account.
---
The SSA Support Tab
To get help, head over to the Support tab. You'll see a quick list of diagnostic information that can help point the way to a solution.
A quick scan of the Support Diagnostic list can solve many issues. Common issues include:
An outdated version of the plugin can cause a majority of the bugs related to the availability and loading of the calendars.
SSL Certificate Issues can cause loading issues.
Failed Schedule Events lead to missing notifications.
Please ensure you're using the latest plugin version before contacting the Support team. The Support information lets you know if you're using an outdated version.
---
Contact Us Through the Support Tab
Click the Contact Support Team button if you can't find anything off in the support tab information.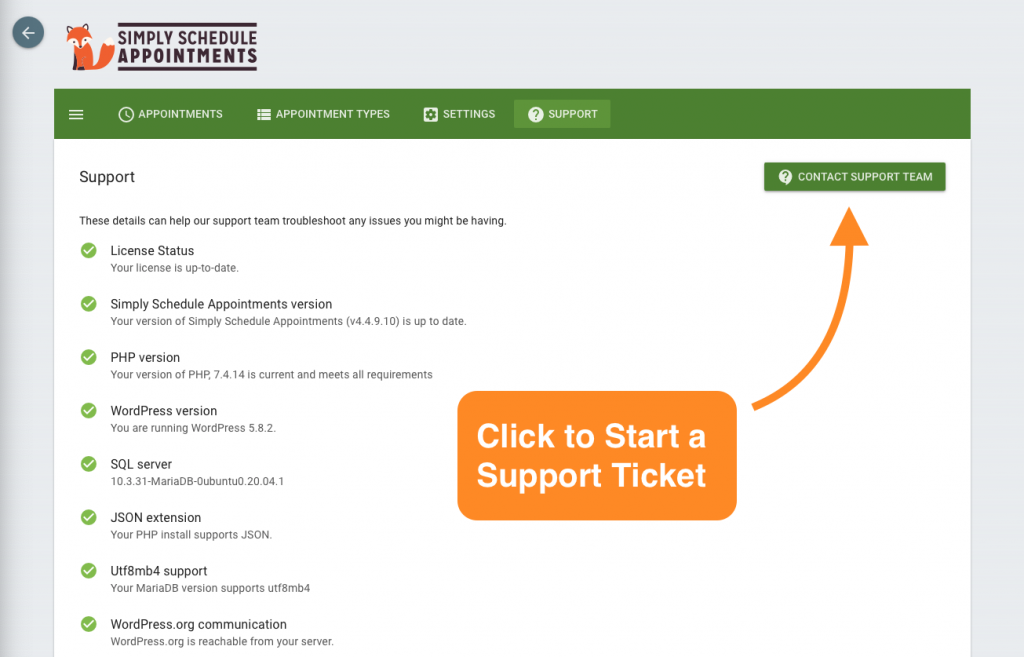 You should now see a popup to collect your preferred email address and your message. Please include
Any steps you take to recreate the issue.
If it's an issue related to availability, the day/times and Appointment Type you're working with.
If any, the error message and where you're seeing it.
Optionally, Send More Information
You also have some additional options to include:
Information about your plugin settings and appointment types: This does not include private information or customer appointments.
A list of your active plugins: It is helpful to recognize if the issue is related to a plugin or theme conflict
Also, watch for the suggested guides that come up as you type in your message; they might help you self-diagnose and fix the issue you're having.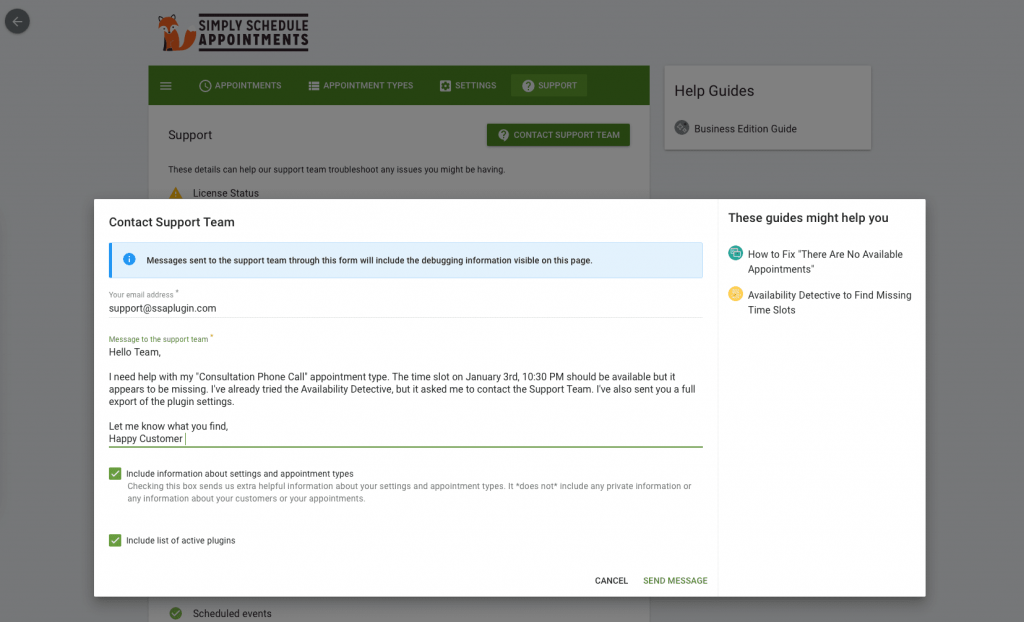 ---
Other Steps to Speed Up the Troubleshooting Process
Here are some other steps that can help speed up the troubleshooting process; this allows us to get a better picture of the issue and pinpoint a solution.
Send a Full Export of Your Plugin Settings and Appointments
This is beneficial if your issue is related to the availability not showing up correctly. The Support message from above doesn't send us your appointments, but sometimes it's crucial that we investigate that data as well.
Here's a guide to show you how to Export and Send Us Your Plugin Info.
Use Availability Detective for Availability Issues
If you're experiencing "missing time slots", please try the built-in Availability Detective before contacting support. This can give you answers to simple fixes. And even if it doesn't give you an answer, it still gives us a clue where not to look.
Here's a guide to show you how to use the Availability Detective to Find Missing Time Slots.
---
Debug Logs in Support
There's a Debugger tool at the bottom of the Support tab. This is to help us find issues in your plugin and WordPress install.
If you're having issues, go ahead and enable both of the debug logs. You can continue trying to test your plugin and calendar on your site. When you come back, you may see some errors appear.
Including those in your message would be helpful for us to see. If there's a bug that we need to take a look at, we can go to the logs to look for clues.
---
---
Related Guides
---