Introduction
A quick overview of how you and your clients can book appointments on the booking calendar. The process includes the following:
Pick an Appointment Type
Choosing a Date, then a Time
Filling out the Booking Form
Confirmations
---
Try Out Our Booking Calendar First
Here is a quick demo of our booking calendar process that customers will see when you add it to your site. For more information on displaying a specific calendar on your site, please visit our guide on displaying the booking calendar here.
If you schedule an appointment with our demo above, you will receive a confirmation email.
---
Where You Can Book
The customer can book wherever you've embedded the booking calendar on your site. Follow this guide if you still need to Display the Booking Calendar on your Site.
Admins can quickly book directly from the SSA Admin page. Just go to the Appointments tab > click + Book An Appointment. That should open a lightbox with all the appointment types listed.
---
Pick an Appointment Type
Select which type of appointment you'd like to book. The options available here are based on the appointment types that you've added.
The order these appear in depends on how you've ordered them in the Admin Appointment Types Page, use the Reorder button to choose their order.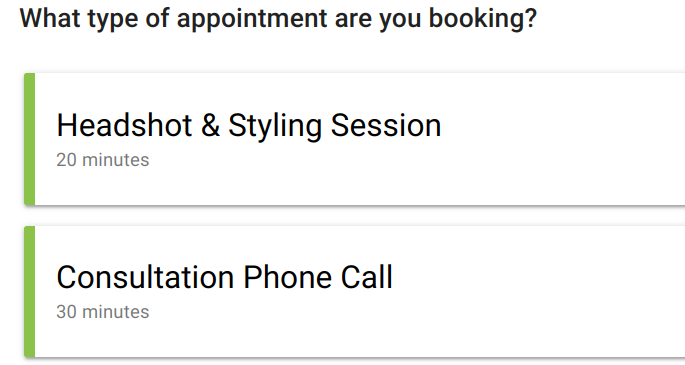 ---
Choose a Date
After you've selected an Appointment Type, you'll see the available dates for that appointment type.
Dates that are unavailable will appear as disabled or 'greyed-out'. This either displays as either a weekly view or a monthly view, depending on how you set it up.

---
Choose a Time
After selecting a date, you'll see a list of the available times.
The slots will split up depending on what timeframe they fall under, e.g. morning, afternoon, evening, and night. We also offer some CSS if you'd like to Format the Time Slots.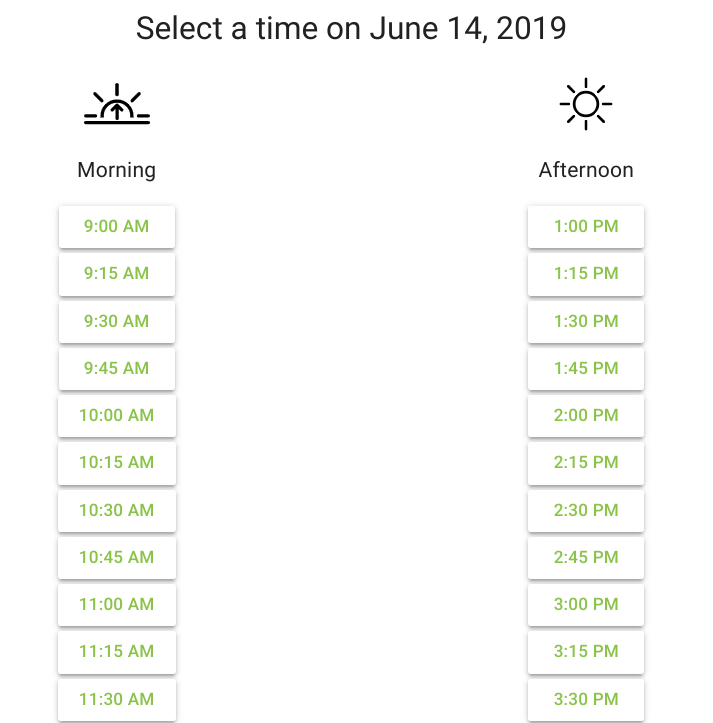 ---
Complete the Customer Information Form
Asterisks mark the Required fields. For functionality purposes, we always require the Name and Email Address field when booking appointments.
Basic/Free Edition users can select from a list of pre-determined fields (phone number, address, city, state, postal code, notes).
Premium/Paid Edition users can set their own custom fields here, including checkboxes and radio buttons.
After filling it out, click the Book this appointment button.
---
Confirmation
After submitting the booking form, you'll see a confirmation page with all your information.
You have the option to save the appointment to your calendar, either to Google Calendar or to download an .ics file.
You also have the option to edit the customer information, reschedule the appointment, cancel the appointment, or schedule a new appointment.
By default, the customer and the appointment admin will receive confirmation emails with the appointment details, but the notification settings are customizable.
You can also specify a custom confirmation page.
---
---
Related Guides
---