Create a booking page
To add an appointment booking form to any page or post on your site, simply add the ssa_booking shortcode. If you're using the Gutenberg editor, we provide a block called Appointment Booking Form. Or you can use the Shortcode block to add the ssa_booking shortcode.
When you install Simply Schedule Appointments, we create a default, full-screen booking page for you. This page is titled Schedule an Appointment and uses the appointments slug. As this page excludes your usual site header, footer, sidebar, navigation, etc. you'll likely not want to use this page for your customers to book an appointment. It is, however, easy and fast for you to access this booking from from the WordPress dashboard in the event that you want to add an appointment to your own calendar.
To access the default full-screen booking page, click the Book an Appointment link at the top right of the Appointments page.
Booking an appointment
Whether you create your own booking page with the shortcode or the Gutenberg block or you're using the default booking page, the process of booking an appointment is the same.
Step 1: Choose an appointment type
Select which type of appointment you'd like to book. The options available here are based on the appointment types that you've added.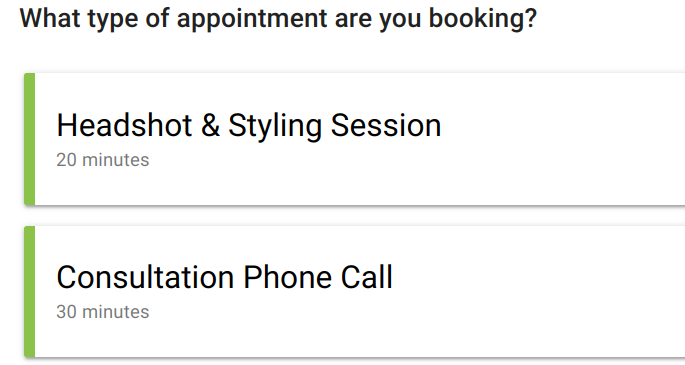 Step 2: Choose a date
After you've selected an appointment type, you'll see the available dates for that appointment type. Dates that are not available will appear as disabled or 'greyed-out'. Select one of the available dates.

Step 3: Choose a time
After selecting a date, you'll see a list of the available times. If they are spread throughout the day, the times will be divided into sections for the time of day, e.g. morning, afternoon, evening, and night.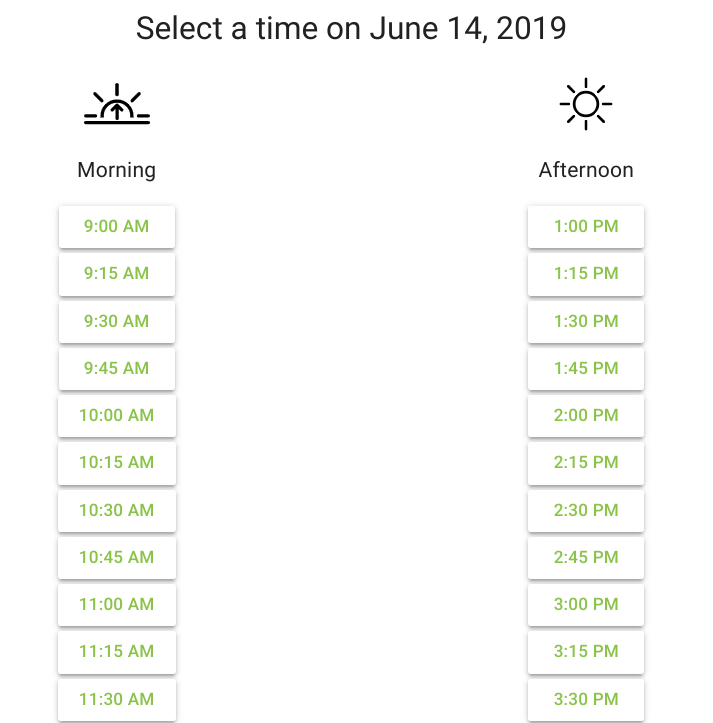 Step 4: Complete the customer information form
Required fields are marked with an asterisk. Name and email address are always required in all editions of Simply Schedule Appointments. Basic edition users can select from a list of pre-determined fields (phone number, address, city, state, postal code, notes) and users of any of the premium editions can set their own custom fields here, including checkboxes and radio buttons.
The email address will be validated to ensure that it's the correct format.
When the form is completed, click the Book this appointment button.
Step 5: Confirmation
After completing the customer information and clicking to book, you'll see a confirmation that your appointment was booked. You have the option to save the appointment to your calendar, either to Google Calendar or to download an .ics file. You also have the option to edit the customer information, reschedule the appointment, cancel the appointment, or schedule a new appointment.
By default, the customer and the appointment admin will receive confirmation emails with the appointment details, but the notification settings are customizable.
---