Introduction
This feature allows a quick export of all your Visible Bookings directly from the Appointments tab in your SSA Admin page.
Potential Use Cases:
Use the CSV file in Excel to analyze appointment data
Import it to your CRM or Client Management Tool
If you'd like to export ALL of your bookings, please visit our other guide on exporting all bookings to CSV.
---
Exporting Visible Bookings
Any appointments that are loaded on your screen will be exported.
You could potentially add Filters or Load More Appointments, either way all the ones that are visible on the page will be exported.
Exporting example
Let's say I only wanted to export bookings in the Past Appointments view for my Video Call Appointment Type.
First I'd change the Appointments View to Past Appointments.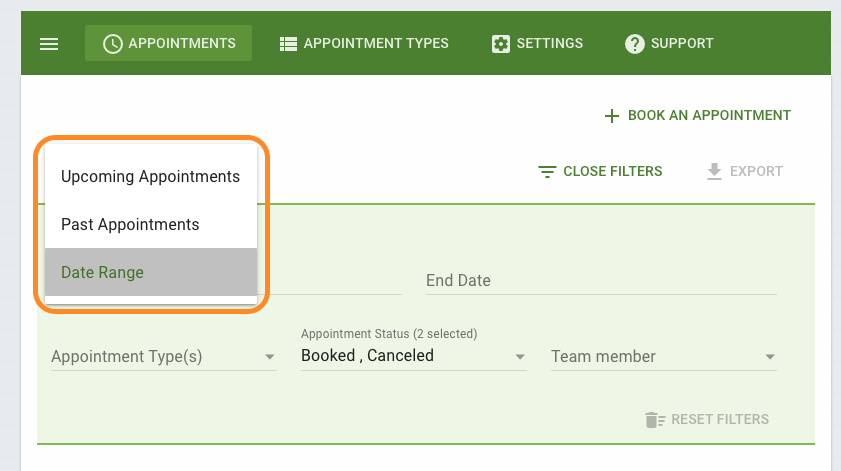 2. Then, I'd go to the Filter and choose Video Call from the Appointment Type dropdown and only select Booked from the Appointment Status dropdown.
3. Now, I can use the Export button to create a CSV of all the Visible Past Appointments for my Booked Video Calls.
---
What's Included in the CSV File
When you select the Export option, a file called appointments.csv is created and downloaded onto your browser. From there you could download that file to your computer.
Each row of the CSV represents an appointment. Here is a list of the included columns:
ID
Start Date
Start Time
End Date
End Time
Appointment Type
Status
Customer Timezone
Date Created
Payment Method
Payment Amount
Edit Link
Team Member(s)
Name
Email
Fields: One column for each field (Paid Edition Customers will also see their custom fields in each column)
---
Settings That Affect Visible Bookings
Appointment View
Upcoming Appointments: All Today and future appointments
Past Appointments: All Past Appointments
Date Range: Choose a Start and End Date to view appointments inside that range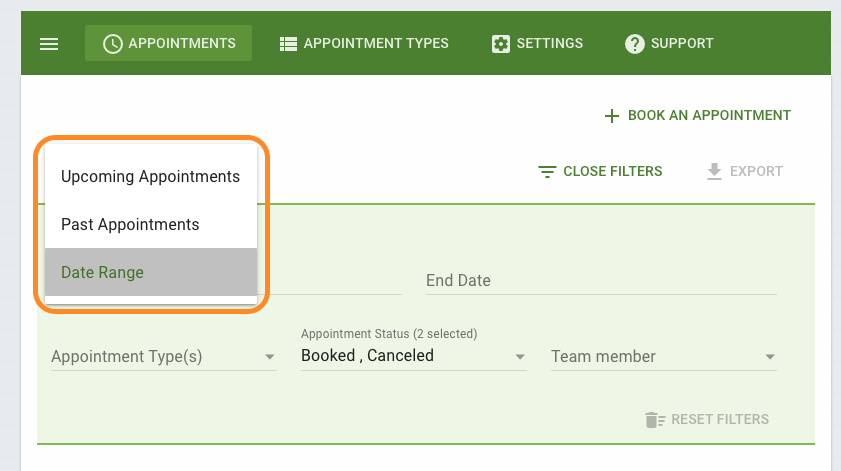 Filters
Appointment Types: Choose one or more
Appointment Status: Choose one or more

Booked
Cancelled
Pending Payment
Pending Form Submission
Abandoned
Load More Appointments
Shows older appointments (Located at the end of the Appointments list)
---
---
Related Guides
---