Introduction
Using our Translation tool, you can import the available translations offered on our WordPress Translation System.
To translate the booking app and admin app, you'll need to:
Download the Translation Pack
Apply the Translation Pack to your site
Contributing Translations
Our translations are crowd-sourced, meaning our wonderful customers volunteer to add in these translations.
If you don't see your language listed or some phrases are missing in your pack, please see our other guide on how you can contribute translations.
Available translations
By default, Simply Schedule Appointments is available in U.S. English. And as of October 2022, we also have the following translation packs far enough along to be usable for many cases:
Slovak / Slovenčina
Portuguese (Portugal) / Português
Portuguese (Brazil) / Português do Brasil
Hungarian / Magyar
Swedish / Svenska
Italian (Italy) / Italiano
Russian / Русский
Turkish /Türkçe
Estonian / Eesti
German (Formal) / Deutsch (Sie)
German / Deutsch
German / (Switzerland) / Deutsch (Schweiz)
German (Switzerland, Informal) / Deutsch (Schweiz, Du)
Czech / Čeština
Lithuanian / Lietuvių kalba
Spanish (Spain) / Español
Spanish (Mexico) / Español de México
Spanish (Venezuela) / Español de Venezuela
French (France) / Français
Dutch / Nederlands
Dutch (Belgium) / Nederlands (België)
Polish / Polski
Danish / Dansk
English (UK)
Slovenian / Slovenščina
Japanese / 日本語
Croatian / Hrvatski
Greek / Ελληνικά
Norwegian / Norsk bokmål
Icelandic / Íslenska
---
Downloading Translations
To download and install an in-progress language pack, head to Settings > Translations.
Select one of the available translations from the dropdown menu on the translation screen. Then click the Download and install button.
The language pack will be fetched, downloaded, and installed into the correct folder on your WordPress site.
Installed Language Packs
You'll see the language packs that you've downloaded listed at the bottom of the screen:
Under the name of the language pack, there's a link to Improve this translation. If you see any missing or incorrect translations, you can use this link to head right to where you can fix them.
The language packs listed here are not Active on your site; you must manually activate them to take effect on your booking app.
Refreshing Language Packs
Since contributors are constantly improving our translations, it's helpful now and then to refresh your language pack so that you can make sure you're using the latest version.
Learn more about contributing to the language packs.
---
Using the Translation Pack
Once you've got your language pack downloaded and installed, there are five different ways that you can put that to use on your site:
Your notification Subject and Messages don't auto-translate; you'll have to re-write them in your preferred language. Help guide: Emails Not Translating with Language Pack
If you don't like the translations included in the pack, please see our guide on Editing Phrases and Labels in the Calendar.
Set the Global Language for Your Site
From the WordPress dashboard, head to Settings > General and look for the Site Language setting:

Set the Language for Your User
Each user can select their language. To change your preferred language for your user, from the WordPress dashboard, head to Users > Your profile and look for the Language setting:

Use a Multilingual Plugin
If your site should be available in multiple languages, set up a multilingual plugin like WPML or Polylang. These plugins help you with translating a site that uses multiple languages.
Using the SSA Locale Shortcode
The default [ssa_booking] shortcode displays the Booking Calendar in your site's default language.

However, you can override your site's default language by using the following shortcode format:
[ssa_booking ssa_locale="languageCodeHere"]
You can see a complete list of all the language codes here. The shortcode format uses the text highlighted in yellow underneath each language description: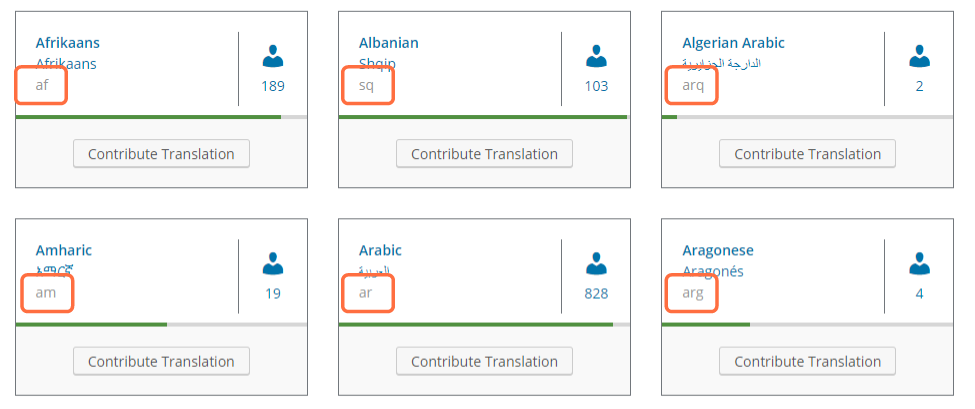 For example, to display your booking calendar in Danish, the shortcode looks like this:
[ssa_booking ssa_locale="da_DK"]
Your language must be in our language pack list; if not, you'll need to contribute translations to your language pack. See our other guide on how you can contribute to translation.
---
---
Related Guides
---