Introduction
In this guide, we'll cover the new beta Booking App update to Simply Schedule Appointments.
This feature is currently set as an opt-in beta release. Please be aware that issues may come up as you use this new feature, but please feel free to contact us if you see anything strange, and we'd be happy to fix it!
---
What is the New Booking App?
The new booking app is a complete revamp of our front-end app framework. It gives us the flexibility to develop more complex features such as Booking Flows and Resources (coming soon!).
Opt into using the new booking app by going to the SSA Settings page > scroll to the bottom and click on the Developers link > toggle on Try the new booking app under the Beta Features section > click Save.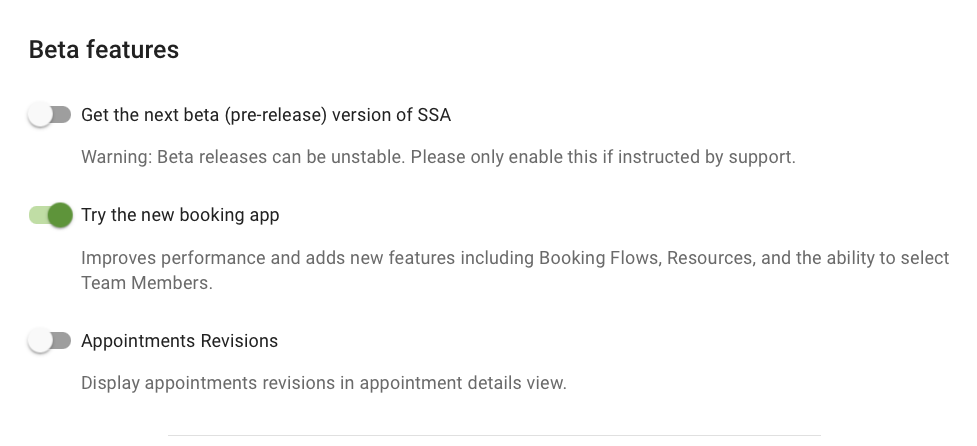 ---
Other Updates Included in the New Booking App
Along with the major features we plan to create and release with the new Booking App, we also have a few more goodies in store when you make the switch.
Performance Improvements
The new Booking App comes with a massive improvement to our caching system. This will help with sites on slower servers and pages containing multiple booking calendars.
One of the most significant benefits is loading times with our Form integrations (Gravity Forms and Formidable Forms). This dramatically reduces the loading times for forms heavily using conditional logic with multiple SSA Appointment fields.
Leave a Rescheduling Note
The new Booking App contains this new Rescheduling Note feature. The admin and Team members (with permission) can now leave a rescheduling note when rescheduling.
Style Updates
The new Booking App also gives the booking calendars a refreshing new look. We've updated our components library to include the more modern Material Design 3 design system.
---
---
Related Guides
---