Why Emails Aren't Sending
There could be a couple of reasons you SSA emails aren't showing up in your Inbox.
What we're going to check here:
Is WordPress sending the emails?
Are they in Spam or never delivered?
Are they being sent late?
Is WordPress Sending the Emails?
Track emails sent using a free plugin. We recommend using WP Mail Logging by MailPoet: https://wordpress.org/plugins/wp-mail-logging/
Once you've installed and activated your plugin, it'll start logging your sent emails.
To find the log, you need to go under Tools > WP Mail Log.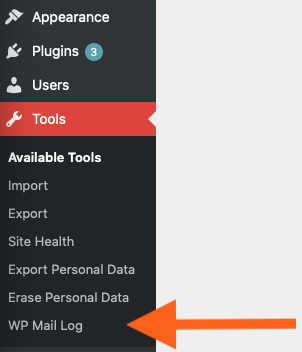 Go back to your calendar and book a test appointment. You could set the email to send to yourself. Go back to the WP Mail Log tool when you're done.

Now check to see whether all the Notification Emails you're expecting show up.
Are the Emails Going to your Spam Folder or Not Being Delivered At All?
Sometimes WordPress has trouble delivering emails because it doesn't authenticate emails.
Popular email clients like Gmail, Yahoo, and Office 365 are in constant battle against spammers. So, they check whether an email is sent from the location it claims to be sent from.
Emails that can't get authenticated end up in the Spam folder or not delivered at all.
To fix this, use an SMTP service called a Mailer to send and authenticate your emails.
We recommend the free plugin WP Mail SMTP by WPForms, found here: https://wordpress.org/plugins/wp-mail-smtp/
Start by installing and activating WP Mail SMTP in your Plugins page. Once activated, you should be able to find the plugin page under "WP Mail SMTP", like in the image below.
Now we have to setup an account with a Mailer to finish setting up WP Mail SMTP. There are a lot of options for Mailers, there'll be links down below to the most recommended ones and how to set them up.
Make sure to check the pricing on each one of the Mailers and find one that works for you, most have free trials or have a free basic plan that'll suit most websites and businesses.
At the time of writing this, SendGrid was the best free option offering up to 100 emails per day.
Send yourself a test email through your Simply Schedule Appointments Calendar once you're done setting up WP Mail SMTP. Check if the email notifications were sent as expected in WP Mail Log.
If it successfully sent, make sure to check your Inbox and see that you've received the email notifications too.
This might be an issue with WP-Cron, the system that makes sure to send out emails on time.
Please follow the guide here on how to deal with WP-Cron: How to Make Sure Emails are Sent Out on Time
Is Your Admin Email Hosted by Google or GSuite?
There's a kink in the way that emails are taken in by Google or GSuite. If you're using a Google-hosted email and you're not getting your test emails, it may be because of the kink.
When a message is sent from yourAdmin@gmail.com to yourAdmin@gmail.com, the message is automatically sorted into the "All Mail" folder and not your "Inbox" folder.
Google built it this way because some people BCC themselves on messages and don't want to see those in their Inbox.
Double-check your "All Mail" folder and see if that's the case.

When you open your Google Email page, you're usually seeing your Inbox folder, the All Mail folder is often found further down the list of folders (You may have to expand the list to find this folder).
Conclusion
This guide goes over the most common issues when it comes to emails not being sent or delivered.
Contact our support email if you find you're still having issues with emails not getting sent out.
support@simplyscheduleappointments.com.
---