Introduction
There could be a couple of reasons your SSA emails aren't showing up in your Inbox. To fix email delivery issues, we'll need to check:
Is WordPress sending the emails?
Are they in Spam or never delivered?
Are they sending late?
Is there any errors in your Message?
---
Is WordPress Sending the Emails?
Track emails sent using a free plugin. We recommend using WP Mail Logging: https://wordpress.org/plugins/wp-mail-logging/
Once you've installed and activated your plugin, it'll start logging your sent emails.
To find the log, you need to go under Tools > WP Mail Log.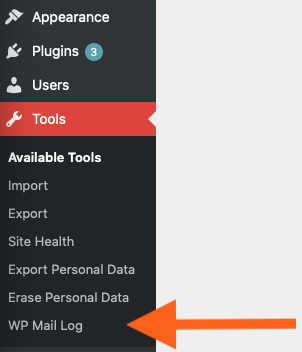 Go back to your calendar and book a test appointment. You could set the email to send to yourself. Now go back to the WP Mail Log tool.

Now check to see whether all the Notification Emails you're expecting show up.
Emails Going to your Spam Folder or Not Delivering At All
If this is the case, we recommend you visit this guide:
Where we explain how SSA sends emails and we outline tips and suggestions on how to set up a dedicated mailing service which might be the only option for email delivery issues like these.
Emails Not Sending Out on Time
This might be an issue with WP-Cron, the system that makes sure to send out emails on time.
Please follow the guide here on how to deal with WP-Cron: How to Make Sure Emails are Sent Out on Time
Are There Any Errors in Your Subject or Message?
Sometimes if your SSA Subject and Message have an error within them, it could cause delivery issues too.
Try following the steps in our Message Error guide to determine if this is caused by a syntax error and how to fix it.
---
Is Your Admin Email Host Google or GSuite?
There's a kink in the way that Google and GSuite sort their emails. If you're using a Google-hosted email and you're not getting your test emails, it may be because of the kink.
When [email protected] sends an email to [email protected], the message sorts into the "All Mail" folder and not your "Inbox" folder.
Google built it this way because some people BCC themselves on messages and don't want to see those in their Inbox.
Double-check your "All Mail" folder and see if that's the case.

When you open your Google Email page, you're usually seeing your Inbox folder. The All Mail folder is often found further down the list of folders (You may have to expand the list to find this folder).
---
---
Related Guides
---