Introduction
In this guide, we will cover what the booking process looks like when Team Members are involved. And how viewing team bookings look like to Admins and Team Members.
To learn more about how to fully set up the Team feature: Setup Team Booking.
---
Booking Team Members
Bookings are either:
Randomly assigned to Any single team member associated with the specific appointment type.
Or, assigned to All of the team members associated to that specific appointment type.
On the booking calendar itself, we don't see any sign of who will be assigned the appointment. The customer nor the admin have a choice in who gets the appointment (yet!).
So, the booking calendar continues to work as before.
---
Viewing Team Bookings and Settings
There are two potential ways to view Team Member bookings. This will differ for admins and team members with the 'Team Member' role in WordPress.
| Admin User | Team Member User |
| --- | --- |
| View all the Team Member' (and non-team) appointments | Only view their assigned appointments |
| Edit Appointment Type Settings | Cannot edit Appointment Type Settings |
| Manage all the Blackout Dates | Only manage their own Blackout Dates |
| Add, Delete, Edit Team Members and their permissions or custom availability | Only edit their own settings with admin permission |
| Access to all SSA Settings (MailChimp, Payments, Notifications, etc.) | No access to SSA settings |
| Allow Team Members to connect their Google Calendar | Connect to Google Calendar with Admin permission. |
Admin User Viewing Team Bookings
For the admin, they'll be able to see which appointments are assigned to team members using the new Team Member Filter option in the Appointments tab.
Notice how each appointment listing has a team member associated with it. For example, "Phone Consultation Call with Foxy".
---
Team Member User Plugin Access
The Team Member role is a unique role we've created so that you can give WordPress users permission to see their appointments and customize their settings.
The Team Member role can be given to existing users or added to new users you create.
Adding the Team Member role
To add the Team Member role to existing users, go to Users > Click on a user > Under the Roles section, check the Team Member box.
Logging In as a Team Member
By default, the Team Member role only has access to the SSA Appointments page. Though, the permissions for the role are customizable using the Members plugin.
Remember, only Team Members registered as WordPress users can log in. The login screen will be the same one the admins use to log in to manage the site. Usually, this page looks like this:
https://yoursite.com/wp-admin
Team Members who aren't registered as WordPress users cannot log in and must be fully managed by the admin.
---
Team Member SSA Dashboard
By default, the only two tabs that a Team Member has access to is
Profile page to manage their settings (if permitted by admin)
Appointments assigned to them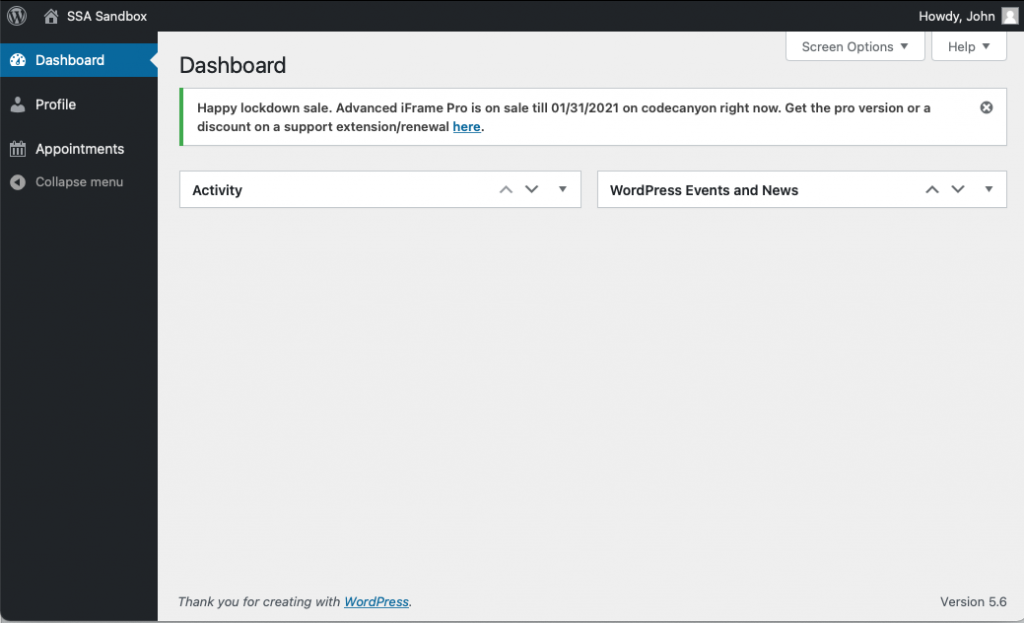 Within the SSA Appointments page, they will also have a limited view of the tabs.
Appointments Tab
Under the appointments tab, the team member can only see the bookings assigned to them. They have all the regular functions and features that an admin does to filter and view their bookings. As well as the ability to + Book an Appointment.
My Profile Tab
Under the My Profile tab, you'll see different tabs and settings depending on what permissions the admin has granted this user.
Contact
This is where the team member can see which Display Name, Email, and Phone number is associated with their SSA account.
They have an Edit User Profile button that takes them to the WordPress profile page.
Availability
From here the team member can see:
Web Meetings
This is where they can enter their Personal Meeting Room link; if you want the team members to be able to take 1-on-1 virtual meetings, you'll need to use this field.
The Team booking feature is not currently compatible with Google Meet, Webex, and Zoom integrations.
Learn more about this feature in our Web Meetings guide.
---
Embed the SSA Dashboard on a Team Profile Page
If your staff uses a dedicated profile page to manage their settings, you can also embed the SSA dashboard on their profile page for easy appointment and availability management.
Learn more about how to display the SSA Team dashboard on a page or post.
---
---
Related Guides
---