What You Need First
To use the Upcoming Appointments Module with Simply Schedule Appointments, first:
Set up your Appointment Types using the Simply Schedule Appointments (SSA) Admin page.
SSA General Settings set-up

Open up a page with

WordPress Block Editor, Divi, Elementor, or another page editor.
Note: The Upcoming Appointments module is for end users only. For admins, please check the Appointments area to see your scheduled appointments.
Using the Upcoming Appointments Module
This module helps your logged-in users keep track of their booked appointments.
This module's block/widget displays a bulleted list of next booked appointments wherever you embed it on the page:
Click View Details to see the full details of the upcoming appointment:
In the details area, you can:
Edit Information entered in the booking form fields:
Reschedule the appointment to a different date or time:
Or, Cancel the Appointment. The user will see a pop up confirmation message:
What Happens If the User Has No Booked Appointments?
The user sees a message when there are no booked appointments. By default, the message says, "No upcoming appointments".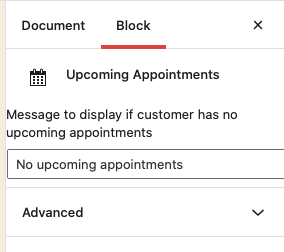 You can customize the message in the widget/block settings.
---
Related Guides
---