Introduction
This guide walks you through collecting the ICS Subscription Feed or ICS file for your appointments to sync your personal calendar applications to all incoming bookings.
Use this for:
Syncing your Microsoft Outlook or iCal calendars to new bookings (write-only connection, can't check for conflicts)
Display bookings on your site using plugins like The Events Calendar and ICS Calendar
---
Collecting the ICS Subscription Feed Link
Locate the ICS Subscription Feed link by going to the SSA Appointments dashboard > Export > Subscribe to calendar.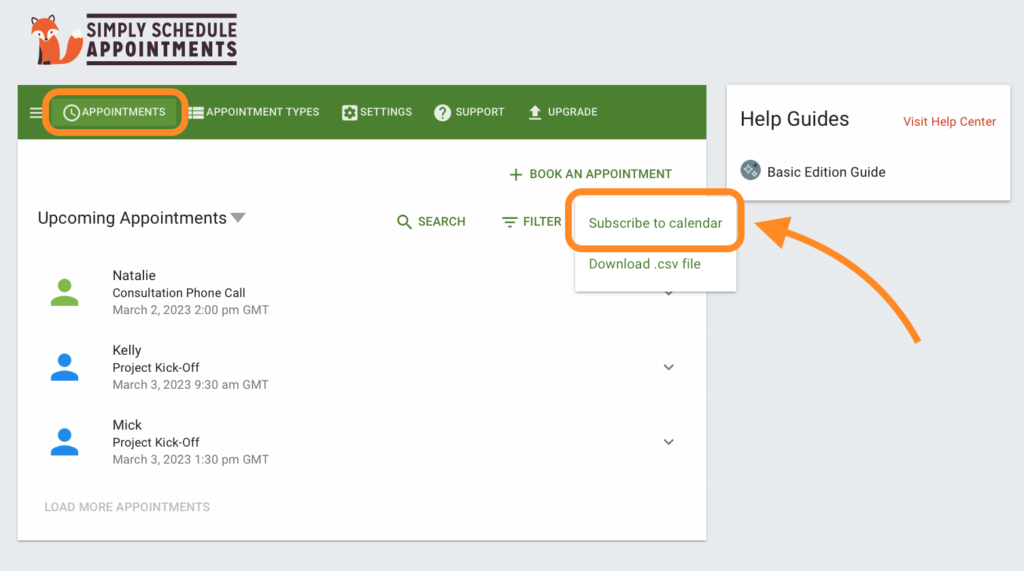 This will generate a link to set up the ICS syncing on your personal calendar applications.
The ICS subscription feed takes your active Filters into account. When generating the ICS subscription feed link, please be mindful of your Filter selections.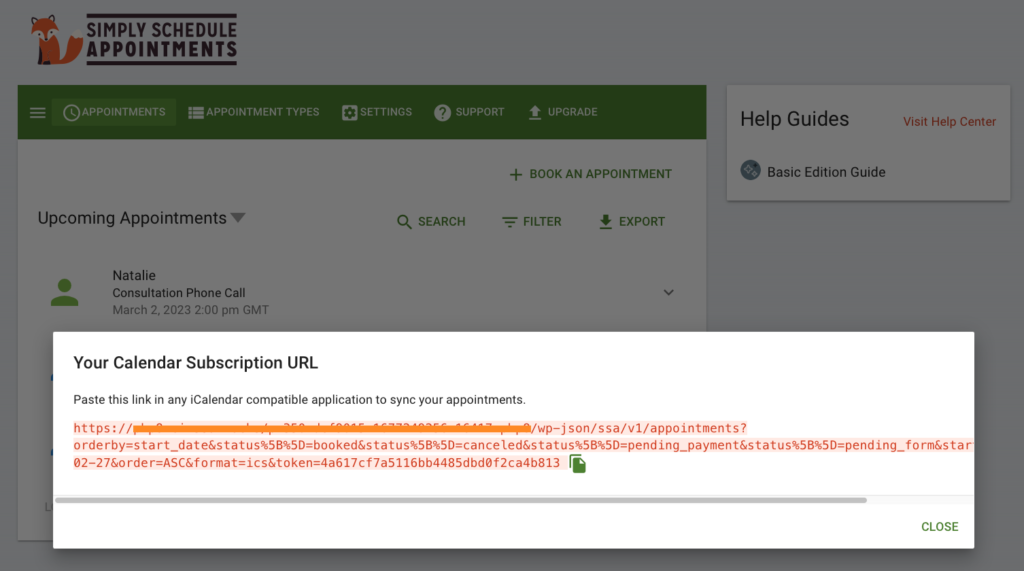 Download the ICS File Instead
If you need to collect the ICS file, simply enter the Subscription URL into your browser's search bar. This will generate an ICS file and instantly download it to your computer.
---
Setting up Google, Microsoft Outlook, and iCal ICS Subscription Feeds
Using the ICS subscription feeds for Microsoft Outlook and iCal is an excellent alternative if you don't want to set up Google Calendar sync.
This will ONLY sync new bookings to your personal calendar applications — this does NOT check for conflicts like our Google Calendar integration.
Google Import Events with ICS
Although we recommend you use our Google Calendar integration for our paid users, our free Basic users can import their events to their Google calendars using ICS.
Import events to Google Calendar
Outlook ICS Subscription Feeds
Microsoft offers a step-by-step guide to setting up calendar subscriptions for your Outlook calendar.
Subscribe to a Calendar in Outlook
iCal ICS Subscription Feeds
Apple offers a step-by-step guide to setting up calendar subscriptions from your Mac or iCloud account.
Use iCloud calendar subscriptions guide
---
---
Related Guides
---