Introduction
The original language for this plugin is English, but, with the help of our lovely customers, we're able to offer Simply Schedule Appointments in other languages too! Thanks to the WordPress Translation System.
We use the WordPress Translation System to provide us with the translations to the plugin. Anyone can start translating and contributing to the translations.
But, we've setup our plugin so that any new translations are usable without approval.
After our users translate, review and approve 95% of the phrases we consider the translation complete. By default, we automatically add complete translations to our plugin to be downloadable.
If your language isn't listed and is still below 95%, please contact our support team and we can still help you add in the language so that you can use it while it's in progress.
If you need help applying the translations to your site, please see our other guide on how to use the Translations.
---
Contributing Translations
First thing you'll need to do is login to your WordPress.org account. If you don't have an account, you should be able to create one right from that link.
Next, you'll want to head on over to our Translation System Page. In this page, you'll see all the possible languages you can use to start translating.
As you can see, there's still a lot of work to do for our plugin, and we're thankful for your help! 🙂
Choose a Language to Begin Translating
Choose your language from the list. The page organizes the more complete languages at the top.
For this example, I'm going to choose the Emoji language to translate. (I know, kinda silly!)
After choosing the language you'll see a page like this: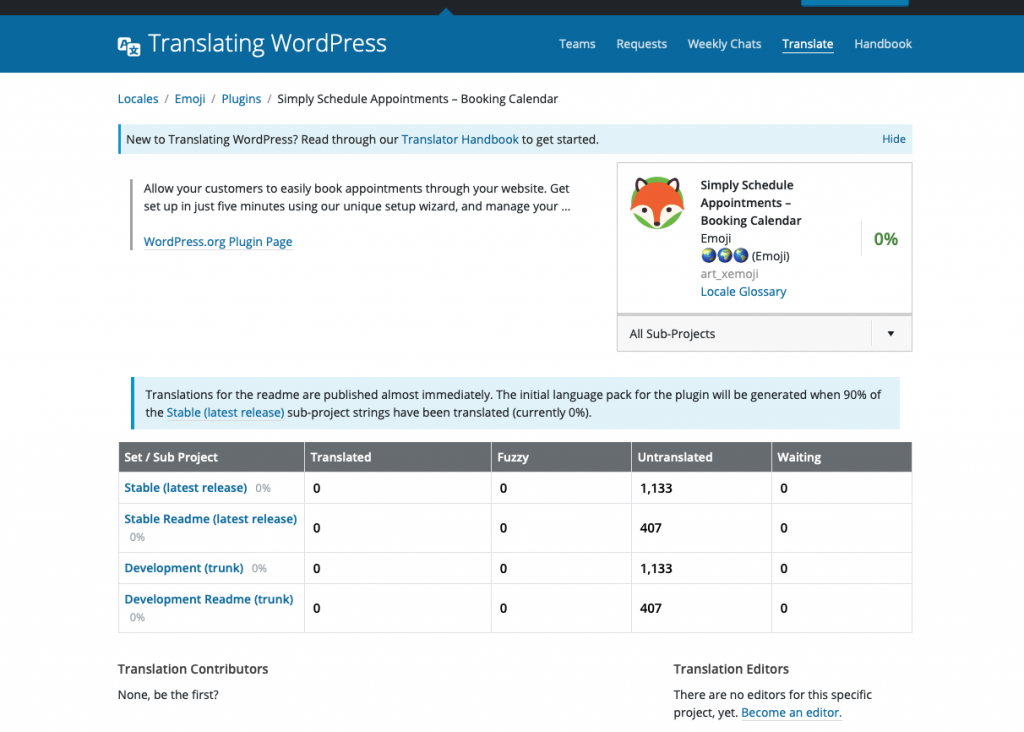 Language Translation Page
Inside the language translation page, you should see a block at the top-right corner that tells you what language you're working on and the completion percentage.
You should also see four different projects listed out:
Stable (latest release)
Stable Readme (latest release)
Development (trunk)
Development Readme (trunk)
You'll need to add your translations to Development (trunk). Click on Development (trunk).
According to this FAQ, you'll need to add the translation to the Stable (latest) release project. But, for you to use the translations while they're in progress, we ask that you add your translations to Development (trunk).
Adding Translations
Inside the project page, you'll see filters to help you find the untranslated strings, a table containing a string on each row and some options to import or export translations.
Within each row of the table, you'll be able to add your translation.
To start translating a string, double-click on the one you want to translate from the table.
The row will expand and you'll now see a text box where you can enter your translation. When you're done, just click suggest.
---
Refreshing the Language Pack
If your language is already listed in our SSA Translation settings, all you have to do now is go back to the settings and refresh.
On the right, you'll see a refresh button that gets a fresh copy of the language pack. This is handy for cases where you or other users have contributed new translations and you want those to be available for your site.
Your newly translated strings should be downloaded!
If your language isn't listed and you've made a substantial amount of translations, please contact us and we'll add it to the plugin.
---
Reference Links
SSA Project Page: Find all our languages listed here.
translate.wordpress.org Overview: More information on roles, translating, and importing/exporting.
Translator's Handbook: How the WordPress Translation System works.
How to become a Translation Editor: Be able to approve or deny translations from other contributors
---
---
Related Guides
---