How often has this happened to you: You pull out your planner to go over your appointments for the day. You look at one appointment, then another… and that's when it hits you: you've double-booked or overbooked two of your clients in your schedule.
"Woah, how did that happen?"
Double-booking clients is a very common mistake, and while it often has negative connotations, it may not always be the case. When handling several customers and employees together, you can end up booking more than one appointment for the same slot. It happens.
What matters is how you deal with double booking scheduling conflicts and the steps you take to quickly resolve them (and without a lot of drama).
This article will discuss double-booking scheduling in more detail—what it is, when it's acceptable, steps you can take to remedy it, and how you can use SSA to prevent it.
Let's get started!
What Does Double Booking Scheduling Mean?
Double booking scheduling refers to when two or more individuals are given the same appointment time. This can be done intentionally or unintentionally.
If it's done intentionally, it means the business owner can support attending more than one individual at a time. But if it's done unintentionally, it means there was a mistake when scheduling appointments, which means trouble.
Let me explain this with examples.
Often, hospitals double-book appointments when they have the capacity and the doctors to manage the inflow of patients.
This is an example of positive and intentional double-booking scheduling and is usually done to ensure better patient flow. For instance, you can schedule Patient A for a full checkup, Patient B for getting vaccinated, and Patient C for an opinion on their reports — or a similar setup.
On the other hand, if a life coach ends up booking two of their clients for the same time slot, one of them will end up in the waiting room.
This is an example of negative and unintentional double booking scheduling. Naturally, this will be a frustrating situation for the person who has to wait and can result in them skipping the appointment altogether. We'll discuss these situations in more detail in the next few sections.
In a nutshell, double booking is only good when you have the capacity, staff, or office space to accommodate the requirements of this scheduling. Otherwise, it's better to avoid it and be more careful and alert when taking appointments.
When is Double Booking Scheduling Acceptable?
Double booking can be used effectively in certain circumstances. Let's review a few of these below.
Situation #1: When You're Running a Group Appointment
Booking multiple people for the same slot makes sense when you're running a group appointment.
In this situation, you'll likely discuss or review things that apply to everyone in the group, which is why the number of people making an appointment isn't a big deal. The only requirement here is to ensure you have the space to accommodate them comfortably.
For example, if you teach graphic design, you can have multiple students attend your class, depending on the number of students you can handle and fit in your classroom at one time.
Situation #2: When You Offer Services That Don't Require Your Direct Attention
If you offer a service that requires a waiting period, you can go ahead and double book clients to attend to while the other waits. Running a bike repair shop or a hair salon are common examples of situations where double-booking the same time slot makes sense.
For example, a hairstylist knows that after coloring a customer's hair, they have a 30-16 minute waiting period for the color to set in. During this period, they can easily book another client for a haircut. The customer who got their hair colored won't mind waiting while the hairstylist cuts someone else's hair.
Having said that, overlapping appointments is highly dependent on your understanding of two critical aspects: how long your process service takes and how much time you need to do a satisfactory job.
A good starting point is to carefully consider the services you offer. Make sure you know which services you can overlap and which ones you cannot, and set up your schedule accordingly.
Always be realistic with time and do the math right. Do not cut a service short or compromise on the promised quality just to "handle" multiple customers — it won't pay off.
Situation #3: When You Have Multiple Staff Members to Help You Manage Your Double Bookings
Another situation where double-booking appointments are acceptable is when you have extra staff members or employees to service your customers.
Continuing with our hair salon example, you can double book clients if you have another hairstylist to cut or color someone else's hair while you're busy tending to the other customer. You can also keep a helper to take care of washing or blow-drying a customer's hair while you're busy.
Note: Having multiple staff members can also lead to double-booking issues if you're not careful. Avoid booking the same employee to work on two different shifts or two different locations during the same shift.
What Should You Do If You Double-Book Clients By Mistake?
Scheduling conflicts can happen even when you're careful. That's why it's important to understand how to assess the situation and fix it without ruffling feathers.
Below is a step-by-step rundown to help you handle unintentional double-booking conflicts:
Step 1: Stay Calm and Don't Panic
Take a deep breath. You may feel frustrated, annoyed, or upset, but don't let it get to you.
You see, how you react and handle the situation will affect how your customer and team respond. Think of how you can fix the situation. Reassure your customers you have everything under control, and focus on coming up with a good solution for the problem.
Step 2: Talk to Your Customer
Good or bad, your clients want to know what's going on. You should immediately let the customer know if you double-book them with someone else.
Deliver the news politely, and let them know the service requires some waiting time. Patiently answer any questions they may have. Remember, your customer will only mind the wait if something feels fishy to them or if the quality of the job is affected by overlapping appointments.
Clearly explain to the customer what the situation is and how long it'll take for you to get to them. If you don't have the answer to the last question, inform them you'll let them know the solution soon. While you figure out the solution, be sure to take care of them and don't make them feel neglected or forgotten.
Step 3: Review Your Employee Availability Chart
If you can have an employee or team member take care of the other customer, now is the time to ask them.
First, you want to know who all are available during the shift. Make a list of people who can handle the job, and reach out to them. You can also offer some perks to entice employees — perhaps a free lunch or bonus check.
Most of the time, employees step in to help out. But if they can't, you'll have to accept it. Don't keep any hard feelings and move on to the next step.
Step 4: Evaluate Your Appointments
Sometimes an appointment isn't as urgent or important as the other one. Other times, you may have to physically travel to the appointment location, which is again not possible. That's when you have to make some hard decisions.
Here are a few questions to help you evaluate your appointments:
Is it a one-time appointment or a series of recurring and regular appointments?
Do you absolutely have to attend the appointment?
How difficult was it to schedule or book the appointment? Can you reschedule the appointment for the near future?
Is the appointment time-sensitive?
Do you have to make a critical decision during that appointment or decide how you'll work in the near future?
How will you describe your relationship with the person involved in the appointment? Is it a family member, friend, co-worker, or client? Which relationship takes precedence at this very moment?
The above questions will help you prioritize your appointments. Consider each of them carefully to make the right decision.
Step 5: Inform the Customer About Your Decision
After making your decision, you'll have to immediately cancel or reschedule the double appointment. Think about the quickest and most direct route of communication — phone call, email, and text — with your contact, and let them know as soon as possible.
If the customer isn't reachable, leave a message: explain the issue and let them know you have to postpone the meeting. Be sure to ask them to confirm the cancellation to avoid any further misunderstandings.
You can also offer a few dates or times that you are available for the next appointment. Giving them an incentive can also help soften the blow.
How Does SSA Prevent Double Booking Scheduling Conflicts?
Simply Schedule Appointments can make sure you never have to worry about double-booking scheduling conflicts. Ever.
How does SSA avoid double-booking conflicts? By default, all of the calendars you create with Appointment Types are dependent on each other. This means that if you're booked for one service calendar, we automatically block off that corresponding time slot in all of your other calendars too.
In our example below: If someone books a 30-minute video call appointment at 10:30 AM, all the time slots in Phone Call Appointment (Appointment Types) will be blocked between 10:30 AM and 11 AM.
And, unless you intentionally set a Capacity to handle overlapping bookings, each time slot will only hold a single appointment. We make sure to double and triple-check the availability of each time slot when an appointment is being made!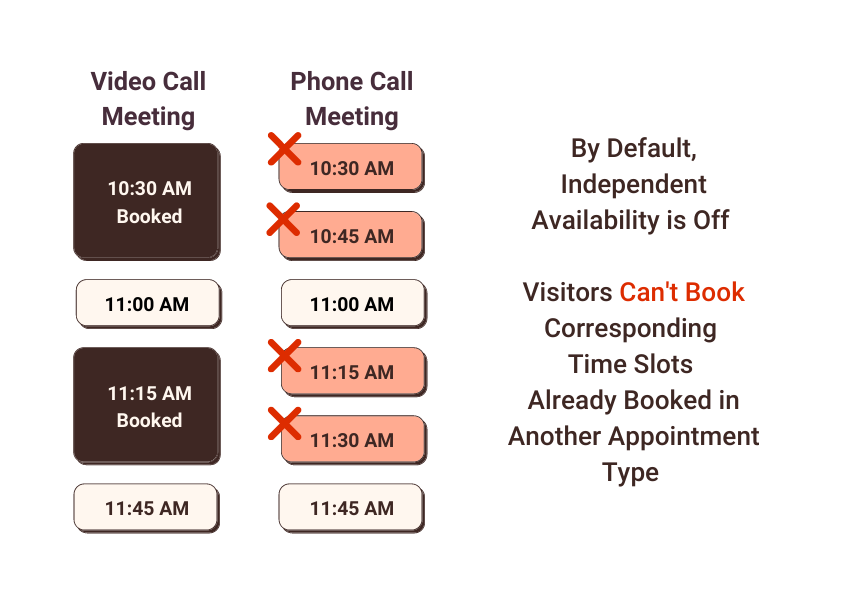 How to Enable Independent Availability for Appointment Types
As mentioned before, double-booking scheduling can also be intentional. You may want to change the default setting to let each Appointment Type have independent availability.
For instance, you may have multiple Appointment Types tied to multiple rooms. In such cases, you don't have to worry about double-booking since each one of your rooms will have a unique and independent schedule.
Here's how you go about turning on independent availability for your Appointment Types:
Go to SSA Settings, followed by Advanced Scheduling Options.
Turn on the toggle for the Give appointment type separate availability field.
That's it! All done—SSA lets you set your schedule however you like while making sure you can deliver the best customer experience to your clients. In case you face any problems, you can always contact our 24/7 customer support for help.
Takeaway Thoughts
Depending on whether it's intentional or unintentional, you should know how to handle double booking scheduling to keep your customers happy. In case you double-book or overbook clients by mistake, always communicate the problem to the client, apologize, and work out a solution.
Trust me, clients appreciate honesty and the initiative to fix solutions fast.
Make sure you never find yourself in this appointment soup by investing in the right appointment scheduling software. Get started with Simply Schedule Appointments and prevent a double booking nightmare today — and in the future.