Life coaching is a sacred calling.
You need to have a zest for life and a desire to help others reach their full potential. But you can't just be a good advisor – you also have to be an entrepreneur.
Becoming a life coach lets you enjoy the ultimate win-win situation. You can use your passion to see people turn their dreams into results while simultaneously building a fulfilling and lucrative career.
Even better news? The coaching industry is taking off!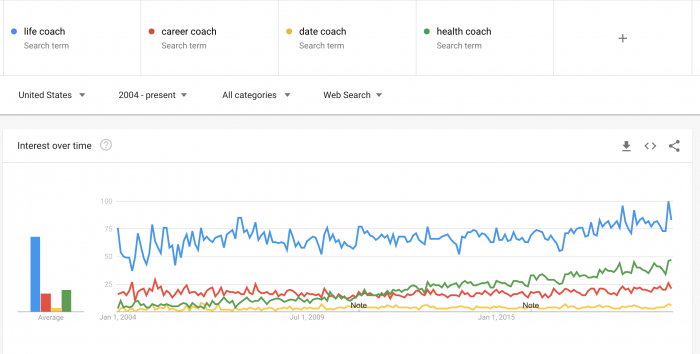 Back in 1999, there were only 200 coaches worldwide with the International Coach Federation (ICF) credential. But as of January 2021, the number has reached 34,000 and shows no sign of slowing down.
Translation: There's no better time to become a life coach than right now.
However, starting up a coaching business has its fair share of complications. You're not just a life coach – you're also a marketer, networker, salesperson, and business owner.
No need to be intimidated, though. With the right training, advice, tools, experience, you can set yourself up for success.
In this guide, we'll show you a step-by-step of how to start a life coaching business, along with effective tips to simplify things further.
Excited? Let's get started!
Step 1: Work on Your (Unique) Coaching Vision
Answer this: What does life coaching mean to you?
Seriously, think about it.
It's true you need the ability and aptitude to thrive, but when you have a clear vision about why you do what you're doing, handling inevitable obstacles and challenges of this profession becomes much easier.
Here are a few tips to develop your coaching vision:
Know your personal interests and strengths that can help you build your business.
Think about the specific problems that you want to help clients solve.
Understand what motivates your ideal client.
Think about the kind of money you want to make and how many hours of work you're willing to put.
Think about potential obstacles or roadblocks, and come up with practical solutions.
The above pointers can help you gain a better understanding of your expectations. You'll also be more motivated to work on yourself and deal with challenges in your journey to become a life coach.
That said, becoming a good coach and a successful business owner requires some serious skills.
You have to be intuitive, emphatic, creative, know the art of networking and marketing, be an active listener, have a strong sense of ethics… you get the point.
If you don't have the skills, you have to be willing to spend the time, energy, and money to improve them.
Step 2: Decide Your Coaching Niche
"The first step towards success is knowing what it is you to do." — Curly Martin
You want to be a life coach, but have you thought about your specific area of focus, or your niche?
If you plan to offer everything to everyone, we're going to stop you right there.
You see, life coaching is actually an umbrella term. If you want to become successful, you need to think about building a brand around a very specific problem.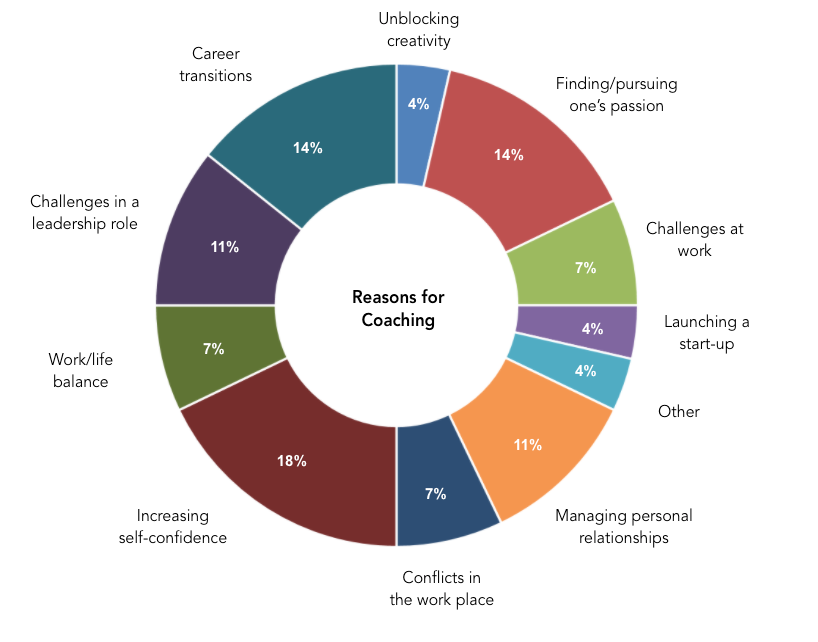 Example: You can either offer executive coaching or general job search or help people find their problems – never all three together.
Need help with this? Think about the following questions to niche down:
What kind of experience and expertise do you have that you think you can share with others?
What are the biggest challenges that you have overcome in your life? What skills do you think helped you overcome them?
What topics do your friends and family generally ask you for advice?
You simply need to reflect on your experiences, skills, and strengths. If you're an experienced and confident public speaker, for instance, you can coach people through their fear of speaking. Similarly, helping people find their dream jobs would be a good option if you have HR or recruiting experience.
Get it?
Step 3: Tick off Everything on the Coaching Requirements Checklist
It's true you don't need any certification to launch a life coaching business, but having a life coach credential from a recognized organization (the ICF, for example) can boost your credibility and make it slightly easier for you to get clients.
Just take a look at these stats:
A study found out that consumers are more likely to recommend a coach who has credentials than one who doesn't.
83% of customers think that it's important for life coaches to hold a credential.
77% of coaches agreed that clients expected them to be certified or credentialed.
Basically, the odds are more in your favor when you become certified.
If you decide to get certified, make sure you look for an established life coach certification program. Not only should the organization be reputable, but should also offer top-grade training, coaching experience, examinations, and references.
Keep in mind that this will cost money, though. The programs are priced anywhere between $1000-$7000 – sometimes more.
In case you don't want to get certified, you have to think of other ways to show credibility to potential clients. You can show your education (a degree in marketing, psychology, organizational behavior, and so on.), work experience in the relevant field, or even testimonials and references from previous clients.
Step 4: Take the Big Step and Launch Your Life Coaching Business
You have to fulfill certain legal formalities before launching a business, and coaching is no different.
The first thing on the list should be to choose a business entity type. Depending on whether you plan to start your business on your own or as a partnership, you have the following options:
Sole proprietorship
Partnership
Limited liability partner
Corporation
We highly recommend hiring a lawyer to help you break into the differences between every entity type and understand the best option for you.
Once you've registered your business, don't forget to get business insurance as a safety net in case of any lawsuit or emergency. Better safe than sorry, right?
You should also chalk out your budget at this point, as this step is likely to be expensive with all the legal fees and setting up expenses.
Here is a quick checklist of expenses:
Business registration costs
Web hosting and website designing
Coaching organization membership fees (Optional)
Marketing campaign tools for email marketing, social media marketing, and paid advertisements
Insurance
Office expenses like rent, stationery, and so on
Phone, computer, and internet subscription
Of course, these expenses aren't written in stone. It may be more, it may be less – it depends on your requirements.
Step 5: Plan Your Life Coaching Fees Structure
Time to concentrate on the money part of the business!
Typically, life coaches charge an hourly rate ranging from $75-$1000. The range is massive, but there's a reason for it.
You see, the charges differ depending on the individual's niche, target market's budget, number of years of experience, credentials, and of course, personal income goals and budget.
Right off the bat, you can have free subscription packages:
Pay per session (usually hourly)
Pay per month
Pay per package (example: $X for 1 month, or $Y for 3 months)
We recommend offering a customized package deal. Doing this will give you a better idea about your income for the upcoming months, and also help you get more committed clients a.k.a people who are in for the long haul.
Let's take a look at Amy Larson's fees structure for more perspective.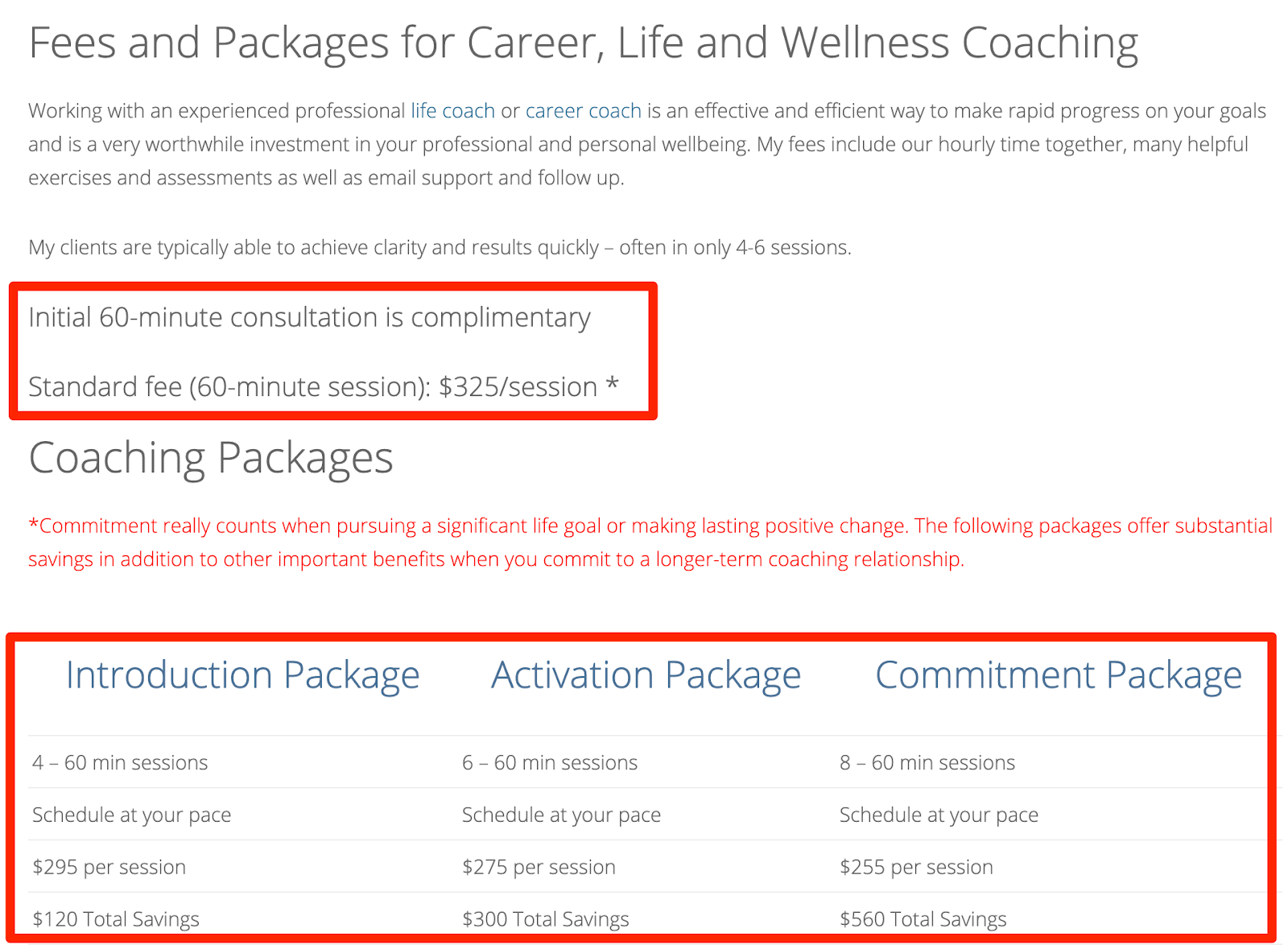 She charges a monthly fee but also offers coaching packages – something we feel is super clever.
Hourly Charge:
Initial 60-minute consultation is complimentary
Standard fee (60-minute session): $325/session
Coaching Packages:
Introductory Package — This includes 4, 60-minute sessions at $295 per session
Activation Package — This includes 6, 60-minute sessions starting at $275 per session
Commitment Package — This includes 8, 60-minute sessions at $255 per session
You could also do something like this, where you combine two different pricing structures. If you go through the charges, you'll find that Amy offers a discount when the client signs up for more months.
Top Tip: Make sure you're very clear about package details to prevent any miscommunication or disappointments down the line.
Step 5: Build Your Online Brand
Backlinko found that 4.71 billion people were using social media worldwide in 2022. Yes, billion.
Therefore, it makes no sense to not be where literally half of the population is. Plus, with the ongoing pandemic, nearly everyone is online. So yes, you need to have a digital presence to build your business and get more clients.
The very first thing you need to build an online presence is your personal website. It should display crucial information like pricing and package offerings, your credentials and qualifications, and lots and lots of personality!
Your clients should trust you, which is why adding photographs or a short video where you talk about yourself and how your clients can benefit from your coaching would be great.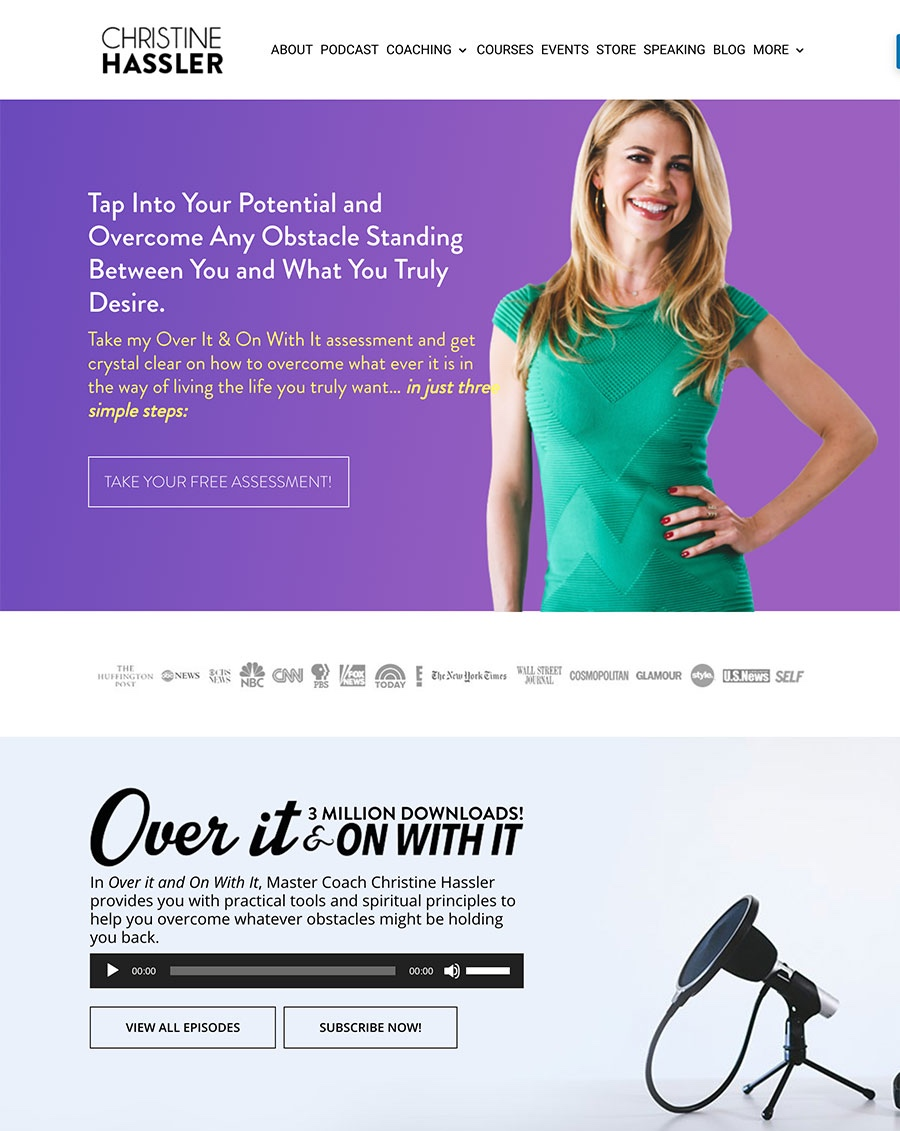 Social proof is a powerful marketing tool as well. You can consider adding testimonials and references on your website to win some extra brownie points.
With a website in place, social media should be your next priority.
While there are plenty of options when it comes to social media platforms, you should make accounts based on your niche. For instance, Instagram is excellent for finding customers in the wellness on mindfulness niche. But if you plan on working with corporate and executive clients, LinkedIn would be a better bet.
Genius Hacks to Enhance Your Coaching Practice's Social Media Presence
Add mini-coaching videos on IGTV or Instagram stories
Use popular hashtags relevant to your niche
Join relevant groups on Facebook and LinkedIn
Share your content across all your social media platforms
Develop a consistent posting pattern – twice in a week at the minimum – to keep your audience engaged
You can consider launching a pay-per-click or PPC ad campaign on social media or search engines too. However, do this only when you plan on expanding your business.
Step 6: Automate Processes Wherever Possible
Most life coaches are a one-man show, so time is of the essence in most cases. In fact, many even claim there aren't enough hours in a day to cover all bases.
This is where automation comes into the picture.
You'll find yourself having to schedule tons of appointments – face-to-face and virtual – once you launch your practice. Generally, this involves lots of phone calls and back-and-forth emailing.
But, to save time, you can instead install an appointment scheduling plugin like Simply Schedule Appointments, which allows clients to schedule appointments directly through your website, as well as allowing you to easily accept payments for your paid consultations with their PayPal and Stripe integrations. Do we need to mention it's incredibly simple to setup and manage?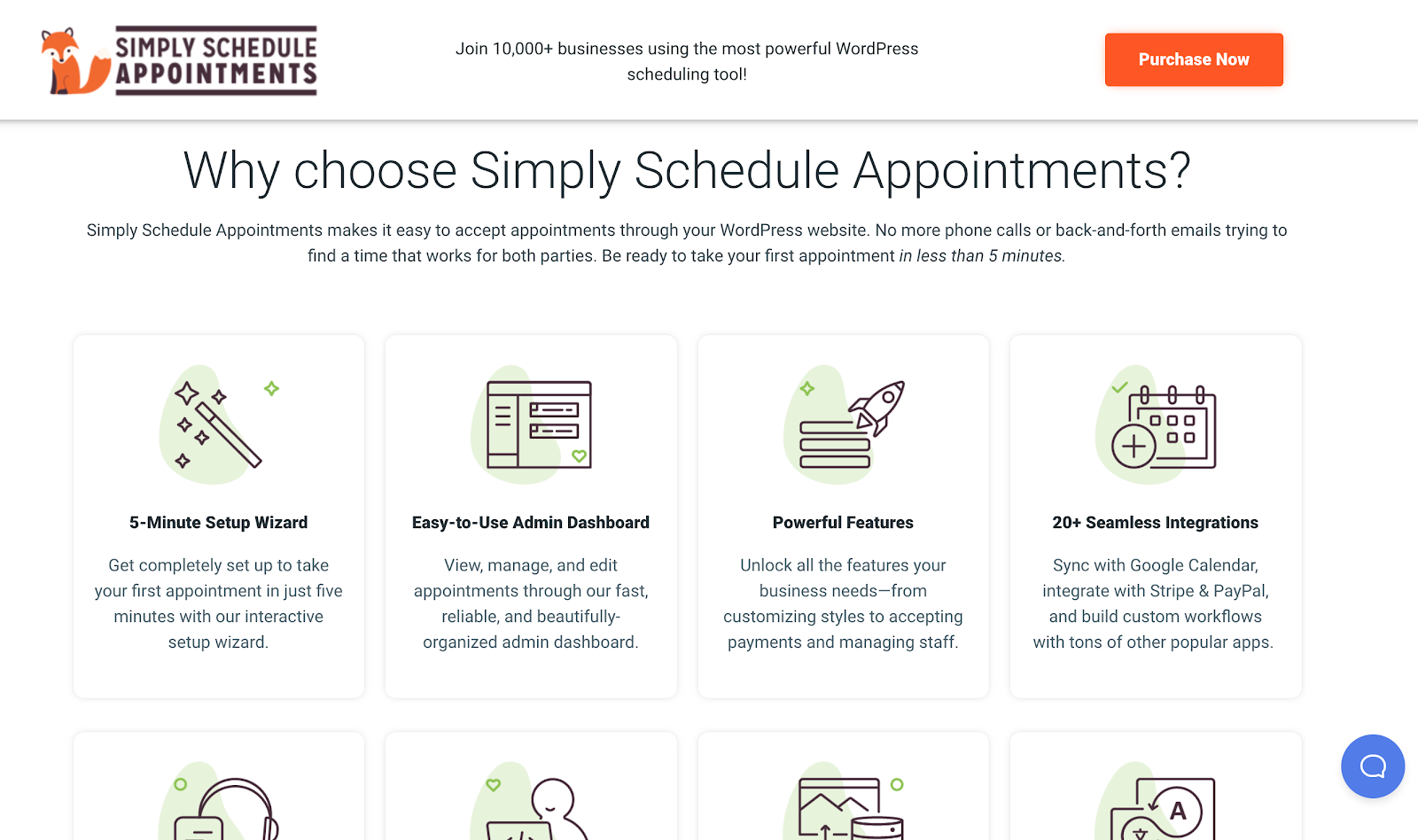 Similarly, you can use ActiveCampaign or QuickMail to automate your email sequences and clear your sales funnels, and Sprout Social and HootSuite for scheduling social media posts.
Trust us, you'll find all kinds of free and premium plugins that can make your life very convenient, very soon.
Like they say: Work smarter, not harder.
Step 7: Work on Upping Your Life Coaching Game
After automating repetitive processes, you'll find yourself having some extra time on your hands – something you can direct towards scaling your business.
You might find yourself feeling more confident about expanding your comfort zone and working with more clients after a few months or years. And when you feel ready, you should consider certain scalability tactics that can give your coaching business the necessary boost to take it to the next level.
Below, we've made a list of the three best ideas to scale your practice:
Guest Posting and SEO
Guest posting can be a great way to maximize your traffic as well as get backlinks, which again would help you bring more organic traffic to your website.
You can write articles related to your niche and post them on renowned publications, along with your contact and website details. This can also help with SEO or Search Engine Optimization, letting you rank higher in the SERPs.
Creating free resources and SEO-optimized articles for your blog are also proven methods to increase website traffic.
Building a Mailing List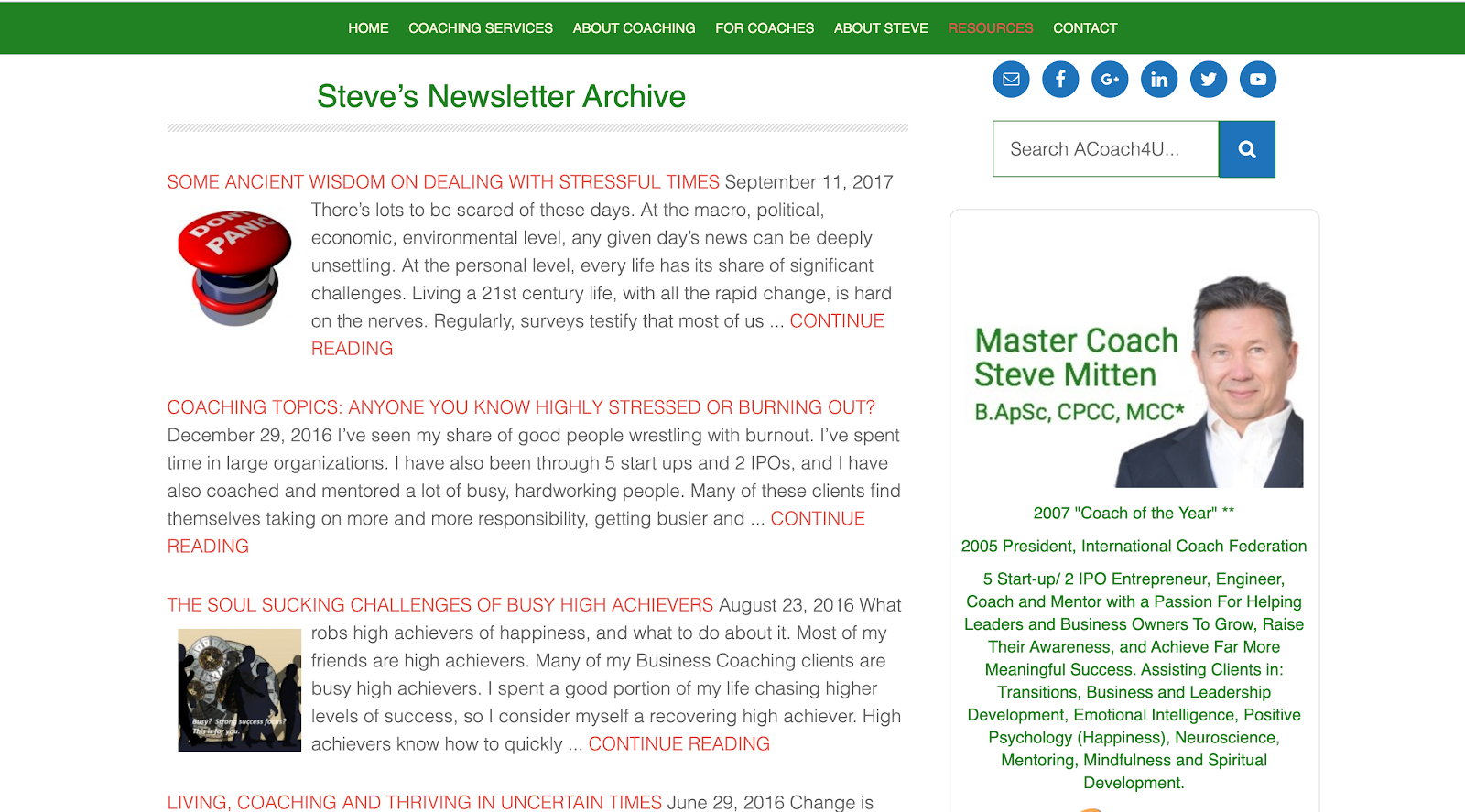 Full Disclosure: Building a mailing list takes time, but the efforts are well worth it.
Several life coaches have online newsletters that help them engage with their subscribers, and bring more business.
All you need to do is share your knowledge, and provide something that could be valuable for your target audience. This might even get to a point where you receive several inquiries after putting out a word that you're looking for more clients. Who knows!
Upgrading Your Skills
"Coaching isn't therapy. It's product development, with you as the product." – Fast Company
As a life coach, you have to find ways to improve your skills, along with your clients. In other words, you should continually seek out learning opportunities that help you stay ahead of your competition.
The good news is there are plenty of ways to do this!
You can read the latest books, do some more research in your niche, attend industry events that could increase your knowledge, or continue training with an industry association. Participating in online communities and asking and implementing client feedback also work well.
Just keep investing in yourself and your skills. Think of it as the ultimate investment in your business.
On Your Marks, Get Set, Coach!
Now you know how to become a life coach. Congratulations!
The good news is that you will find a suitable place in the world of coaching irrespective of your passion and niche. Start by developing your coaching vision and your niche, and then work through the intricacies of setting up and launching your business.
With your determination, hard work, and focus, you eventually will achieve your personal and professional goals – all the while helping other people achieve theirs.
Try Simply Schedule Appointments
Love it or get a full refund within 30 days!