Introduction
After an appointment is booked, the admin can visit the Appointment Details Page in the Appointments Tab of the plugin dashboard. This will show a detailed overview of the appointment, including information like:
Start date and time for the booking
Customer information fields
Booking calendar info
---
Appointment Details Page
To see an overview and manage booked appointments as an Admin or Team Member, go to the SSA Admin Appointments Page > Appointments tab. Here you'll see a list of your Upcoming Appointments.
Click on the Appointment you'd like to view and click the Appointment Details page button.
Appointment and Customer Information
From here, you'll be able to see different information about the booked appointment.
Here you'll find:
Customer name
Appointment Type
Appointment Start Time and Date
Customer Information Fields
Reschedule/Cancelation Link
Web Meeting Link (if any)
Payment Information (if any)
Team Member Assigned (if any)
Resources assigned (if any)
Title of Booking Page
URL of Booking Page
Created Date
Last Modified Date
Formidable or Gravity Forms Entry Link (if any)
SMS Opt-In or Opt-Out (if any)
Appointment Actions
You can Cancel, Edit, Reschedule or Delete the Appointment using the Menu (three dots) button in the top-right corner.
You can even modify the status of the appointments here by clicking Edit next to the booking status.
As well as Edit Team Members if you're using the Team booking feature.
On top of that, you're also able to review the revision history for the appointment (if this is enabled in your Developer settings). This will allow you to view when an appointment was created, what edits were made, if it synced over to Google Calendar (if connected), and if notifications were sent out.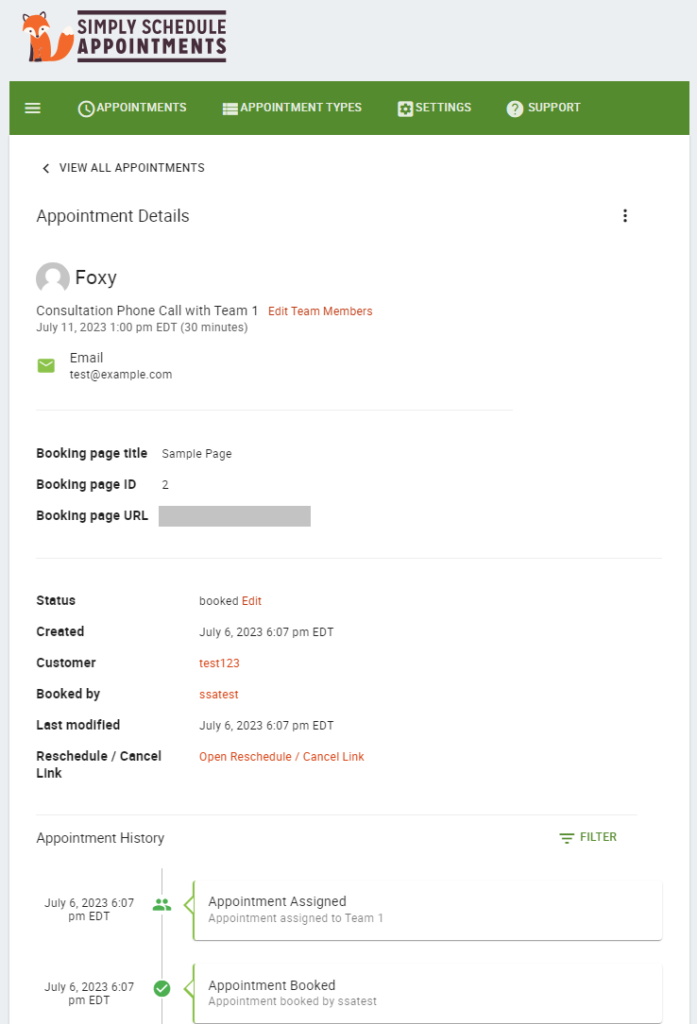 ---
Group Appointment Details Page
The Group booking feature is included in all of the paid editions using the Capacity feature.
Group Appointment and Group Info
In the Group Appointment Details Page, you can see the
Appointment Type
Start Date and Time of the Group Appointment
Team Member Info (if any)
List of attendees listed with their:

Name
Email
Appointment Details link
Specific Cancelation link
Group Appointment Actions
The Menu (three dots) in the top-right corner will give you the option to Export the Attendee List, Cancel the entire Group Appointment, or Delete the entire Group appointment.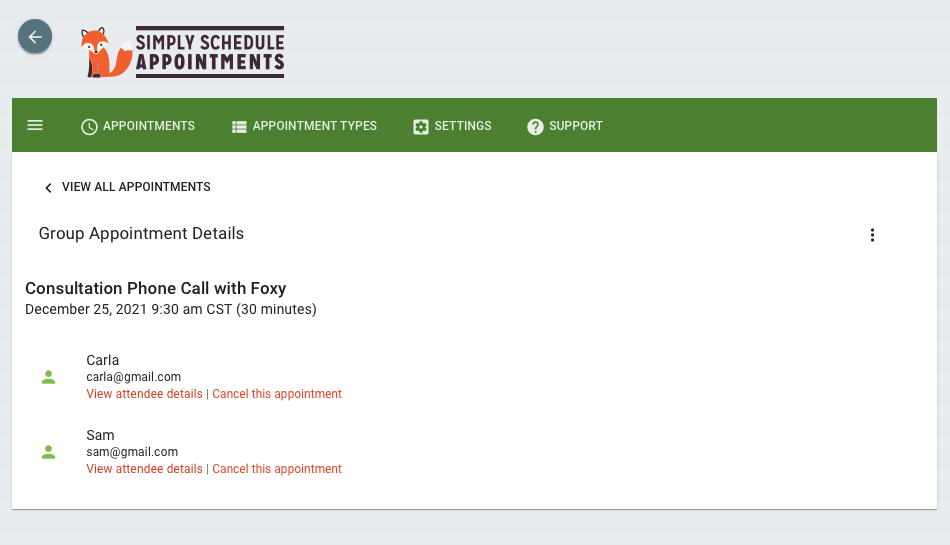 ---
---
Related Guides
---