PayPal may not have been the first company to make it easy to pay for things online with a bank account instead of a credit card, but it's certainly the first to perfect it. It's free for making payments, super easy to use, secure, and it's super fast and can be used in over 200 countries/regions. And, it's been one of the most successful payment gateways available on WordPress for everything from simple button transactions to more complex E-Commerce plugins.
Tips When Choosing the Best WP e Commerce PayPal Plugins
There are a variety of WordPress plugins who offer PayPal integration, it's up to you to decide what your goal is with offering a PayPal checkout.
Figure out whether you need some additional functionality along with taking payments, for example, are you taking payments for a donation or along with appointments? Depending on what your website needs, you may need to look for the type of plugin functionality first, and then determine if they have PayPal integration afterwards.
Or, would you be better off with a simple embedded PayPal button? This would be the simplest and cheapest (it's free!) option in case you only want to direct clients to your site to pay.
In this guide, we'll discuss some of the best PayPal WordPress plugins for different use-cases that offer seamless integrations with PayPal. Read on to learn the different ways you can use PayPal to grow your business.
---
Best WP e Commerce PayPal Plugins
---
Best Paypal WordPress Plugin for Advanced Form Building: Gravity Forms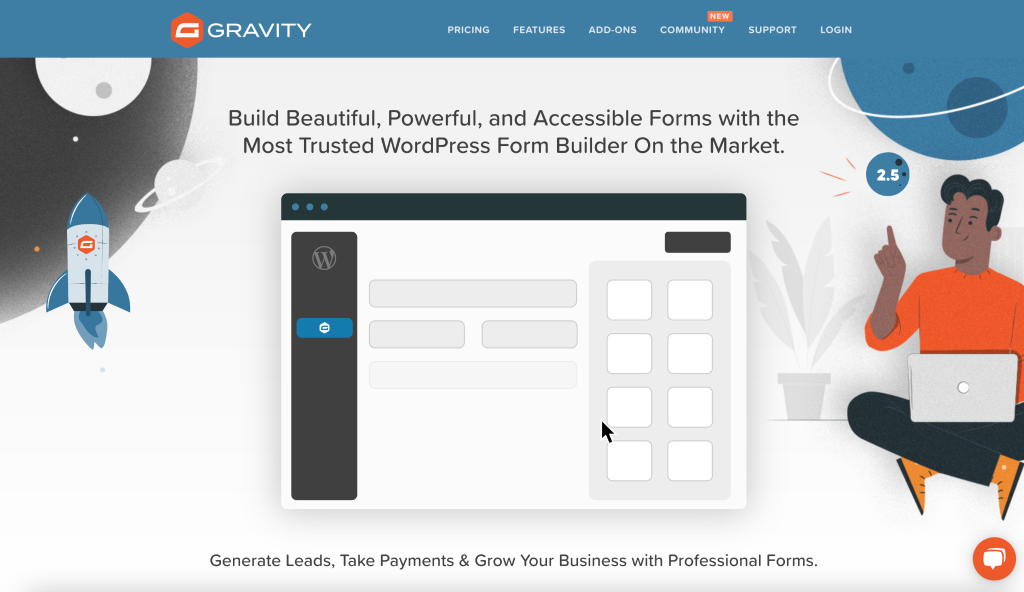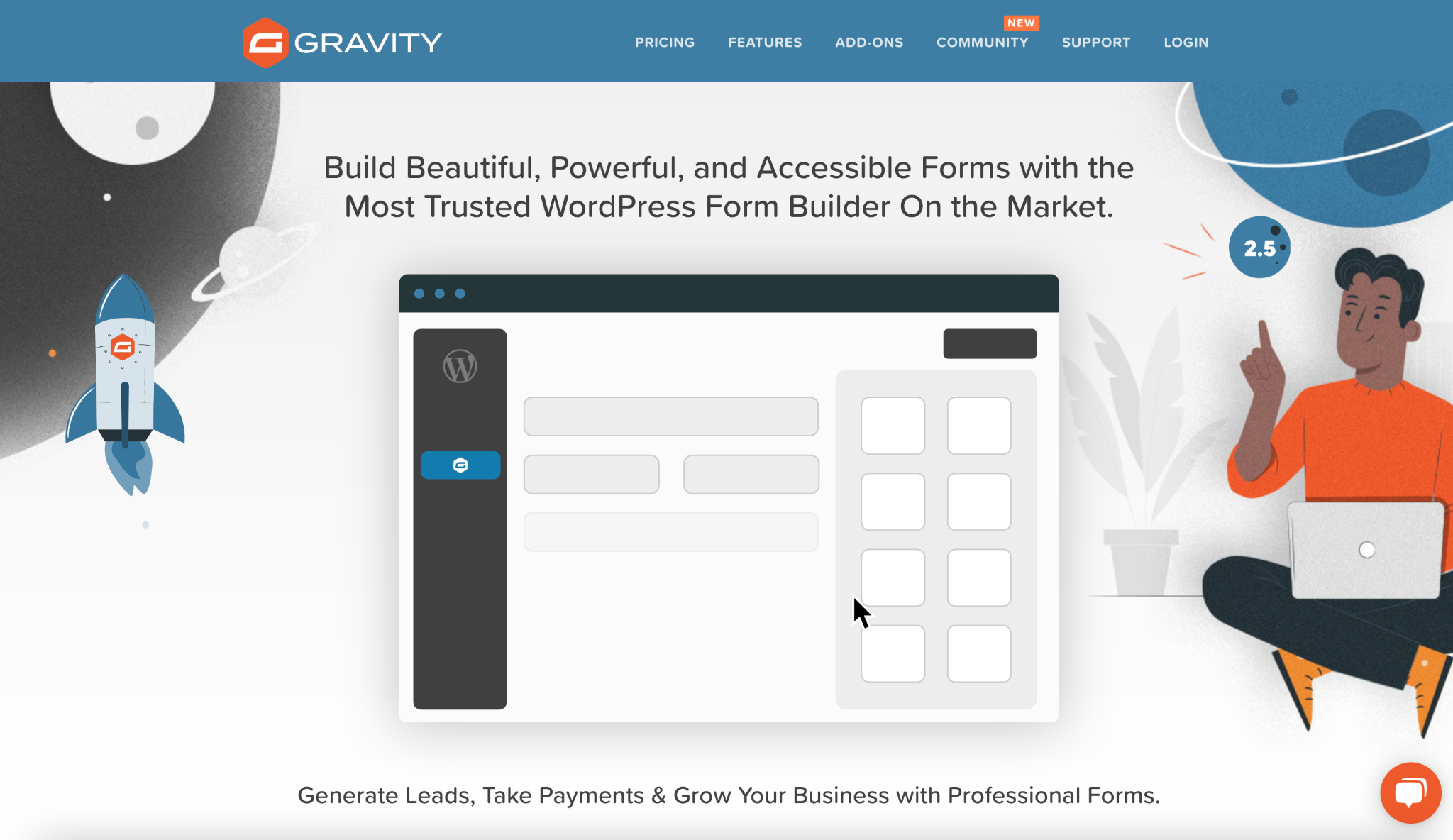 As one of the most essential pieces of a website, forms are found all over the internet and can provide a great place to collect payments from your customers. Some examples of forms that take payments are cart checkout forms, service booking forms, and class registration forms.
Gravity Forms is one of the longest standing form builders (and WordPress plugin in general) that we love to recommend to folks looking for a way to add this essential piece to their website. Apart from having a huge library of Add-Ons to extend their form building functionality, many third-party software developers also provide their own extensions, this ease of flexibility is what makes this plugin so powerful!
The built-in PayPal integration that Gravity Forms is quite notable in that it provides some features we don't commonly see such as Payment Authorization. This allows you to collect information and consent from your customer's PayPal account so that you can charge them at a later date. This is great if you don't charge the client for your services until you've completed the job.
Another great feature we admire is the compatibility between the PayPal Add-On and their User Registration Add-On which allows you to create recurring payments upon form submission for membership management.
Learn more about Gravity Form's PayPal Integration.
Key PayPal Features
Accept one-time payments or create recurring subscriptions via form
Submit refund requests within the WordPress dashboard
Support for payment authorization and card capture, trigger a payment at a later date
Pricing
Basic – $59
Pro – $159 (Includes PayPal Add-On)
Elite – $259 (Also included PayPal Add-On)
---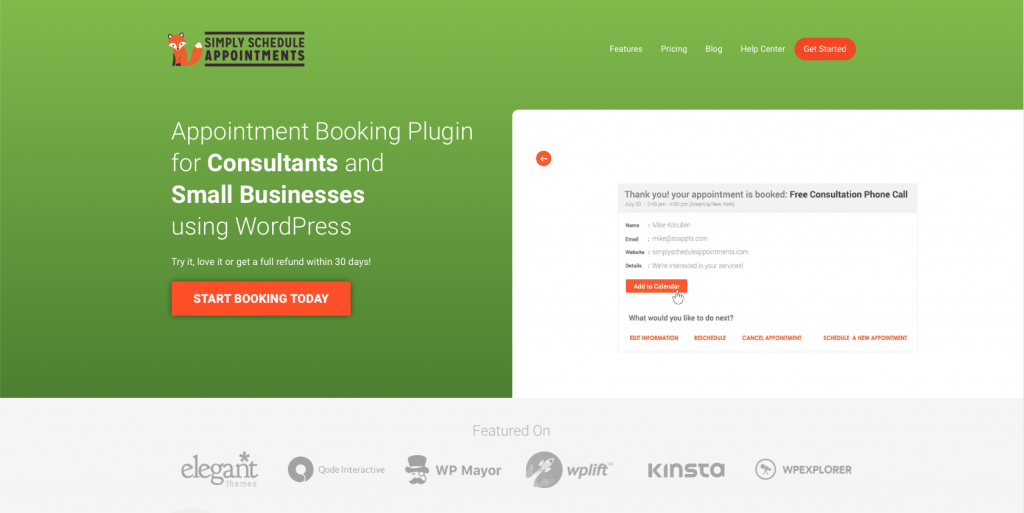 A booking plugin (also known as a scheduling plugin) makes it easier for your customers to set up appointments with you—or your staff—to stay on top of your calendar and availability.
This is incredibly useful regardless of whether you're a lawyer, web designer, or mobile notary. Put simply: if you offer in-person or online services and have a website, you will find a booking plugin valuable.
When it comes to booking plugins, it's hard to beat Simply Schedule Appointments.
It's an easy-to-use plugin with a perfect 5-star rating and is active on over 20,000 websites. It offers support for an unlimited number of appointments, users, and appointment types, as well as fine-tuned customization to suit your requirements.
Simply Schedule Appointments' seamless integration with PayPal allows customers to pay for their appointments. All you need is an SSL certificate and a PayPal business account, and you can start accepting payments from customers who want to book an appointment with you.
Place your appointment booking form anywhere you like on your website with a booking form block or shortcode. Or you can take advantage of the dedicated integration for popular web page builder plugins like Divi, Elementor, and Beaver Builder.
Learn more about Simply Schedule Appointment's PayPal integration.
Key PayPal Features
PayPal Secure Checkout for appointment booking
Offers all supported PayPal currencies
Create a booking form using Gravity Forms or Formidable Forms and accept payment through their PayPal gateway
Pricing
Simply Schedule Appointments has four pricing plans:
Basic Edition — free
Plus — $99
Professional — $199 (Includes PayPal feature)
Business Edition — $299 (Also includes PayPal feature)
Note that Simply Schedule Appointments offers a 30-day risk-free money-back guarantee.
---
Best Paypal WordPress Plugin for Donations: GiveWP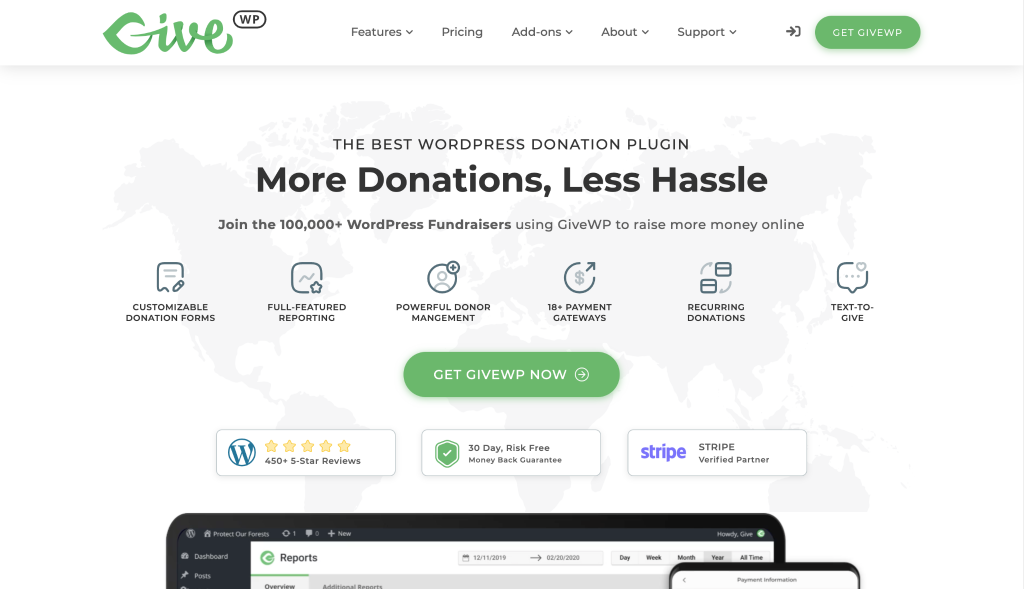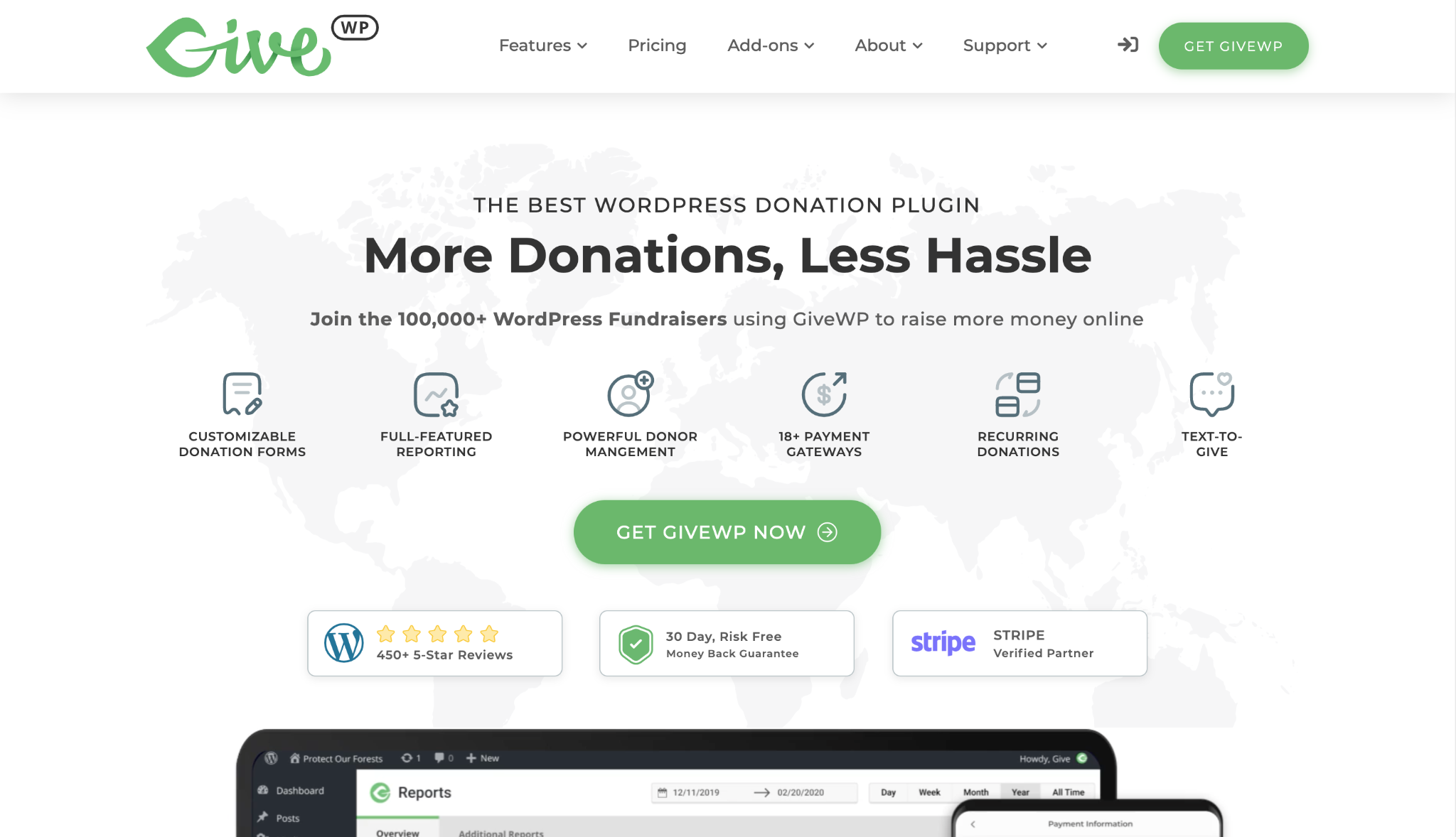 Collecting online donations is a highly effective way to raise funds for special causes, non-profits, charities, or relief funds. This could even work if you're a blogger with an appreciative reader base.
We highly recommend GiveWP, which is the best WP e Commerce PayPal plugin for accepting donations and raising funds.
This plugin provides knowledge base information on publicity and fund-raising to help non-profits or initiatives make money and create awareness. Additionally, you can get started with GiveWP for free.
GiveWP's PayPal Donations integration is the easiest way to accept donations via your PayPal account. It's included in the free GiveWP plugin and is also the recommended method of integrating PayPal with GiveWP.
The PayPal Donations gateway doesn't take users off your site. This makes the process convenient for them, which makes them more likely to donate.
What's more, GiveWP allows you to fine-tune your donation process with features like customizable donation tributes, multi-level donations, tax-deductible donation receipts, campaign-level donation goals/incentives, and more.
Learn more about GiveWPs PayPal integration page.
Key PayPal Features
Uses the PayPal Donations API which means there's lower additional fees for you if you're an eligible charity
This PayPal integration offer on-page PayPal and Credit Card payments, no need to redirect
Create Recurring Donations and ask donors to cover PayPal fees
Pricing
GiveWP offers four plans:
Free (Standard PayPal Integration)
Basic — $249 (PayPal Pro which include Donation API)
Plus — $360 (Also includes PayPal Pro which provides the Donation API)
Pro — $499 (Lastly, PayPal Pro includes the Donation API)
---
Best Paypal WordPress Plugin for Ecommerce: WooCommerce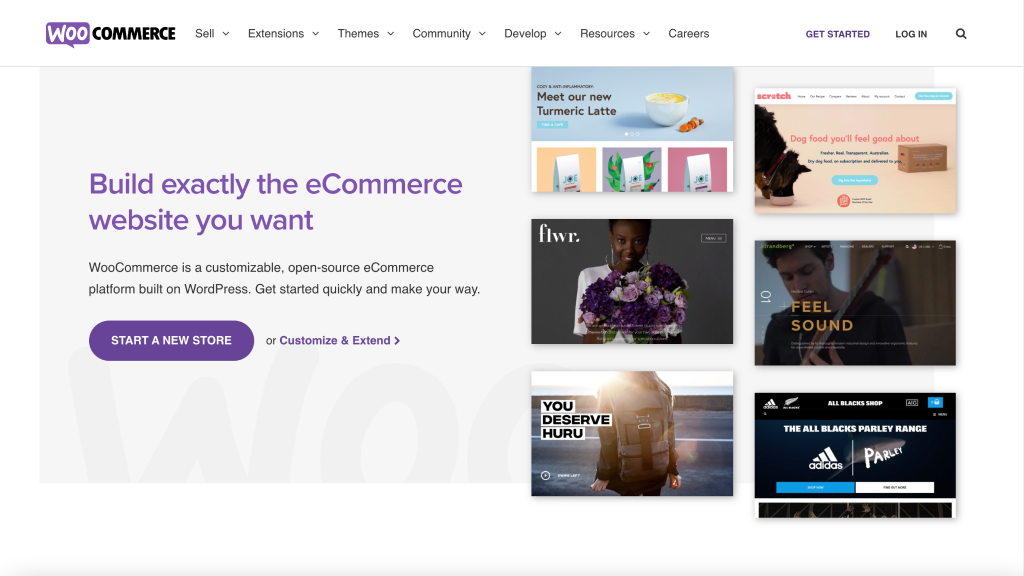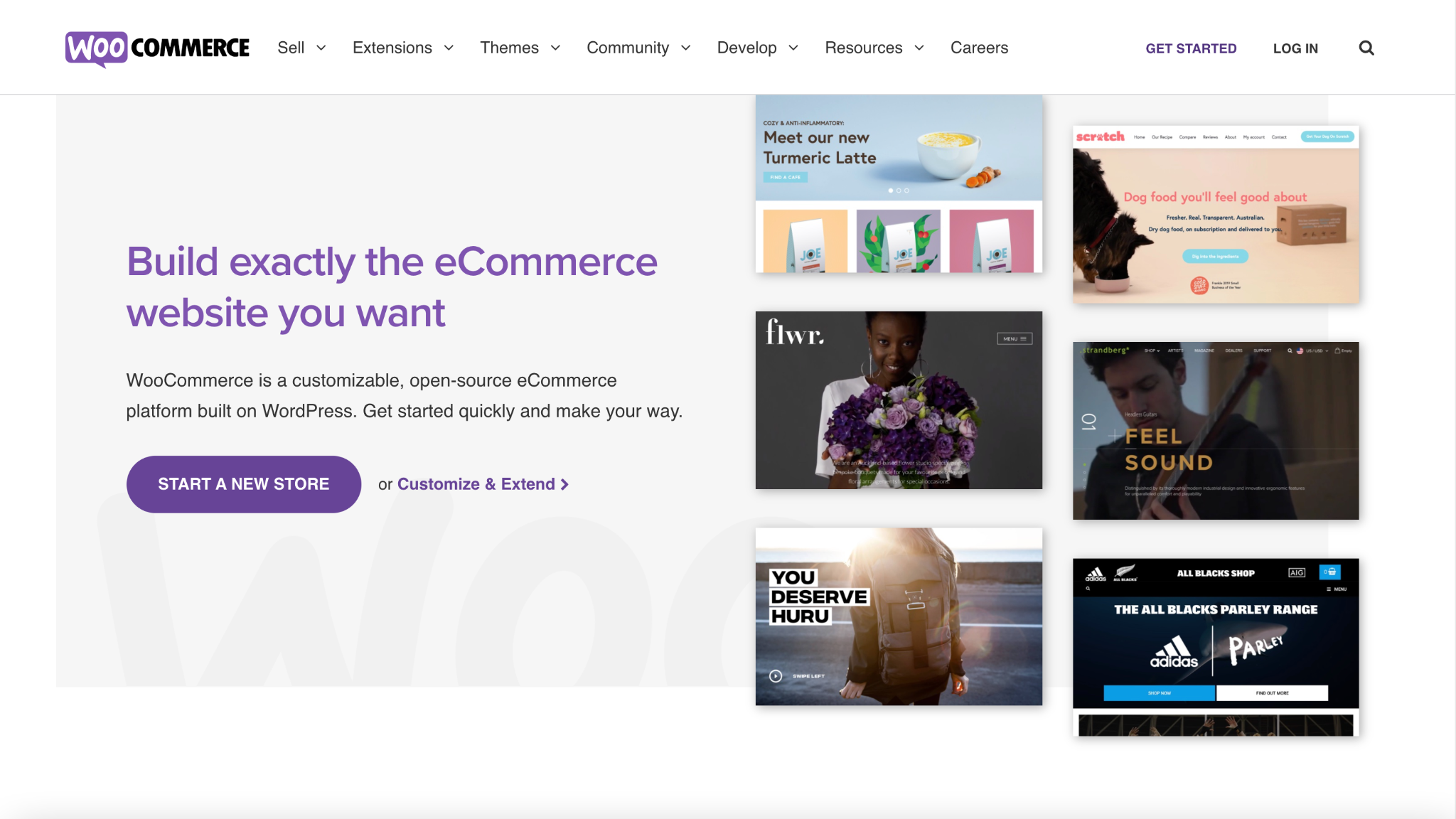 Installing an eCommerce plugin can seriously simplify the process of building an online store. You can use them for selling digital goods like ebooks, music, or photos. Or you can sell physical products that involve shipping.
You want a WP e Commerce PayPal plugin that offers reliable payment solutions, third-party apps and integrations, design and customization features, and prompt support. While you can choose from several of options, we highly recommend WooCommerce.
Many claim WooCommerce is the premiere WordPress PayPal plugin, and they aren't wrong. It can instantly turn your website into a fully functional eCommerce store.
WooCommerce integrates seamlessly into WordPress and offers streamlined processes for managing your online store. It's also compatible with most WordPress themes and plugins. Other features include product and inventory management, comprehensive statistics, order management, and coupon management.
WooCommerce supports all major payment options in one easy checkout solution, including PayPal.
Create stable, predictable income by offering subscription plans using flexible plans with fixed or quantity pricing, set billing cycles for the time period you want, and discounted trial periods. All these features make things more convenient for your shoppers—and you—accelerating your business's growth.
Learn more about WooCommerce's PayPal integration.
Key PayPal Features
Subscription payment plans with PayPal
Pay Later feature allows your customers to schedule a payment to you at a later time while you get paid upfront
Split payments so that customers can pay in 3-4 sets of installments completely interest-free
Pricing
The core WooCommerce plugin is free but only provides basic functionality. Most people will need to install additional add-on plugins, both free and paid, to get their store working just the way they'd like. PayPal Payments is a free add-on for WooCommerce.
---
Best Paypal WordPress plugin for Event ticketing: The Events Calendar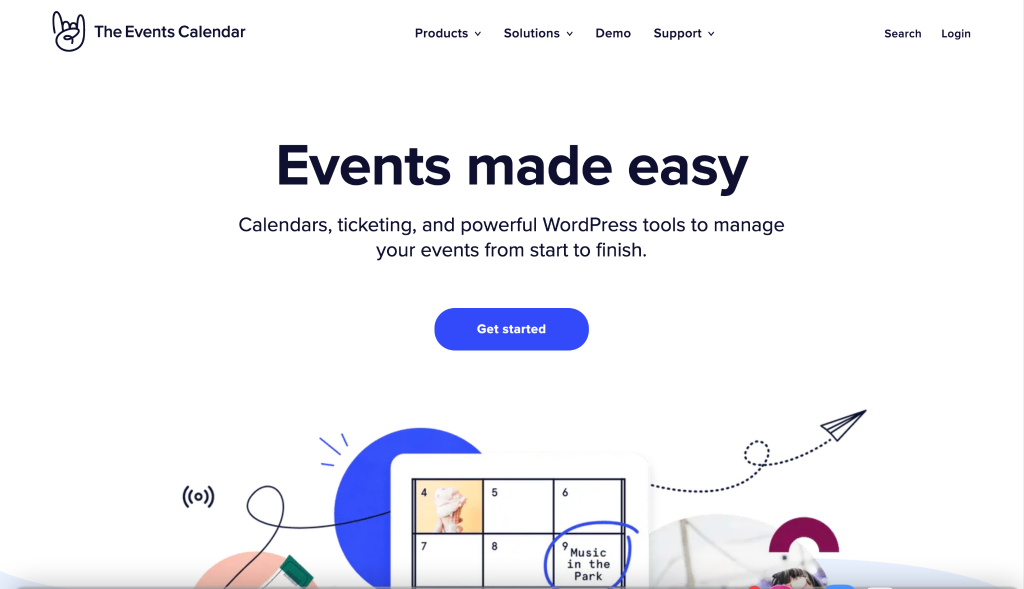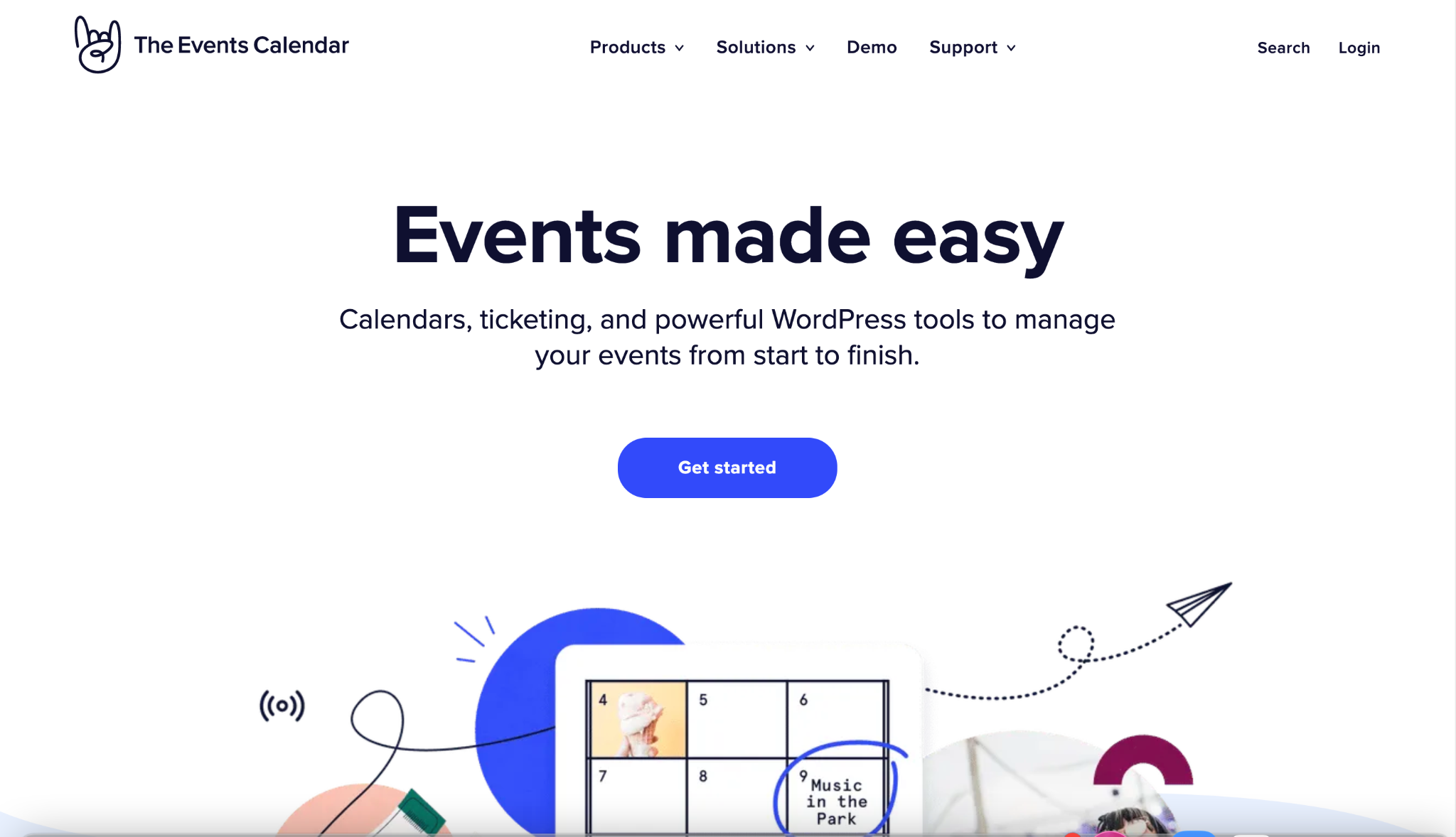 If you want to share an events calendar, coordinate your own events, and offer ticket sales, you should add a WordPress event management plugin to your site.
These plugins make it a snap to display both upcoming and past events in a variety of different ways, allow people to RSVP or purchase tickets, and help you promote your events on social media.
If this appeals to you, you should definitely check out The Events Calendar.
The Events Calendar is one of the most popular event management plugins and is active on over 700,000 websites, complete with a solid 4.5-star rating. It helps businesses promote their events by using SEO-friendly microformats, making it super easy for people to add events they're interested in to their calendars.
If you're selling tickets to your events, The Events Calendar allows you to accept payments with PayPal Standard.
You'll just have to enable the instant payment notification (IPN) on your PayPal account and connect it to your WordPress site.
If you want to take other types of PayPal payments (or use other payment gateways), you'll just need to integrate with an e-commerce plugin like WooCommerce, Tribe Commerce, or Easy Digital Downloads.
Learn more about the The Events Calendar which provides two methods to integrate with PayPal. Through their Tickets Commerce or WooCommerce integration.
Key PayPal Features
Integrates with WooCommerce so that you can collect ticket payment with PayPal through Woo along with all of their other payment gateways
Their PayPal integration also allows Venmo and credit card payments
Pricing
Event Tickets – Free (Includes Tickets Commerce feature that allows PayPal integration)
Event Tickets Plus – $99 (Includes WooCommerce Integration too)
The Events Calendar also offers their plugins in packages depending on what you need, for example, the Event Tickets Plus plugin is included in their Event Marketing Bundle for $229/yr which includes Events Calendar Pro and Promoter.
---
Best Paypal WordPress plugin for Memberships: MemberPress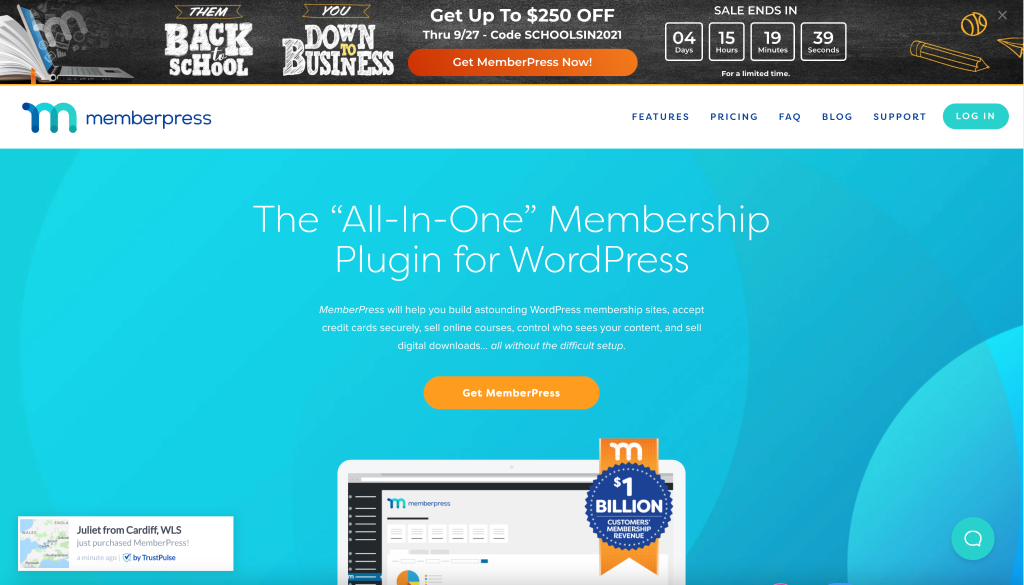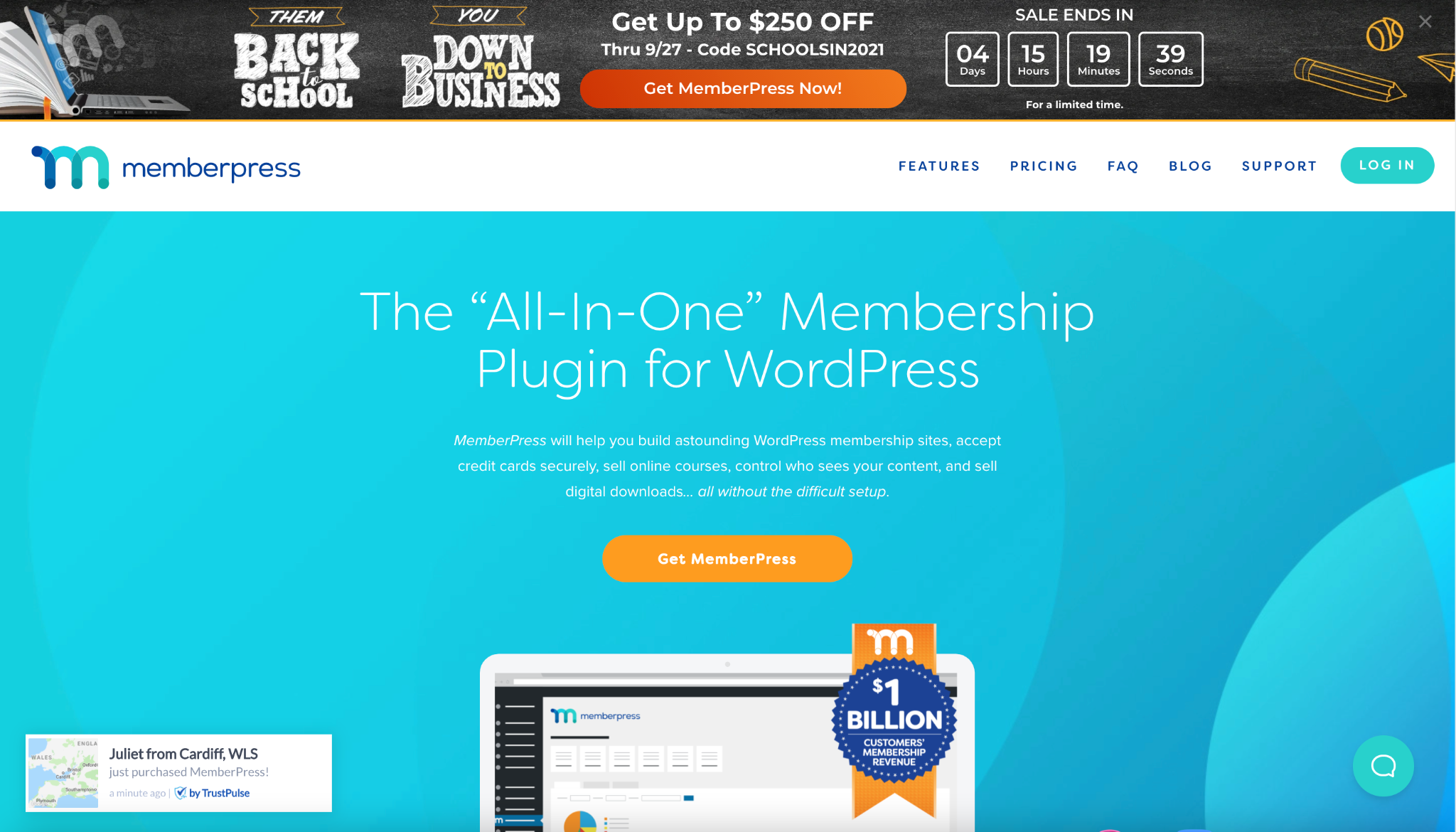 Membership plugins are good for selling ongoing membership subscriptions, usually with access to premium content or classes and features on the website with different levels of membership.
Moreover, you can use a membership plugin to:
Create emails to send customers coupons or updates
Charge for access to premium content
Share free content to build a loyal following
You're spoilt for choice when it comes to quality WordPress Paypal Membership plugins. But based on our experience and research, MemberPress is our #1 membership plugin choice because of its excellent feature offering and third-party integration support.
MemberPress offers a myriad of easy-to-use and powerful features, which can be valuable for all experience levels. You can create unlimited membership levels with various trial periods and payment options, as well as categorize different membership levels into "Membership Groups" to build predefined upgrade paths.
Restricting content is a huge advantage. You can go broad and restrict whole categories or sets of child pages or restrict only parts of a page or post. Blocking access to individual files to help manage downloads is another possibility.
What we like the best about MemberPress is it lets you drip out your content however you want. It gives you all types of reports to know how your membership site is performing and sends out emails when specific events occur, such as an upcoming subscription renewal.
MemberPress can integrate with PayPal, among other major payment gateways, which can be especially useful for those running an online course because of the greater convenience. You can easily accept membership payments from your customers on a recurring basis.
Learn more about MemberPress' PayPal integration.
Key PayPal Features
One-time and recurring payments to charge members as well as the management features to handle this within the WordPress dashboard such as pausing payments, refunds, and cancellations
Handle trial periods for members
Offers both the PayPal Standard and PayPal Digital Goods via Express Checkout payment methods
Pricing
MemberPress offers three pricing plans:
Basic — $179
Plus — $299
Pro — $399
PayPal is included in all of MemberPress plugins as a Basic Add-On.
The company will happily refund your money within 30 days of purchase if you aren't satisfied, no questions asked.
---
Grow Your Business With the Best WP e Commerce PayPal Plugins
People recognize the PayPal logo and associate it with safety and security, making them more likely to pay for your goods or services. Undoubtedly, this is a huge bonus for you as nothing is standing in the way of converting your website visitor into a customer.
You have many options to add PayPal to your website, but the easiest way is to install a plugin that offers reliable and seamless PayPal integration. Whether you want to offer memberships, have customers pay for appointments, accept donations, or add a shopping cart experience to a website, we're sure the above best WordPress PayPal plugins will help you convert more website visitors.
Which WP e Commerce PayPal plugin do you choose and why? Is there a favorite PayPal plugin we missed? Let us know—we'd love to hear from you!
Try Simply Schedule Appointments
Love it or get a full refund within 30 days!