Introduction
Have you been looking for an excuse to dust off your Google Calendar and put it to good use? Interested in viewing your appointments from Google Calendar without having to log in to your WordPress site each time? Then we have just the thing with our nifty Google Calendar integration!

Quick Overview
Editions
Plus (v2.0.9.1)
Professional (v3.0.9.1)
Business (v4.0.9.1)
Helpful Links
---
A Whole New World with the Google Calendar Integration
Setting up the Sync
Simply Schedule Appointments and Google Calendar converge and feature a seamless two-way sync. This sync works by creating events on Google Calendar based on newly booked appointments and by reading existing events from Google Calendar to exclude those time slots on your booking calendar. We have a nifty guide that goes in-depth on how this works here.
Setting up Google Calendar requires creating a unique Google Client ID and Client Secret with the power of Google API. This is necessary as it will allow Google to communicate with Simply Schedule Appointments. We have an excellent guide with a fancy video walkthrough that goes over how to precisely do this.
Once the Google Client ID and Client Secret are ready to go, you're in the last stretch. Now all you have to do is set up Google Calendar within Simply Schedule Appointments and update your Appointment Types. And, if you would like Google Calendar to automatically delete canceled appointments, feel free to toggle on the shiny setting dubbed Delete Canceled/Rescheduled Events.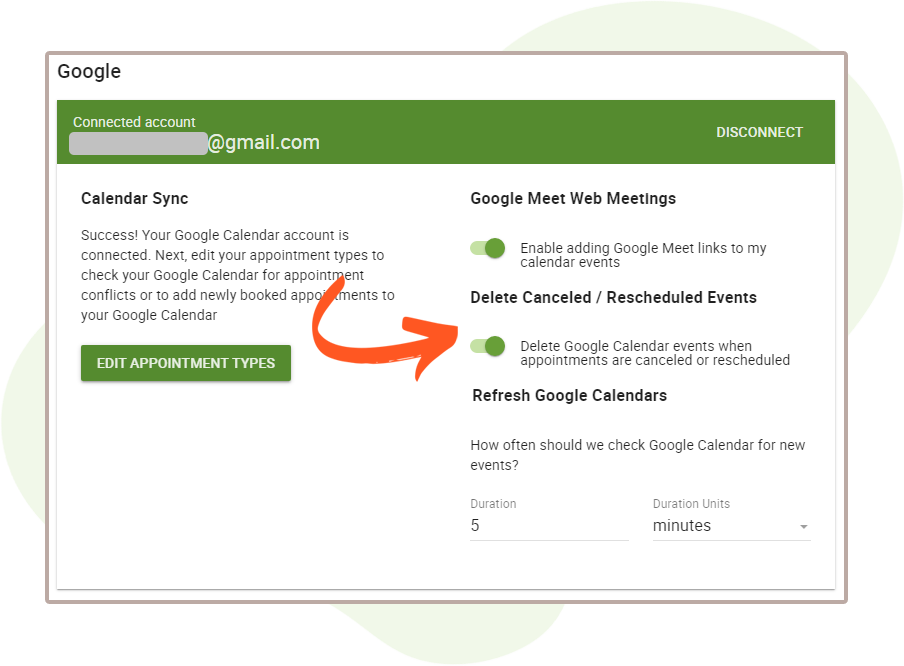 ---
Google Calendar Events
If you desire the ability to customize the Google Calendar events, then we have a neat feature that allows you to do so. This feature is still in beta, but if you toggle this on within your Simply Schedule Appointments Settings and head on to Developer, you can enable this within the Beta Features section.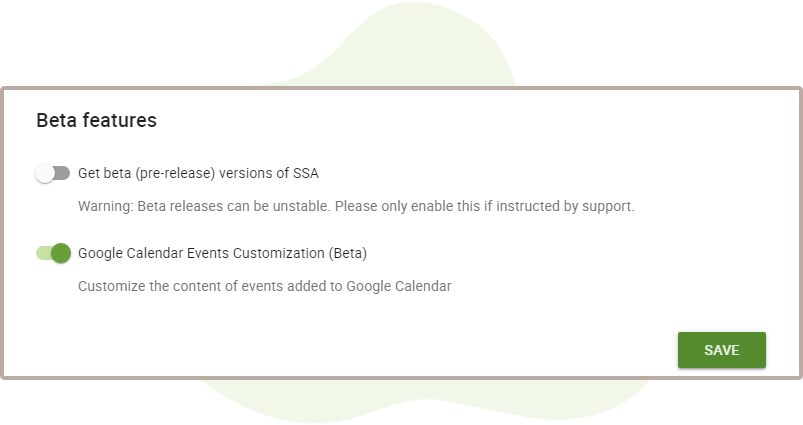 Once enabled, you can head to your Settings > Google to toggle on the shiny new option that appears as Customize Event Content. Depending on the settings that are being used, you can have the ability to customize up to five total unique Google Calendar events.
Much like how notifications utilize nifty twigs, so can the Google Calendar Events! Event titles and descriptions can be customized to your heart's content using the supplied twigs or even advanced twigs that you can take a peek at here.
The possibilities are (almost) endless!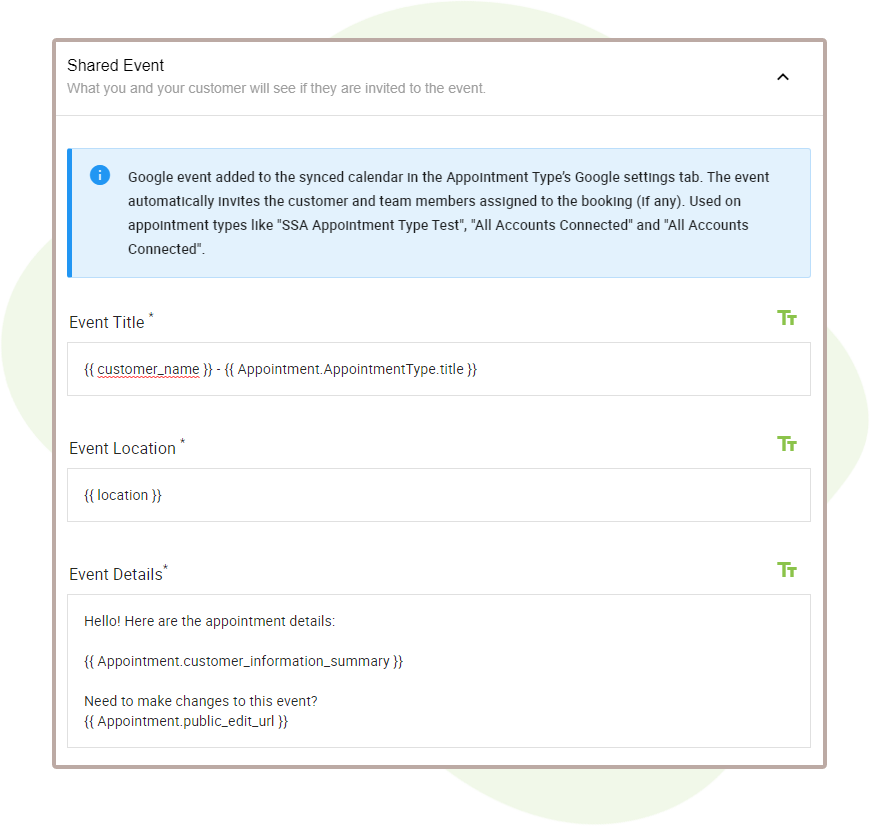 ---
Google Invites
One of the neatest things about the Google Calendar integration is that Google Invites can automatically invite guests to the Google event, even if they don't use Google Calendar. They can see details and add the appointment to their own Google Calendar (or download the .ics file to add to any other calendar).
With Google Invites, guests can then let you know if they're able to attend the event. And this feature sends guests reminders when the meeting time approaches once the invitation has been accepted!
Invites can be toggled on by visiting the Appointment Type's settings within the Google Calendar tab. The option Invite the customer to the event will toggle on Google Invites. We also have a sweet guide that goes over Google Invites and how it works.

---
Google Meet
Another neat feature that the Google Calendar integration offers is the ability to add unique meeting links to your Google Calendar events. After Google Calendar sync has been set up, you can activate this dazzling setting by heading to your Settings > Google and toggling Enable adding Google Meet links to my calendar events.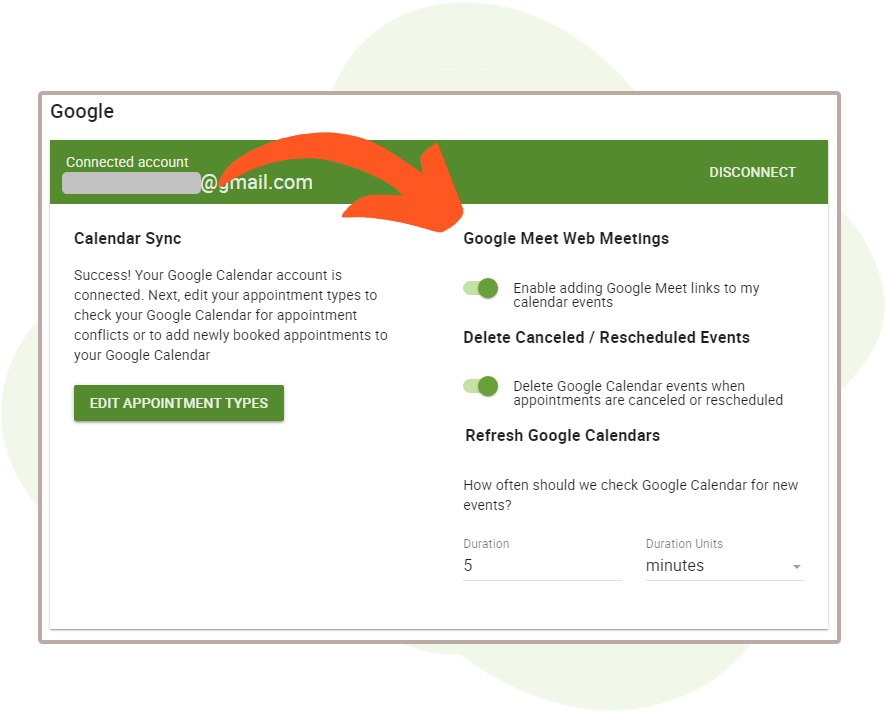 After enabling this feature, you can add these stylish web meeting links within the Appointment Type's Settings > Web Meetings tab. This will automatically generate a unique meeting link for your guests in both email notifications and the Google Calendar event.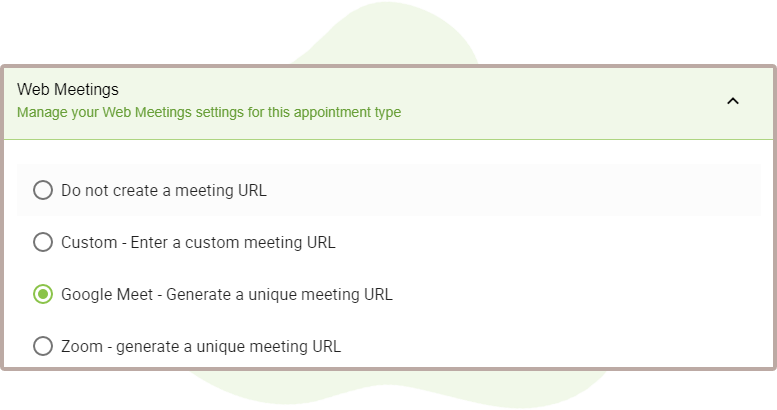 Ta-da!! Isn't it marvelous?
---
Syncing to the Rhythm of Google Calendar Integration
You've now perused and studied the various features that the Simply Schedule Appointments and Google Calendar integration brings to the table. The question is – are you ready to hit the ground running and let your creativity run wild?
Try Simply Schedule Appointments
Love it or get a full refund within 30 days!