Creating a photography website on WordPress is a game-changer for photographers. You can showcase your talent, sell your services, and establish credibility on a platform that's entirely yours.
What's more, running and maintaining your photography website doesn't have to be difficult.
There are tons of amazing WordPress plugins for photographers that you can use to automate different tasks, including booking photo sessions, optimizing images, and preventing copyright infringement. You can also use them to improve your search results ranking, which will help you attract more organic traffic, and in turn, more clients.
But how do you determine which WordPress plugins are actually worth your time?
In this Simply Schedule Appointments guide, we'll list the nine best WordPress plugins for photographers that can help you build a better website and showcase your work artistically.
Modula — The Best WordPress Plugin to Display Portfolios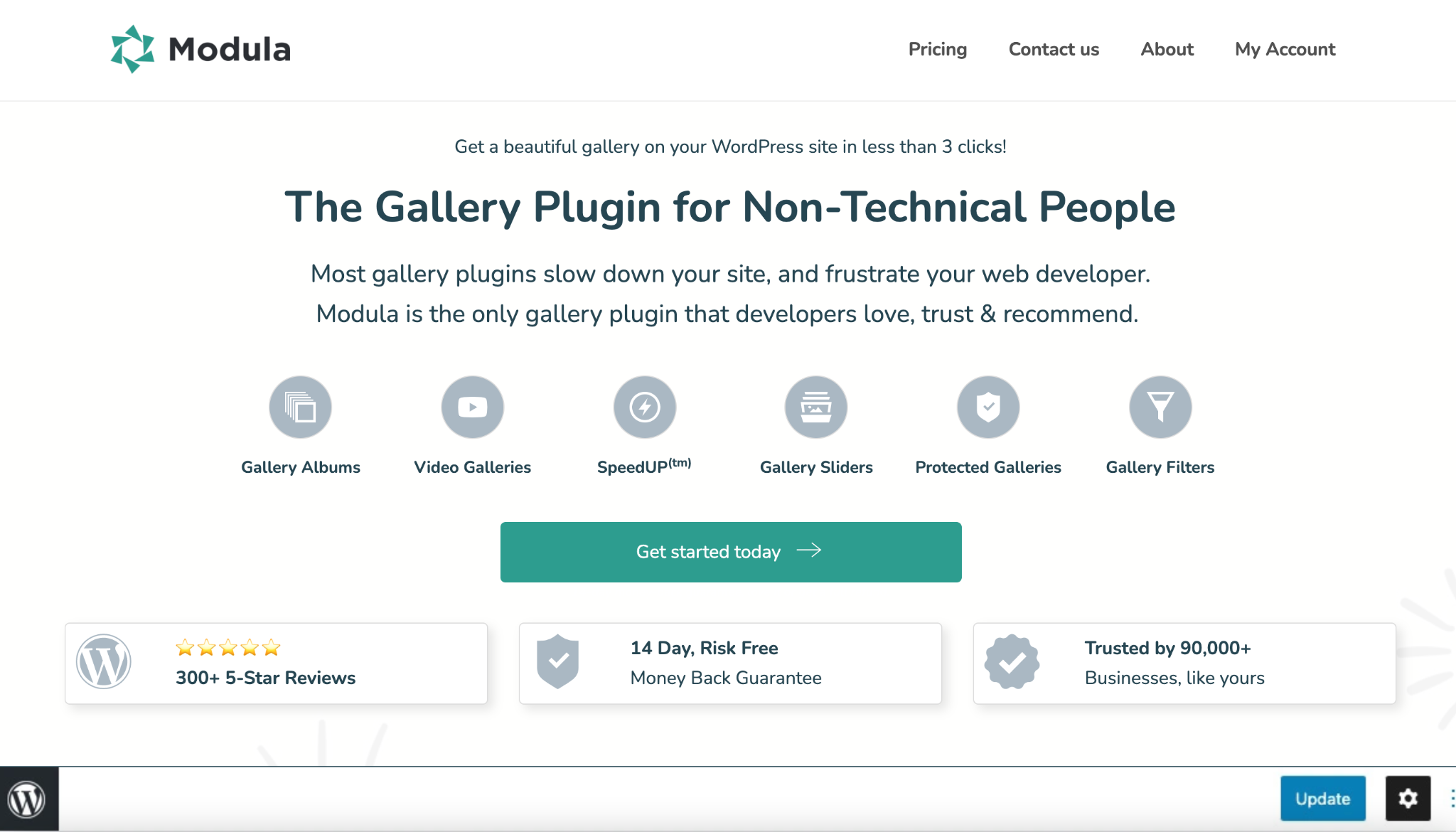 If you're looking for a robust plugin with powerful features to make your website more visually appealing, look no further than Modula.
This gallery plugin provides some excellent user interaction and gallery features for both beginners and experienced photographers. You get tons of customization options and a user-friendly interface for easy navigation.
Modula simplifies creating and designing amazing photo galleries to showcase your portfolio.
It allows you to create albums, resize images using grids, add a variety of hover effects, and sort your galleries with filters. There's also an easy-to-use lightbox integration powered by Fancybox that further improves how your website pictures look.
A unique watermarking feature prevents others from using your images without your consent. The watermark is automatically applied to every new image uploaded on your website.
What's more, a gallery can contain a mix of images, videos, and animated GIFs. If needed, you can allow visitors to zoom in and out of your pictures and see EXIF metadata of your photographs.
Modula Image Gallery provides keyboard navigation, social media sharing options, touchscreen compatibility for mobile devices, and direct image download.
Key Features
Customizable custom grids
6 different lightbox styles (included)
12 built-in hover effects
Image-entry animations, such as sliding and rotation
Custom CSS for customizing gallery
Adds videos to galleries—even from YouTube and Vimeo
Social sharing icons for sharing images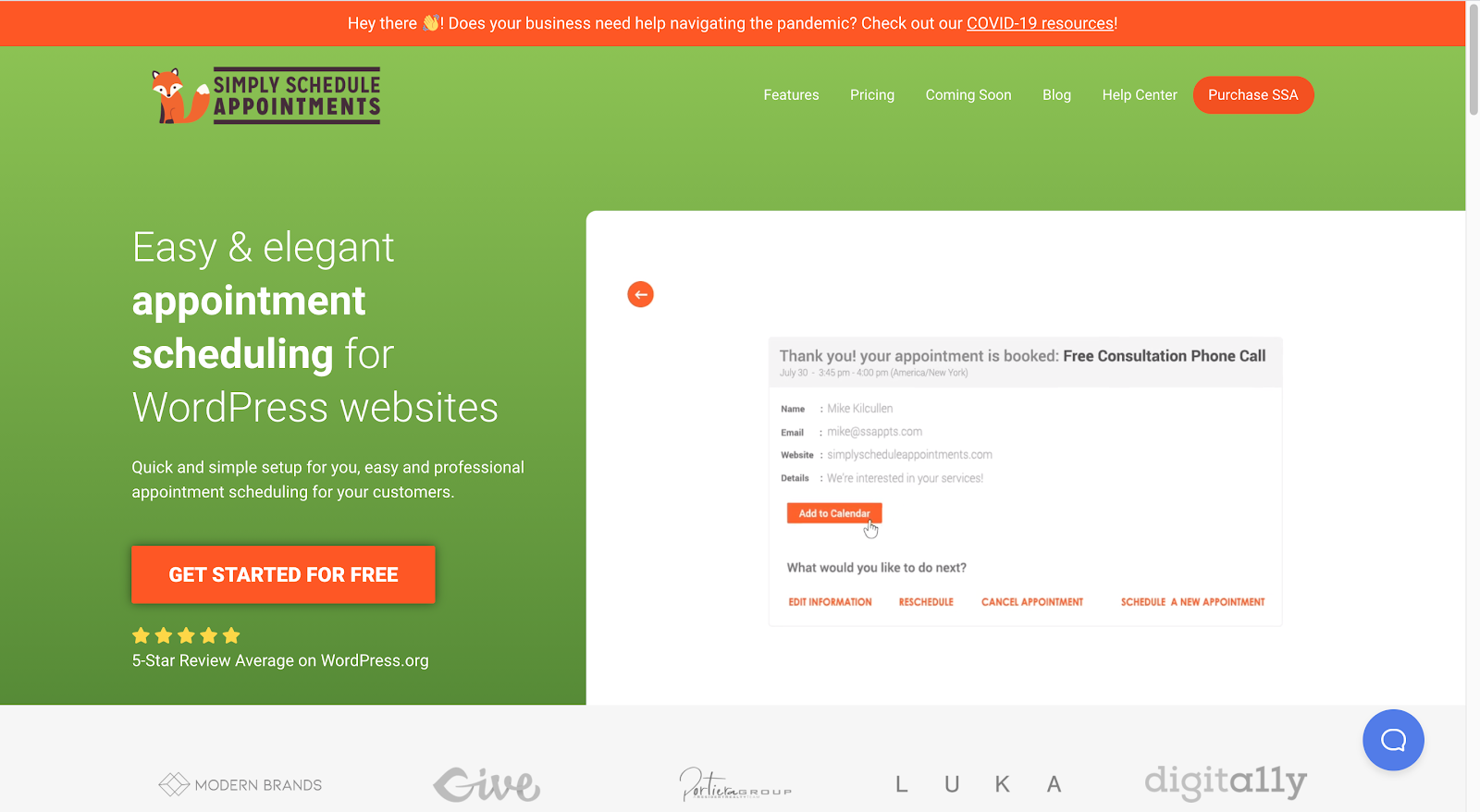 Simply Schedule Appointments offers a fast and easy way for website visitors to book appointments.
You can use this plugin to display your daily schedule online so your clients can book photo sessions and pay for them right away using PayPal or Stripe. This added convenience helps improve your chances of getting more paid projects.
But that's not it.
Potential customers can also book online consultations through your website to inquire about booking you for a specific date and to see if you're a fit for their event. You can use these one-on-one interactions to pitch your services and improve your chances of getting booked by the customer.
Double-booking is a common (and reputation-damaging) mistake in the photography field. It refers to a situation where you end up booking two different clients on the same day.
Thanks to Simply Schedule Appointments, you never have to worry about double-booking your clients. You can set up an availability calendar using the plugin that'll auto-block days you have prior commitments, as well as days you want to take time off from work.
The fact it's easy to set up and use, complete with an interactive setup wizard, certainly makes Simply Schedule Appointments one of the best WordPress plugins for photographers.
Key Features
User-friendly admin dashboard
20+ seamless integrations
Same-day customer support
Goals and conversions tracking facility
Own your data
Translation-ready
Yoast SEO — The Best WordPress Plugin for SEO Optimization
​​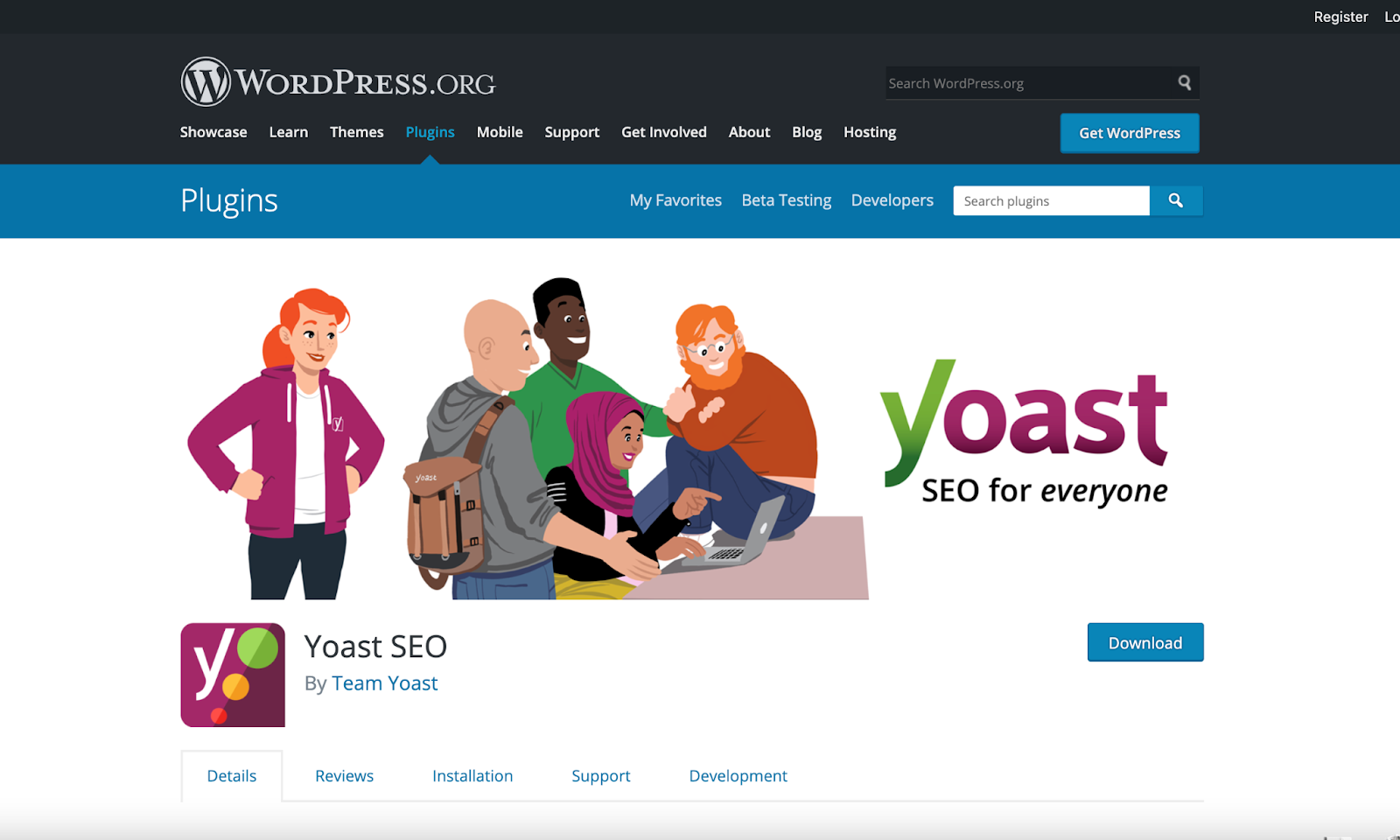 Creating a run-of-the-mill website will not get new customers and all the good things you dreamed of. It's having an optimized website that makes all the difference—boosted organic traffic, and in turn, more clients. So including an SEO plugin in our WordPress plugins for photographers list was a must, and we recommend Yoast SEO.
It simplifies SEO by helping you optimize your page based on the targeted keywords. Expect suggestions to optimize title, meta description, and URL, along with useful tips to improve your content, links, and readability.
With Yoast SEO you can easily improve your website ranking in the SERPS, avoid duplicate content, get more traffic, and create and manage XML sitemaps.
It's particularly useful for photographers who have to feature a heavy dose of high-quality images to show off their work. Yoast SEO can play an invaluable role in optimizing your images by adding alt tags and making targeted suggestions, among other things, that will help you drive organic traffic.
Key Features
Page reviews on different platforms
Redirect management options
No advertisements
Internal linking suggestions
24/7 support
Complimentary access to Yoast SEO academy
Elementor — The Best WordPress Plugin for Building Web Pages
​​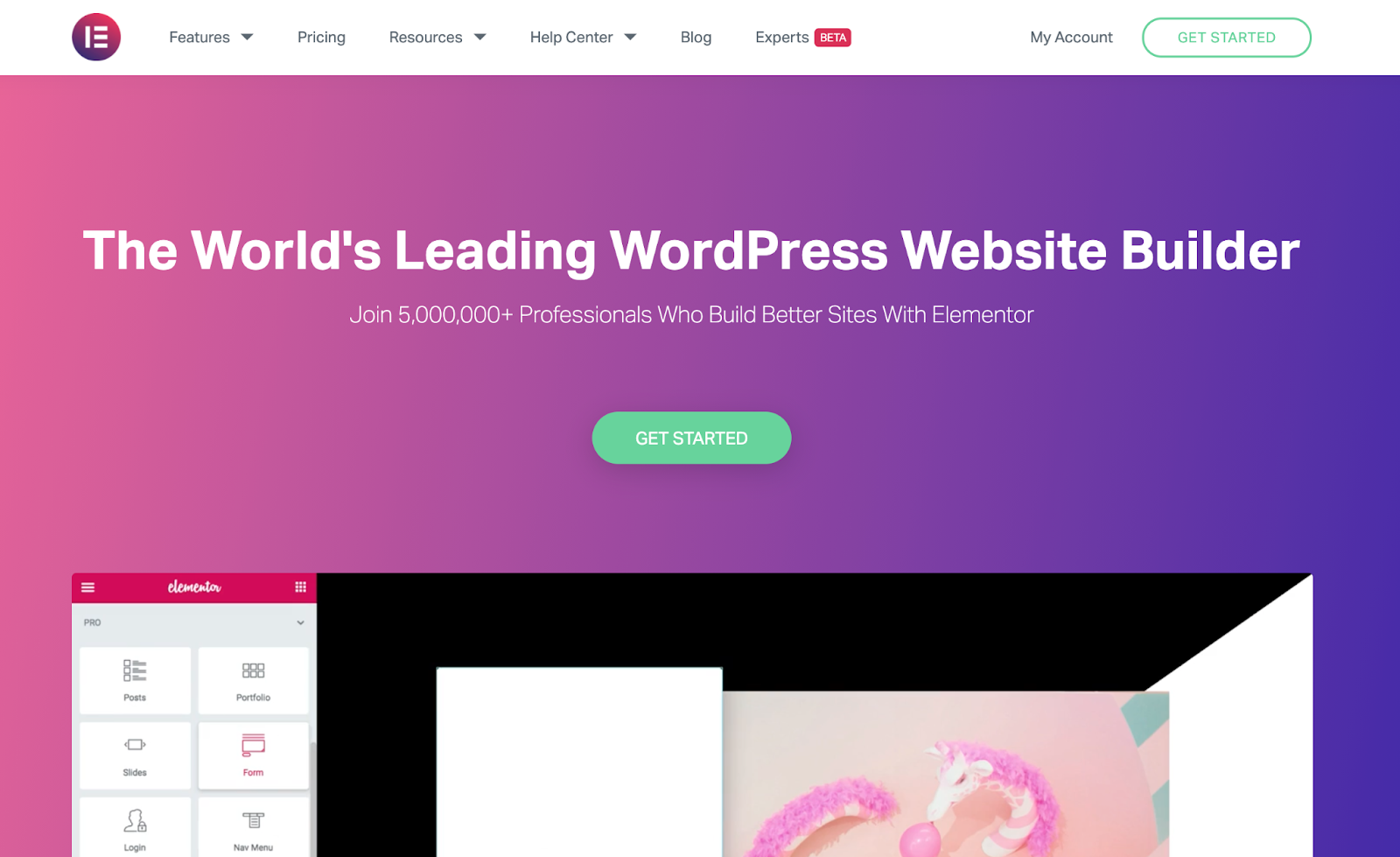 Creating visually appealing web pages that show off your creativity isn't always easy on WordPress. While there are many amazing things about the CMS, its basic web page editor can be frustrating and limited.
You can use sophisticated web page builders like Elementor to quickly create the designs you want.
Elementor is a visual drag-and-drop editor that offers over 80 design elements, including widgets, to help you build a website that befits a talented photographer. It lets you edit and customize every part of your site by clicking on it directly.
From basic image and text widgets to advanced sliders, icons, accordions, testimonials, tabs, social media, booking widgets, and so on—each widget comes with its own settings for greater customization. It's easy to get started the right way by creating sections and columns to hold your content.
Elementor's ready-to-use templates are also excellent.
You can import any template, customize its content to your liking, and publish a web page stat. Not only does it save a lot of time, but it also lets you enjoy complete creative control without the hassle. Building custom layouts and then saving and reusing them is an excellent option for maintaining consistency across pages.
Some handy tools are also for under-construction pages, maintenance mode, landing pages, and more.
Key Features
300+ designer-made templates
90+ widgets
Drag-and-drop editor
Pop-up builder and theme builder
Responsive Editing
Full-site editor with no coding
Motion effects
Tagembed Social Media Feed – The Best WordPress Plugin for Displaying Social Media Feeds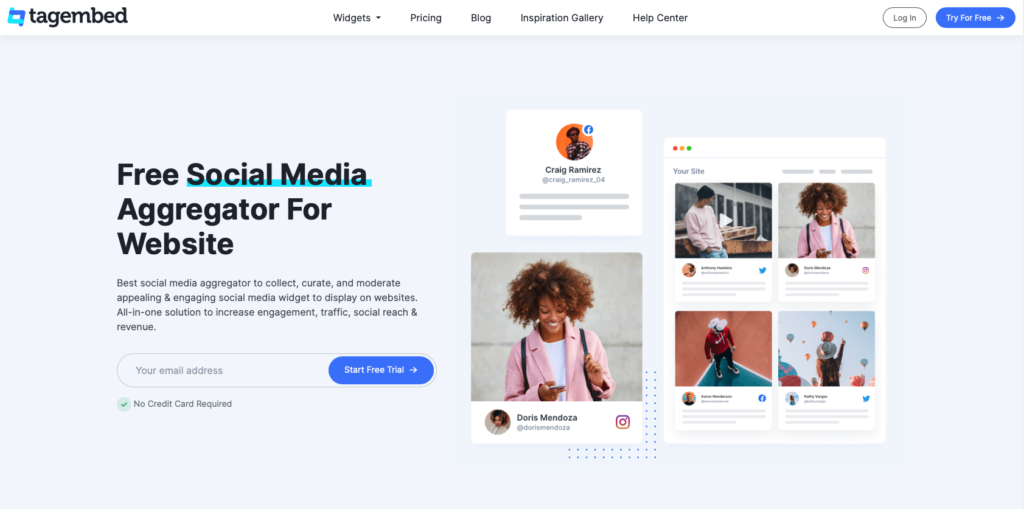 To become a successful photographer, you need a solid social media presence in addition to your website. This means regularly uploading photographs and putting up stories of your work.
The good thing here is that you can use your social media content and display them on your website. For instance you can embed an Instagram feed on WordPress website. Just connect your Instagram account and generate the embed code and then paste the embed code in your website without having to upload the same photographs separately one by one.
If this sounds appealing to you, you should definitely install Tagembed Social Media Feed, a simple yet powerful social media plugin that lets you connect multiple accounts—both business and personal—to your photography website. It helps save time and increase efficiency, as well as boost social engagement between you and your followers.
Moreover, this plugin is super easy to set up. Once installed, you can display your content feeds within minutes. A wide range of customization options lets you fine-tune exactly how your feeds looks on your website. Tagembed looks good on any device, regardless of whether prospects visit your website from their laptops, desktops, mobiles, or tablets.
Key Features
Connect to over 20+ social media platforms and display them anywhere on your site. Including Instagram, Facebook, Pinterest, Twitter, Youtube, TikTok, and Google Reviews.
Deeply customizable with a variety of themes, templates, colors, and much more
No technical knowledge required with coding free functionality
Filter and moderate the content that's shared on your website
Anaytics to determine widget performance
Gravity Forms — The Best WordPress Plugin for Building Contact Forms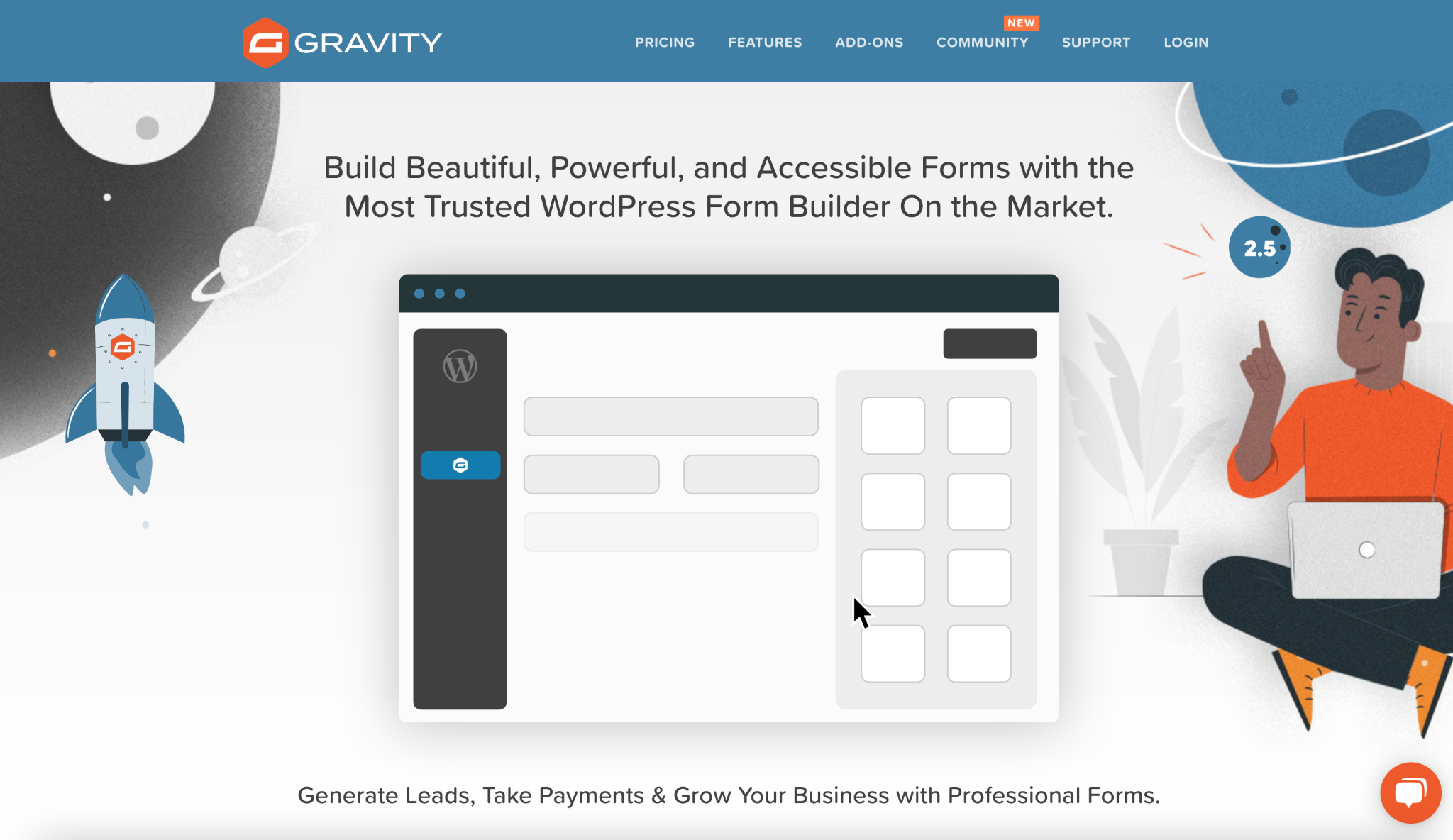 Gravity Forms go beyond your typical contact forms. It's a paid WordPress form builder plugin that comes with a lot of advanced features and functionalities, as well as many integrations and add-ons, to help you create smart, multipurpose forms.
It comes with an intuitive drag-and-drop column control with robust accessibility improvements. This plugin can do it all, from responsive forms to payment gateways to spam filters and advanced calculations.
Gravity Forms is particularly useful for users who want to build complex forms on WordPress websites with it. You can use it to engage your visitors by creating surveys, user complete content, quizzes, and a website directory.
However, the most basic use of the plugin is to create general contact forms. It makes it easier for visitors to get in touch with you. You can create any type of contact form, collect data, upload files, set up notifications to route to different email addresses, and place the form on any web page or post—all at the click of a button.
WordPress plugins are even more powerful when they integrate with one another. You can integrate Gravity Forms with Simply Schedule Appointments to simplify complex appointment scheduling needs. We've created a detailed guide to show you how you can use both the plugins together to collect a visitor's contact information and then create appointments.
Key Features
Easy to use, powerful forms
30+ ready to use form fields
Baked-in mobile-friendly styling
Email auto-responders
Limit & schedule forms
Wise integration support
WP Smush — The Best WordPress Plugin for Image Optimization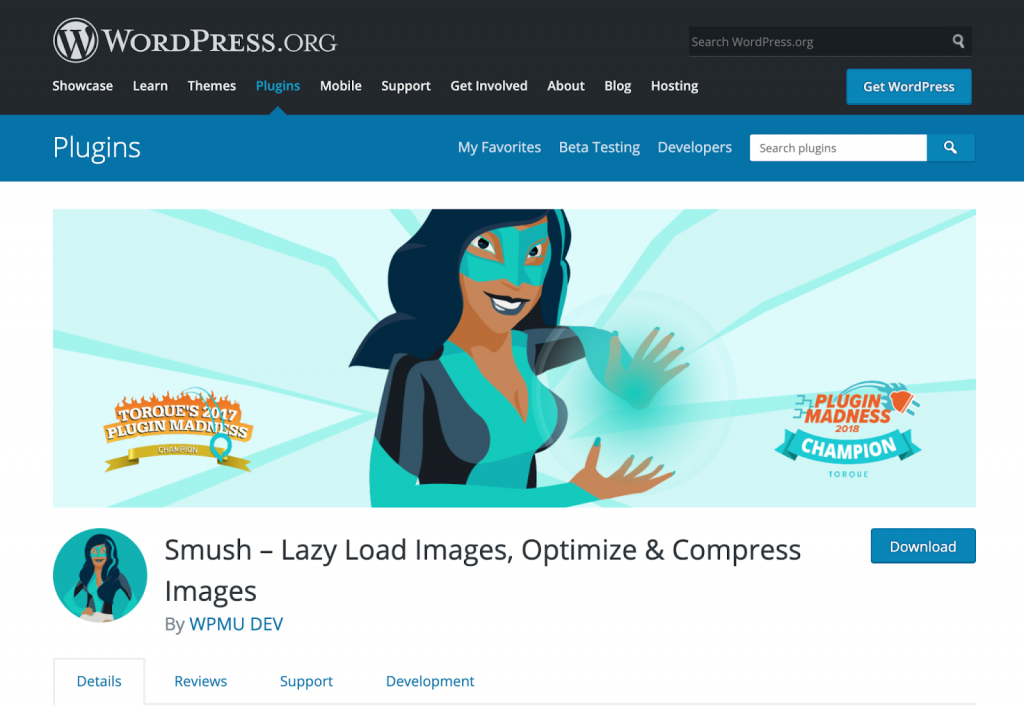 WP Smush is currently the highest-rated image compression plugin in the WordPress plugin directory. We highly recommend installing it if you want to show off your photography skills without compromising on quality.
Most of your images will be high-resolution and hence, large. This will harm your image loading time and page loading time, which, in turn, will increase your bounce rate. Bounce rate refers to the percentage of visitors who navigate away from your website after viewing just one page. So… not desirable at all!
Plus, what's the point of displaying your best content if prospective customers don't stay around long enough to check it?
Smush automatically resizes and compresses up to 50 images at a time according to a maximum height/width. It can optimize all image formats—JPEG, GIF, and PNG—to ensure the best user experience for your website visitors.
The plugin takes care to retain its quality when optimizing your images. As a result, your website will both look good and function well. The fact it'll improve your SEO rankings is another benefit.
Key Features
Lossless compression
Lazy Load feature
Automated optimization
Incorrect size image detection
Gutenberg Block Integration
Multisite compatibility
Doesn't interact with end users on your website
Monarch — The Best WordPress Plugin for Social Media Sharing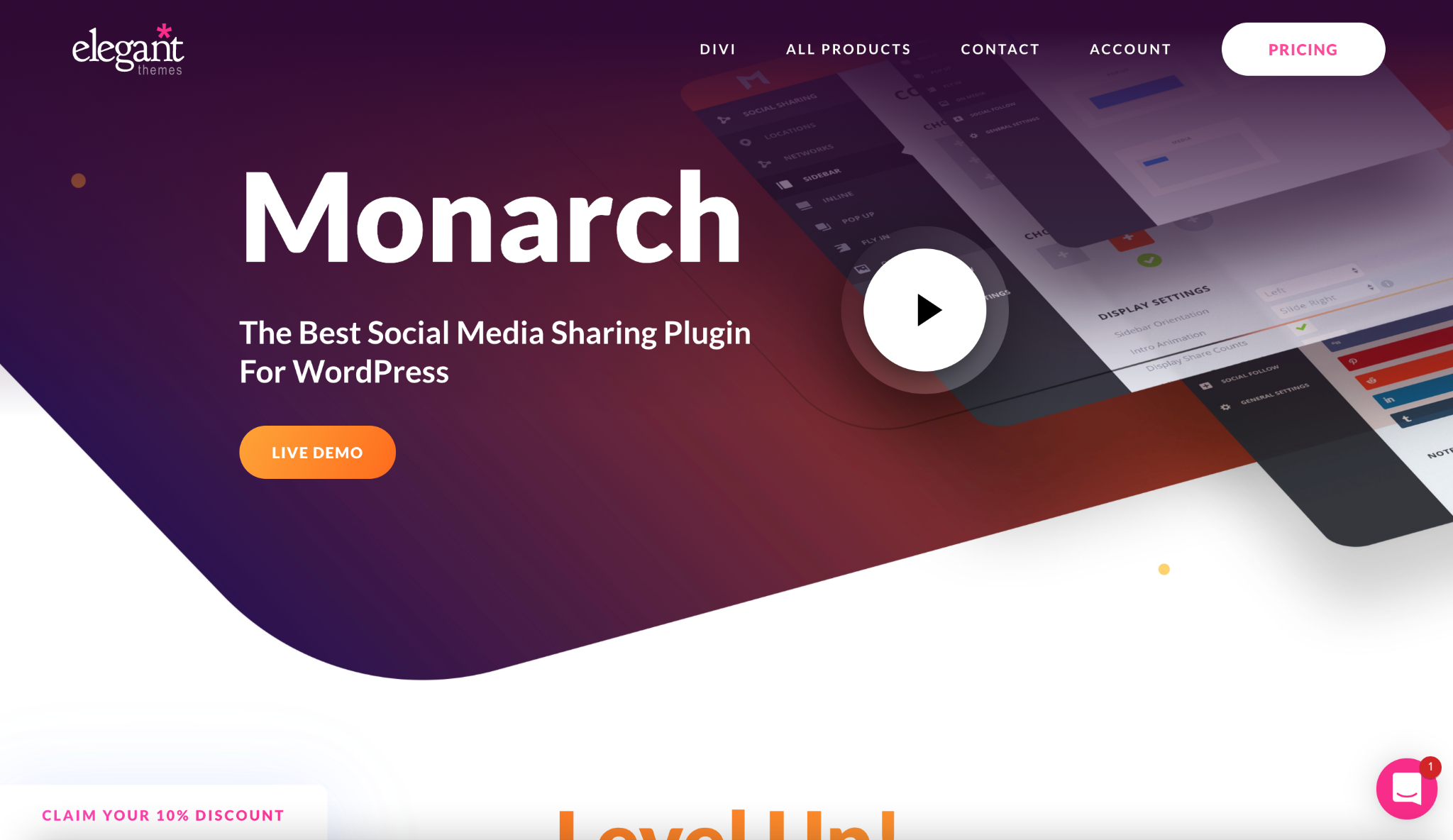 Next on our list of the best WordPress plugins for photographers is Monarch.
It's a social media plugin that lets you display your website to create a custom collection of sharing options for your visitors across 20 social sharing networks. This includes popular platforms like Facebook, Twitter, LinkedIn, and Pinterest.
Different websites, posts, and web pages have different social sharing needs.
Keeping this in mind, Monarch allows you to choose from a large selection of locations to place sharing buttons. There's also a floating sidebar to add social sharing icons to any page on your website.
Other unique features are automatic pop-ups and fly-ins that can be triggered by unique user interaction.
You can use pop-ups and fly-ins to capture your visitor's attention when they are most engaged or when they are about to leave your page. For instance, you can set up a timed delay for a pop-up to appear on your visitors' screens after they have been on a page for a specific duration of time.
Monarch can also auto-detect when a visitor reaches the bottom of the post or page to give them a friendly reminder to opt-in. This can be a handy feature if you're planning to launch a newsletter displaying your work and want to increase your subscriber list.
Key Features
Clean, customizable design
30 social profiles and networks
3 button shapes
Sidebar button hover effects and inline button hover effects
Automatic pop-ups & fly-in triggers
Provides statistics concerning shares, follows, and likes
24/7 support
Smart Slider 3 — The Best WordPress Plugin for Creating Sliders
Smart Slider 3 is unmatched when it comes to slider plugin functionality. Currently, it's actively used in over 800,000+ sites and has a near excellent 4.9-star rating at WordPress.org. So yes, people really like this plugin.
It's a brand-new and intuitive WordPress plugin that makes it super easy to create powerful and responsive slides for your WordPress posts, thanks to its user-friendly slide editor with different layers.
What's more, you don't need to know any coding to use it!
The live slide editor feature seriously simplifies the whole task of creating and customizing sliders. If you don't want to build a slider from scratch, you can choose from Smart Slider 3's 180+ slider templates and more than 100 individual slide templates.
Changing typography and slider style details is also possible.
You can pick different styles and fonts for your layers, navigations, and other elements and implement changes across different slides and layers. Smart Slider 3 also uses a robot layer animation system that gives layers motion and transition. This creates endless possibilities for what you can build with this plugin.
Moreover, there are 40+ sources for dynamic content, including YouTube, Facebook, Instagram, and Twitter.
Key Features
Live slide editor
11 template slider
Unique layouts with layers
Touch swipe, scroll, keyboard navigation
Responsive, mobile-ready sliders
Totally integrated with WordPress
Font and Style manager system
Advanced controls and control presets
WordPress Plugins for Photographers to Build Your Brand
To recap, here's an at-a-glance list of all the plugins that you can add to your photography website:
Modula to organize your images on the site
Simply Schedule Appointments to let customers book your services
Yoast SEO to rank higher in the SERPS
Elementor to build attractive web pages
Smash Balloon Instagram Feed to display your Instagram photos on your website
Gravity Forms to build contact forms
WP Smush to optimize your website images
Monarch to share your website content across different social media platforms
Smart Slider 3 to create website sliders
The above WordPress plugins for photographers will improve your website in terms of functionality and appeal. In turn, you can focus on what's truly important: your photography and your brand.
Try Simply Schedule Appointments
Love it or get a full refund within 30 days!