Introduction
After completing a purchase, or if you downloaded the free Basic edition from our site, an account is created with your name and email address on the Simply Schedule Appointments site. The account overview is what we use to help you:
Always have access to your SSA downloads
Keep track of your purchases and subscriptions with us and generate invoices
View, create, and reply to our support tickets
Update licenses and manage licensed sites
We only use this information for the sake of keeping track of purchase tabs and for the benefit of you having access to all your information.
---
Logging In
If this is your first time logging in, you'll need to use the 'Lost Password' link to reset your password. This will send an email to the address we have stored, and it'll prompt you to change your password.
Login to Your Simply Schedule Appointments Account Here
If you're having trouble logging in or have multiple accounts and you're confused, please feel free to send us a message, and we can help you sort it out 🙂
---
Downloads Tab
You'll most likely see the Downloads tab open when you first log in. This is where you can see all the downloads available to you. You should see a license key, expiration date, and a download link.
You can click on the green file link, which will automatically start the download of that file.

---
Purchase History
Under the Purchase History tab, you should see all the purchases that you've had between Simply Schedule Appointments. This will also include renewals.
You should be able to see the Date, Amount, Details, and Invoice License Keys on this page.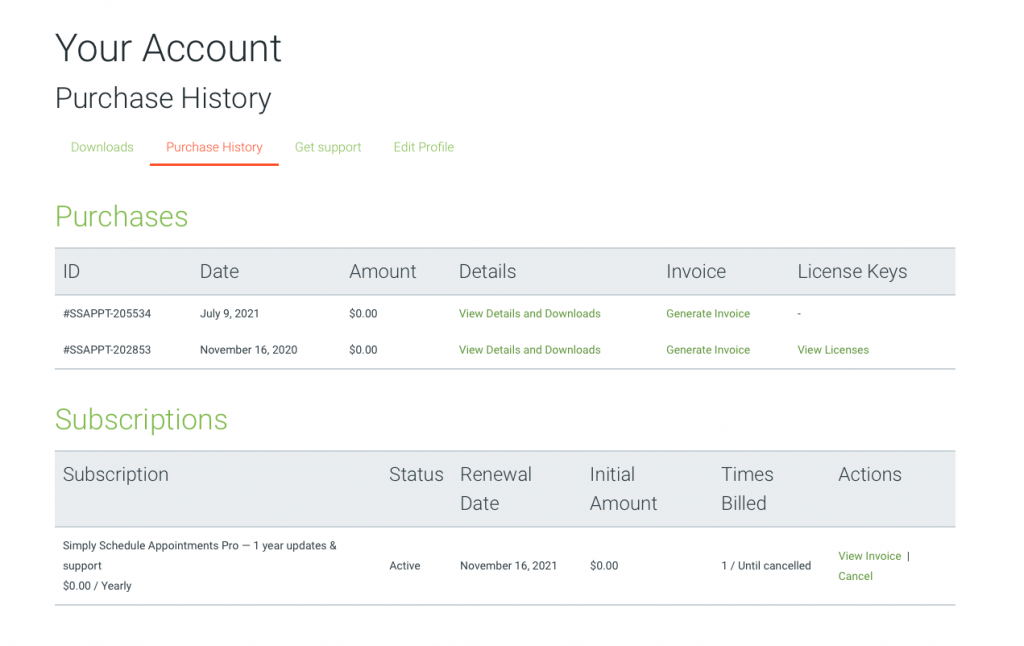 View Details and Downloads

The details page goes over the following:

Payment ID,
Status,
Payment Method,
Date,
Discounts
Subtotal
Total Price

License Keys
Subscription Details

Renewal Date
Times Billed
Status

Products with links to download

Details for specific purchase item
Generate Invoice

From this page, you can enter information about your organization to create your personal invoice. Find more information on how to set that up in our other guide: Generating an Invoice.
View Licenses

From this page, you can upgrade your license and manage the sites that are registered with your keys.

Manage Sites

On the manage sites page, you can remove or add the license key to your sites.

Manage sites page in the account overview

View Upgrades

On the View Upgrades page, you'll see a list of some upgrades. See our other guide for more information: Upgrading Licenses.
Subscriptions

Under the subscriptions section, you'll see a table with information about your SSA license subscription. Including the status, renewal date, initial paid amount, times billed, and the option to cancel the subscription

You can also upgrade your payment method from here if you paid by credit card.

Pressing the Cancel link prompts you with a popup to confirm the cancellation of your subscription.

Confirming the cancellation request for the subscription
---
Get Support
If you've reached out to us and haven't received an email, it's always good to check this tab just to make sure we're responded.
Our support team responds to emails within one business day; so if you don't see a response by then, check this tab!
This keeps track of all the threads that you start and also notes when we mark them closed.
You're also able to send us a reply or start a new thread.
---
Edit Profile
From this page, you should be able to change the information we have on file. This is useful if you need to pass the account onto a client, and they'll be the ones in charge of billing.
You can change the name, email, billing information, and password from here.
---
---
Related Guides
---