Introduction
The initial purchase of one of the premium editions (such as Plus, Professional, or Business) gives you all of the newest updates and support for one year. This includes a license key that you can use to activate on all of your eligible sites.
In this guide, we will explain what happens when the license key expires or if you choose to cancel your yearly subscription to Simply Schedule Appointments.
---
Subscription and License Key Expiring
Your subscription and license will automatically renew each year unless you change this from your SSA account or submit a request to end the subscription.
If the subscription ends, the License Key will also expire. This means you won't be able to get new plugin updates or bug fixes.
If you decide not to renew your license, we cannot guarantee that SSA will continue to work. Without updates and bug support the plugin is vulnerable to developing conflicts with newer WordPress, theme, or plugin releases. And, any premium features that rely on our servers may not work without an active license.
Log in to your SSA account and head to the Purchase History tab to see your subscription and license status or renew your license for another year.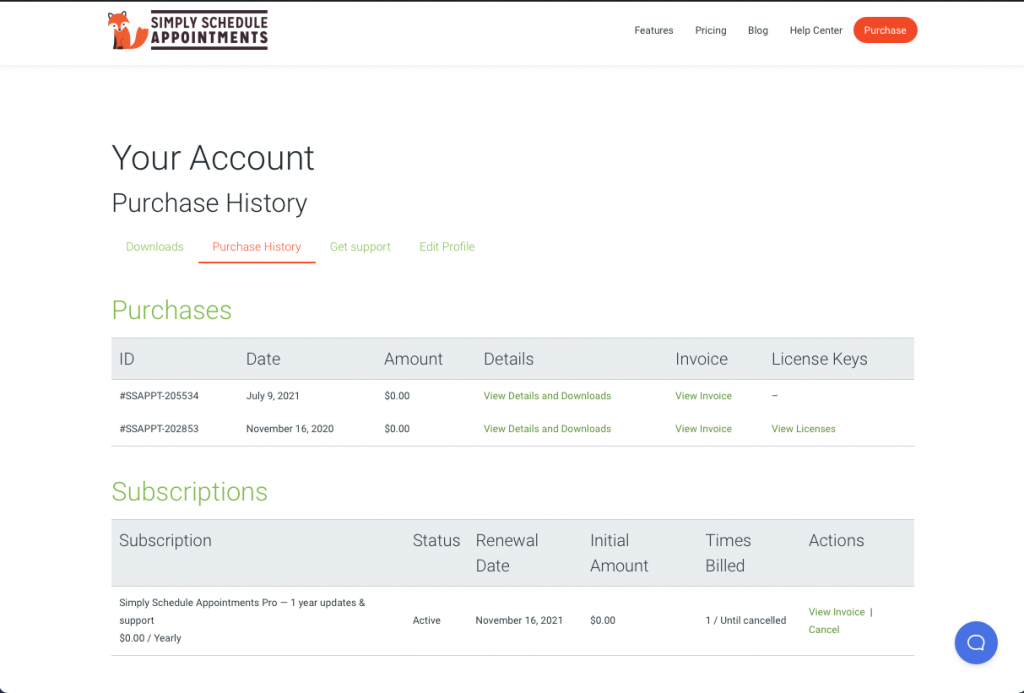 Additionally, if the above login link doesn't work, try logging in via this link.
---
---
Related Guides
---