Introduction
Introducing our exciting new feature, Booking Flows! We are thrilled to offer you this one-of-a-kind ability to customize the sequence and layout of your booking calendar. With Booking Flows, you can easily swap out the sequence of steps in your calendar to meet your unique needs and preferences.
Ready to go with the flow?
Quick Overview
Editions

Professional (3.6.5.12)
Business (4.6.5.12)

Helpful Links
This feature is only available for the Professional and Business editions of Simply Schedule Appointments.
---
What are Booking Flows?
Booking Flows represent the sequence of steps or pages your user will take to book an appointment with you. And each step can also be customized via the View settings.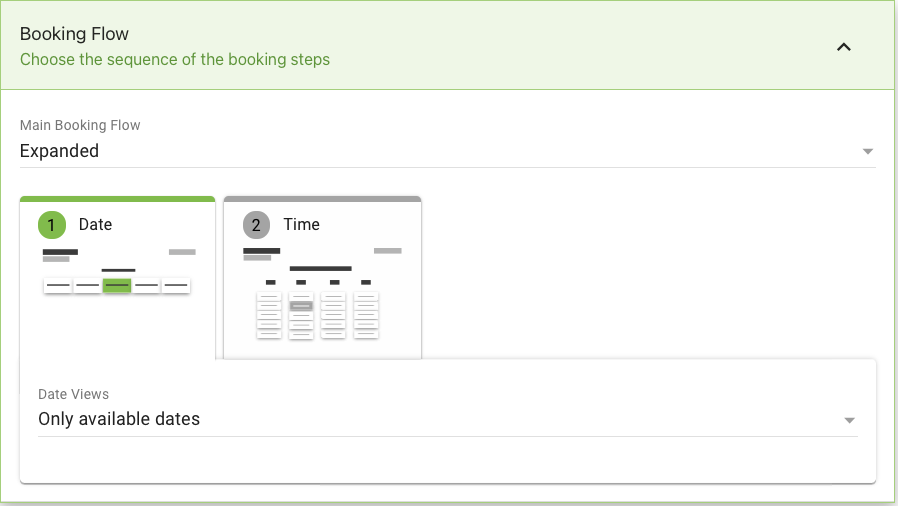 This lets you choose from brand-new layouts to build customized customer booking experiences for each calendar. We've released the Booking Flows feature with three Flows:
Expanded Flow
Express Flow
First Available Flow
---
We've now converted our original Date Selection screen > Time Selection screen sequence to the Expanded Flow. However, you'll be pleasantly surprised that we also included two new layouts for the Date and Time selections screens!
The Time Selection screen comes with the option to organize the time slots into a clean single-column list as opposed to our original time of day categories (Morning, Afternoon, Evening, Night).
And, the Date Selection screen now has the option to hide unavailable dates — super handy if you'd prefer to hide weekends!
---
The Express Flow is something we had a lot of requests for — and it's finally here! Now your customer can choose the Date and Time of their appointment on the same page. They can easily click through the dates and time slots to see which works best.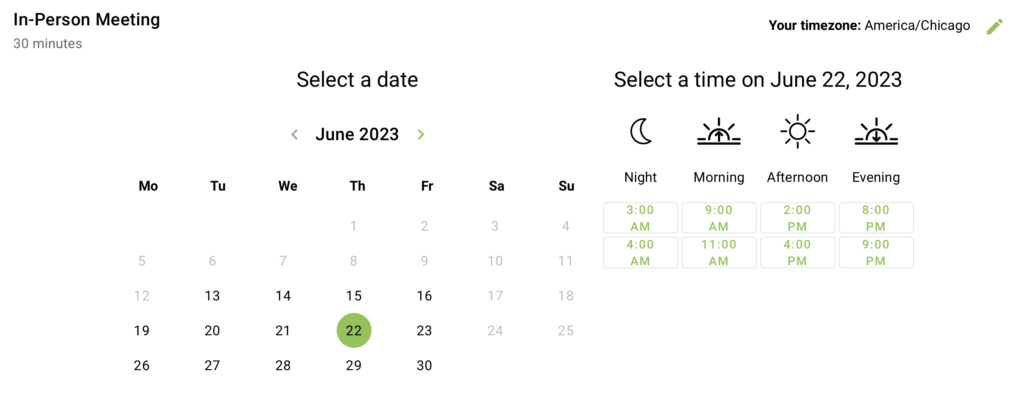 ---
And the First Available Flow is a unique feature exclusive to Simply Schedule Appointments, where the user is prompted to select the next available time slot. The primary call to action is to Confirm Appointment Time; the alternative is to pick a new time. This is great for calendars where the preference is to fill out the immediate schedule first.
---
Booking Flows Video Walkthrough
---
Benefits of Booking Flows
Customizing the Booking Flow settings comes with a few different benefits.
---
Each Appointment Type Can Offer a Different Booking Flow
The Booking Flow settings are unique to each Appointment Type's booking calendar. Each calendar can offer a different user experience depending on your scheduling priorities for that service.
For example, if you offer an appointment calendar for discussing project details, it makes sense to go with the First Available Flow since you want to meet with the client as soon as possible. This helps create a greater sense of urgency and helps the project move along quicker since you can fill in your most immediate schedule first.
Or, on the other hand, if you know you have a sparse availability across multiple months. It would be beneficial to your customers to use the Express flow since they would be able to compare and contrast the different days much faster across multiple weeks and months.
---
Compatible with Gravity Forms and Formidable Forms
Any Booking Flows and Views combination is available with Gravity Forms and Formidable Forms. This opens up even more possibilities for creating customized and advanced forms!
---
Conclusion
The new Booking Flows feature is an exciting addition to Simply Schedule Appointments. Be on the lookout for more updates on Booking Flows; we'll include more releases soon, including more Flows, Views, and steps within each view.
We're really excited for everyone to start using it! Please reach out to our support team if you have any questions as you get started.
Try Simply Schedule Appointments
Love it or get a full refund within 30 days!