There was a time when personal trainers used their figure, personality, and knowledge to get new customers. That isn't the case anymore.
Today, they need a well-designed personal trainer website.
Your website is your biggest marketing tool. Clients can find you quickly online, learn about the services you provide and book an appointment within minutes. It lets you show off your skills, reviews, expertise, and pricing—all in one place.
The only hiccup? You have to do it right.
So how to make a personal trainer website that stands apart from the mediocre ones? Let's find out.
Step 1: Come up With a Plan of Action
When you're organized, the whole process of designing a personal training website becomes a lot smoother. Precisely why you need to create a plan of action.
Check Out Your Competition
Personal training is already a competitive niche. Naturally, one of the first things to do is googling your competition to check out what they are doing. You should know what you're up against before making crucial decisions.
Perform Google searches like "Personal trainer + (Your City)" or "Fitness studios + (Your City)." Once you find your rivals, go through their website and make note of everything you like and what they do well.
Collect Images You Want to Use for Your Personal Trainer Website
Although some personal trainers keep this step for the last, I believe it's better to gather all the images you plan on adding to your website right off the bat.
Click a few amazing photos of yourself and your staff. You can also use the before and after photos of your clients to establish credibility. Make sure you have your client's permission before using their images on your website.
Image Source: Andac Movement
I also cannot emphasize the importance of using professional photographs enough. Amateur photos will make you look like you're an amateur, so if it's a look you want to avoid, you know what to do. Stock photos are an absolute no too.
Step 2: Zero Down on a Domain Name and Web Host
There are really no hard-and-fast rules when it comes to choosing a domain name, except two:
It should be relevant to your business.
It shouldn't be taken or trademarked by another website.
Additionally, it's better to stick with a .com or a country-specific extension, such as .ca for Canada or .in for India. Stay away from numbers, hyphens, and "made-up" words and abbreviations too. Which one is better in your opinion: JohnDoePersonalTraining.com or John-Doe-Personal-Training-123.com?
Exactly.
Next, you'll need a web hosting service to store all the content you plan on putting on the internet.
The good news is there are tons of companies that offer a variety of plans. I recommend going with the cheapest option in this case as it's more than enough to get the job done.
Here are a few additional things to look for when selecting a web hosting plan:
Make sure it offers excellent uptime and loading speed
Gives a free domain with 24/7 customer support
Offers included email addresses
Has flexible plans to accommodate sudden traffic influx
You can move on to the next step after signing up for a hosting account that meets your requirements and registering your domain. Avoid any upgrades and add-ons that will surely be thrown at you during the process right now. You can always upgrade your new hosting package later based on your changing needs.
Step 3: Select and Install a CMS
A content management system or CMS gives you free rein over your personal training website. Naturally, the more efficient your CMS, the easier it'll be to set up a website without professional help.
While you'll find tons of available CMS options, WordPress remains the industry standard. Although WordPress is pretty awesome, you'll have to choose the right version.
WordPress.com: This is a blogging platform that includes hosting. Unfortunately, it offers very restricted functionality. Skip this!
WordPress.org: This is a free software platform that you install on your web host. It offers you complete control over your website. Pick this!
WordPress.org users get unparalleled functionality that helps them build any kind of website they want. Plus, as an estimated 64 million websites use WordPress, most hosting companies offer a single-click installation feature. As such, you can install the CMS in your hosting account in a few minutes flat.
Step 4: Make Your Website Look and Work Better
Themes are like costumes for your website. They determine your website's look, including the color scheme, layout, fonts, and other artistic elements. They can be free and paid, subtle and bold, intuitive and functional—it all boils down to your needs and preferences.
You'll already have a default WordPress theme to go with your website. However, you shouldn't use that.
You want your personal trainer website to stand out from the competition. You want something unique, something with personality. The Personal Trainer, Personal Fitness Trainer, and Fitness Trainer themes from WP Astra are my personal favorites. All three of them are conversion-optimized and offer plenty of space to add images. Besides that, they use a vibrant color scheme that catches one's attention instantly.
Themes can make your website look better. But to make it work better, you'll need WordPress plugins. In fact, the real beauty of WordPress is its ability to be modified with plugins that help extend its functionality.
Again, plugins are both free and premium. Free plugins allow your website to do simple tasks to improve efficiency, whereas premium plugins can transform it into an optimal revenue-generating tool.
You can choose to not install any additional plugins. But I highly recommend doing so if you're serious about building an online presence and scoring more leads for your fitness business.
Let's take a look at some crucial plugin varieties below, along with my top recommendations for each category.
Booking Plugins. You can increase your clientele significantly by prioritizing their convenience. And since booking plugins allow potential clients to set up appointments within minutes, adding them is a no-brainer.
Simply Schedule Appointments is one of the leading booking plugins in the market. Besides appointment scheduling, its PayPal and Stripe integration and same-day customer support can also work wonders to make your visitor's life easier.
List Building Plugins. Email marketing is vital to nurture a long-lasting relationship with clients. It's why list building is every personal trainer's best friend. But before you talk to anyone, you'll need their email address.
ActiveCampaign automates your email sequences to simplify managing and nurturing leads. This makes it more likely for prospects to convert into paying clients.
Image Compression Plugins. Adding images is a huge part of marketing your personal training services. Unfortunately, an image-heavy website often has longer loading times. So if you want to keep your visitors on the website for longer, you need to optimize images for better speed and performance.
reSmush.it optimizes images on upload, as well as offers a bulk optimization option for older images. Images can also be excluded to ensure full-size uploads. It gives you full control over the optimization levels for every photo you add.
SEO Plugins. SEO plugins can help you capture more organic traffic. They tell Google about your site and the services you offer. In turn, this increases the chances of a prospect finding you when they search Google for a personal trainer.
Yoast SEO is the ultimate WordPress SEO plugin. It can give you excellent suggestions and insights to optimize your content, allowing you to bring more organic traffic to your site.
Extras Plugins. You can add certain plugins to make your website more appealing to prospects.
For example, you can offer a BMI calculator to tell visitors their ideal body weight with reference to their height. A calorie intake calculator could also help.
Step 5: Add the "Must-Have" Web Pages
Finally to the fun part of all this shebang!
People expect specific information on every personal trainer's website. Naturally, you should also ensure you have the data they want on your site.
Here's a list of web pages to include in your personal trainer website:
Homepage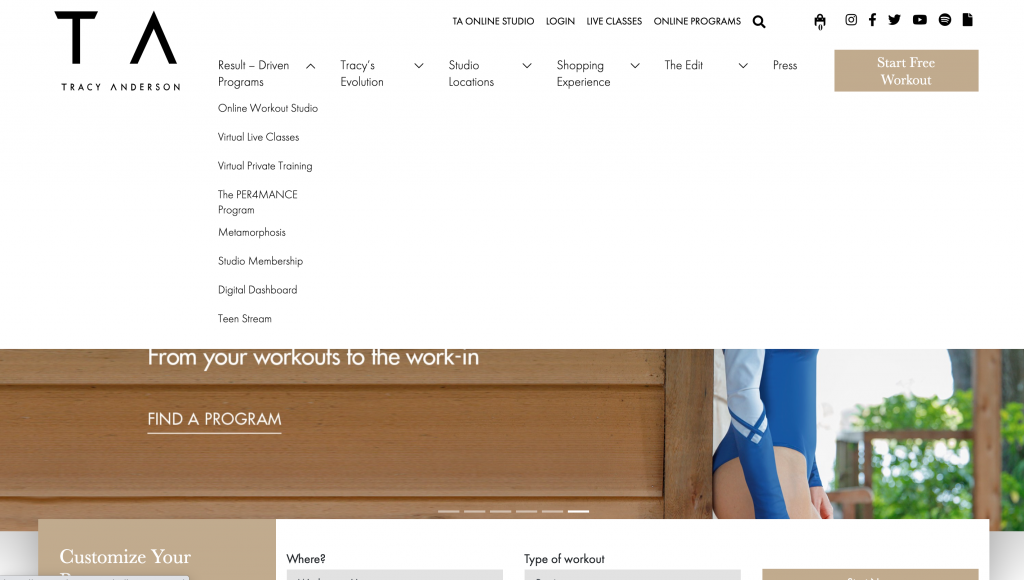 Image Source: Tracy Anderson
Your homepage is the central hub of your website. It should have links to all the other important pages of your site, such as About, Services, Contact, and so on.
Make sure to also add your best personal photo, a catchy tagline, and a call to action here.
About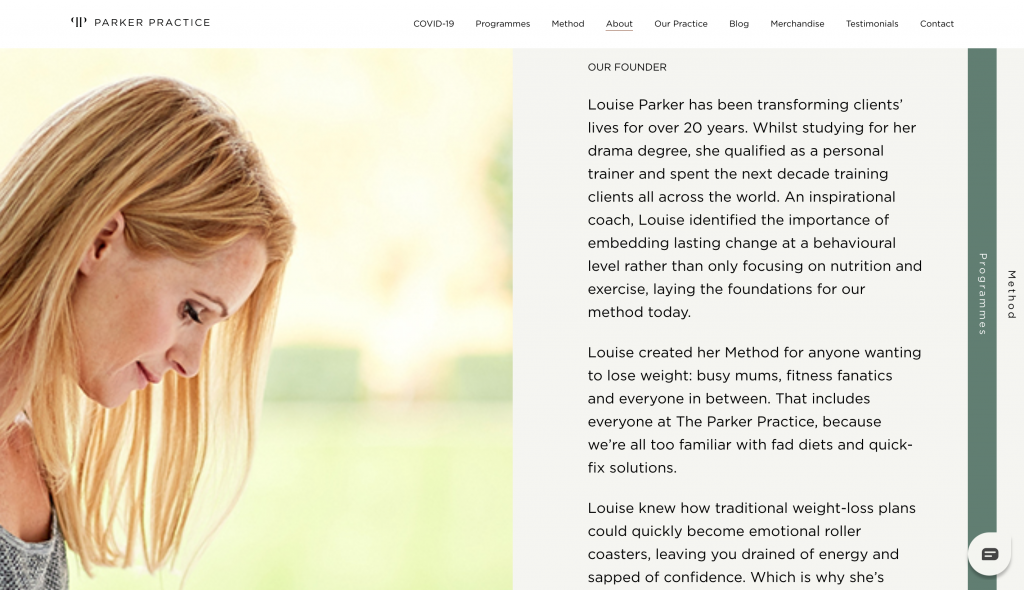 Image Source: Louise Parker
The About is where you tell your life story—not the homepage.
Use it to tell your visitors why you're exactly what they need to turn their lives around. You can also get niche-specific here. For instance, if you want to work with mothers, explain how your experience and expertise can help you serve them better than your rivals.
Services
Image Source: Shaun Stafford
Go into detail about all the services you offer, who every service is for, how your client can benefit from that specific service, and how much they cost. You can also include client testimonials for every service category, preferably accompanied by a picture of your client. Video testimonials would work even better.
You should also have a clear call to action to bring your website visitors a step closer to becoming your customers.
Contact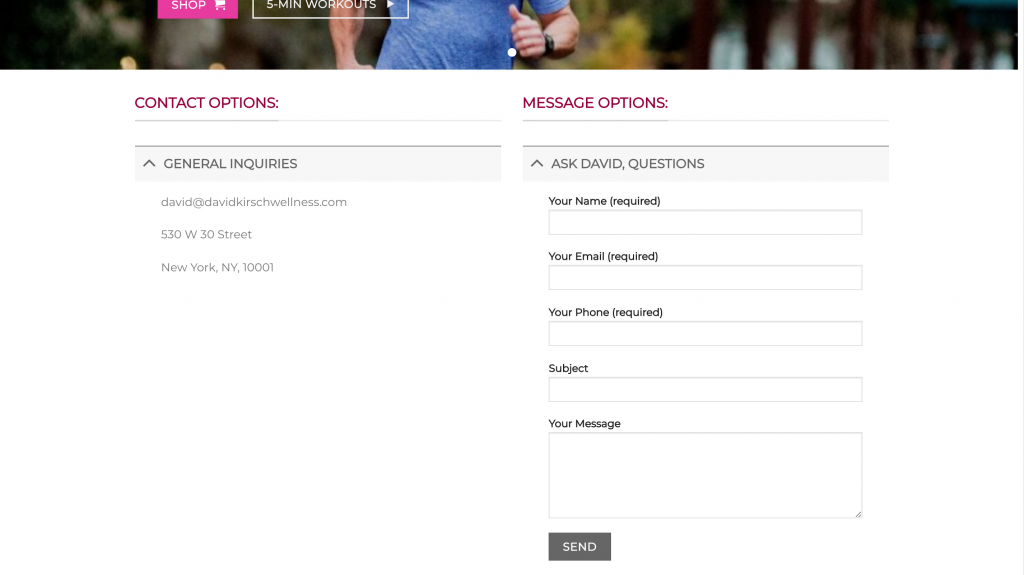 Image Source: David Kirsch Wellness
Add your phone number, email address, a contact form, a Google map of your gym or studio, as well as social media profile links here. Remember, the easier you make it for prospects to get in touch, the more people will.
Incorporating a blog into your website is optional. But I recommend it since blog posts can help get more organic traffic that can convert into paying clients later. I'll discuss this in more detail below.
Step 6: Promote Your Website
If you think your job's done after making a website, I've news for you: Abandoning your website will give you zero results. You have to promote your website to get visitors and generate maximum business.
Read on as I discuss three of the most effective tools to serve this purpose.
Social Media
I'm going to go ahead and assume you already have accounts on either Facebook, Instagram, or Twitter. What you need to do next is use these platforms to connect with prospective clients.
Social media has endless potential and gives you direct access to people who are genuinely interested in the services you offer. Make social media posts that reflect everything your website offers, including your services, advertising appointment booking, news updates, and client testimonials.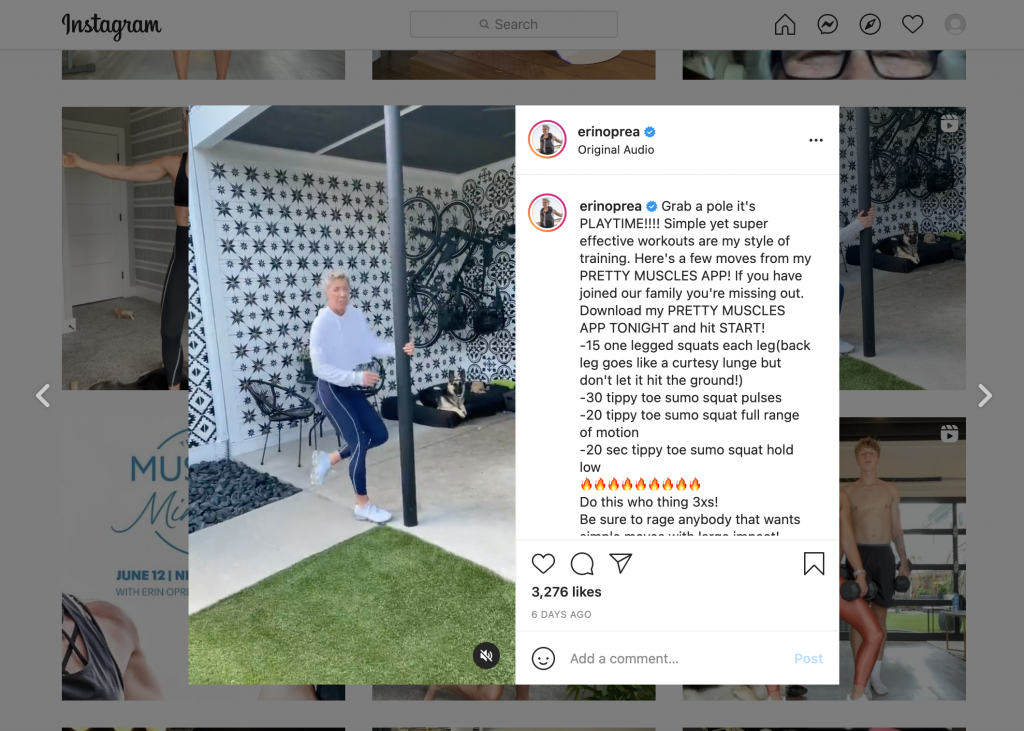 Image Source: Erin Oprea
Trust me, there's a lot you can accomplish by writing bite-sized tweets, Facebook statuses, and Instagram captions. In fact, maintaining consistent brand presentation across all your platforms may even give you a revenue boost by up to 23%!
SEO
Search engine optimization or SEO is a reliable tool in your arsenal that can give you organic traffic.
Google uses several factors to decide a website's ranking. Applying SEO best practices like optimizing images and shortening URLs, will help you meet most of them, making your web pages more attractive to Google.
Blogging
Image Source: Alexia Clark
Remember my advice to add a blog to your website?
Your blog page can be a full-fledged lead-producing machine. In fact, 80% of companies that use blogging have successfully got more customers via their content. What's more, you have endless potential topics to blog about. You can write about workout tips, healthy recipes, or training how-tos—whatever you like. Try to choose topics that would appeal most to your target audience.
Don't forget to update your blog regularly for the best results! Consistency is important.
Over to You
The answer to how to make a personal trainer website is very straightforward.
You get a domain name and a reliable web host. Then you set up an efficient CMS and add relevant web pages and pictures to have a solid base. But if you really want to get more clients through your website, you have to invest time and effort into marketing yourself.
Implement effective social media and marketing strategies to promote your fitness services. This includes improving SEO and writing blog posts regularly to keep your static website up-to-date.
It's an elaborate process, but it's a process that assures rewards. Like they say, trust the process.