Automating your scheduling process is a great way to save time (and headaches) throughout the work day. While there are tons of scheduling solutions out there suited to the task, some solutions are more popular—and for good reason—than others. At the head of these popular scheduling solutions is Calendly.
Despite what you may have heard about the scheduling giant (which recently raised $350M at a $3B valuation), you might be wondering whether it's the right scheduling software for you. Yes, it automates scheduling, integrates with Zoom, and works for teams. That said, it also has a few drawbacks, too—leaving you with a decision to make.
In this post, we're going to take an in-depth look at Calendly, its features/integrations, and more. We'll also take a look at a Calendly alternative that's lightweight and best fit for WordPress users.
Ready? Let's jump in.
So, What Is Calendly?
In short, Calendly is a software for scheduling online appointments.
It's an automated solution, which means users can book time with you simply by having access to your unique Calendly calendar. It can sync with and check availability across your other calendars, such as Google Calendar, Outlook, and more—helping to avoid double-bookings or other scheduling conflicts.
Calendly also allows you to set up and make yourself available for different types of meetings, such as one-on-one and group meetings. In addition, it allows you to automatically send email notifications for booked, updated, or cancelled meetings.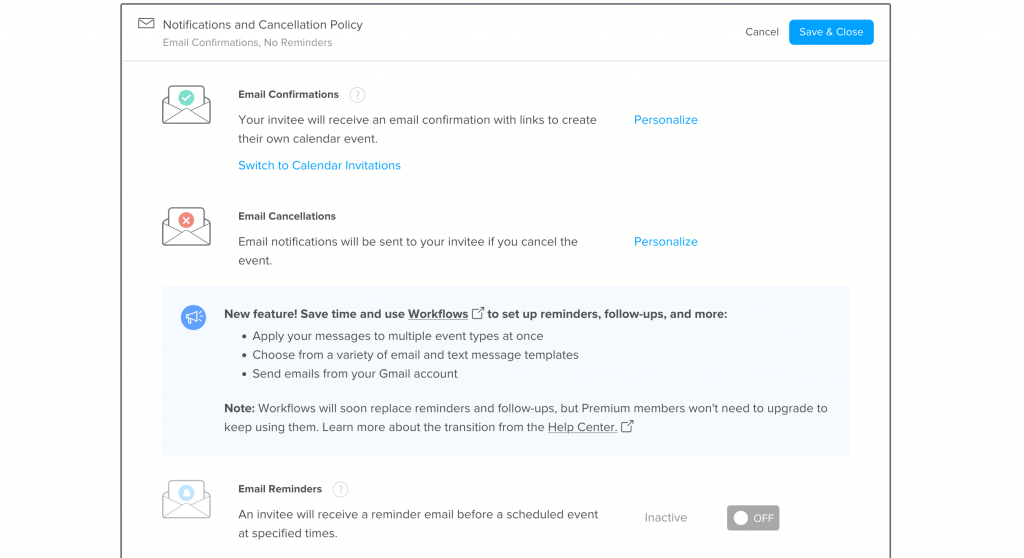 Calendly also allows you to break up meetings throughout your day via meeting buffers. You can add "buffer time" in any amount (5, 10, or 15+ minutes) to give you a breather between sessions.
You can also set limits for the number of meetings you'll schedule in a day, and set rules to prevent users from booking new meetings at the last minute.

Calendly also offers a fair amount of integrations with third-party apps. If it doesn't currently integrate with an app you need in your scheduling workflow, Calendly allows you to embed its interface in your website. As such, it's fairly adaptable when working with other tools.
How Do You Use Calendly to Create Schedules?
If you're wondering how to get started with Calendly, you're in luck. The app offers a helpful Getting Started guide, which lives in the main dashboard: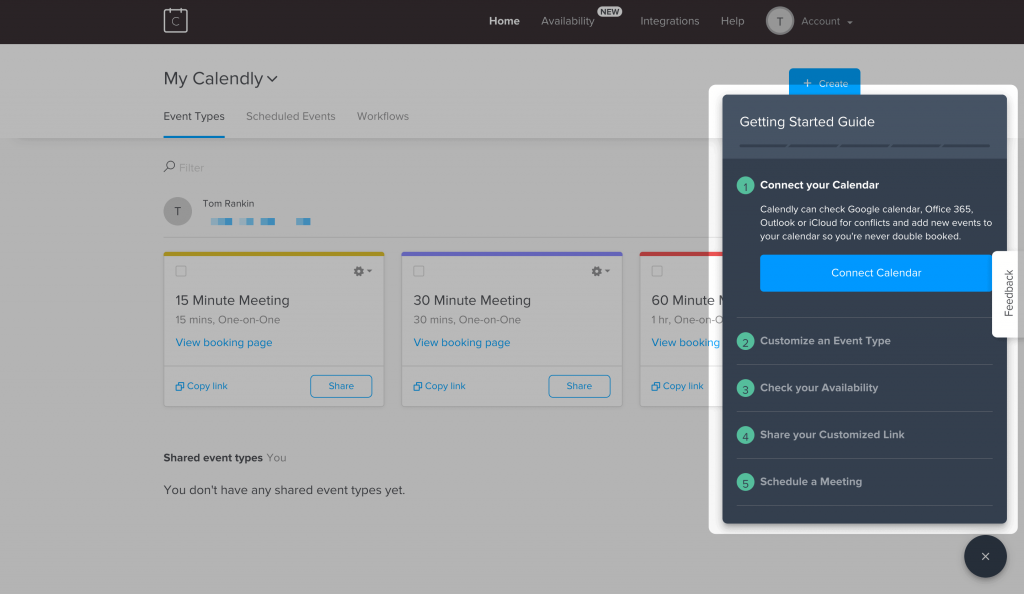 In this dashboard, you can connect your calendar, customize your events, check your availability, share you links, and schedule meetings. When it comes to events, there are three default options in place:

Calendly offers these as good starting points, and if you click the individual setting icons for each event, you can edit them even further: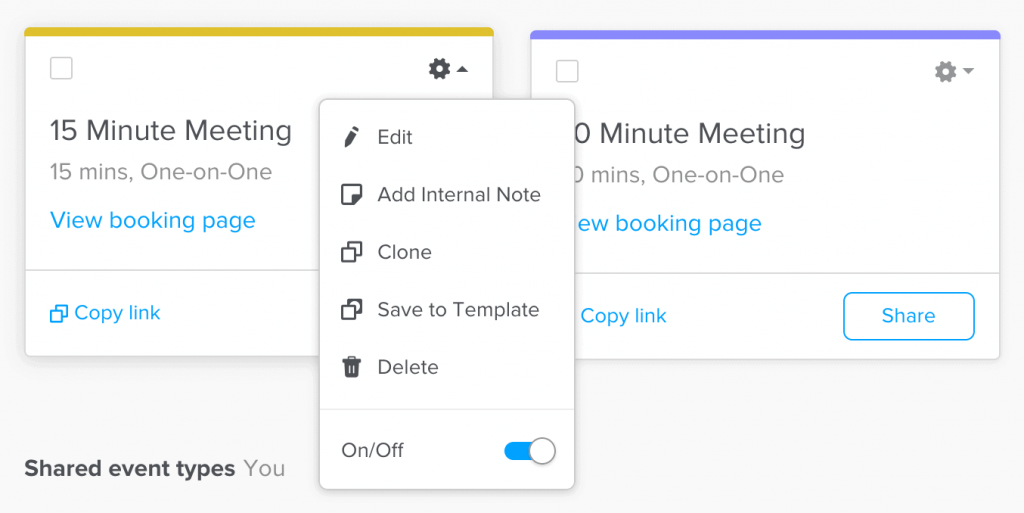 Here, you can change the event type, designate who is able to book it, and play around with a bunch of additional preferences: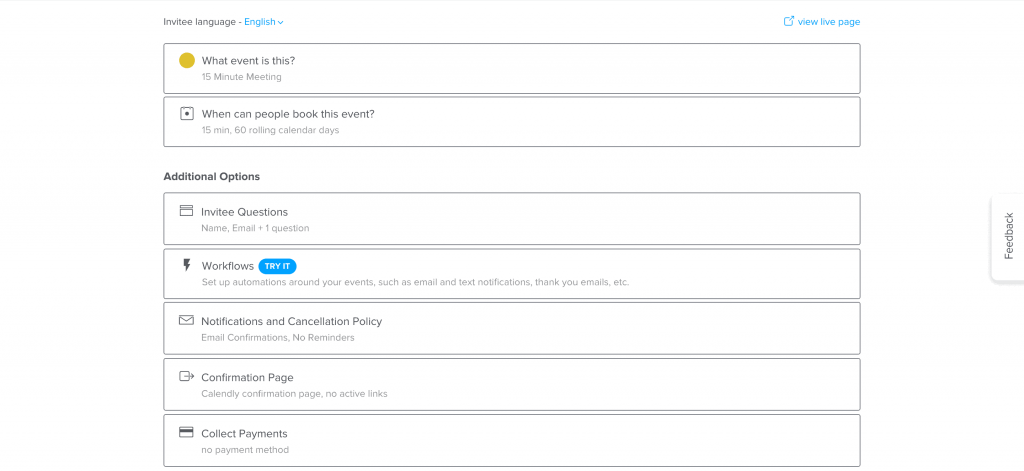 Popular preferences include creating notifications, pre-meeting questions, and setting confirmation pages.
You're also able to view your live calendar pages, to ensure it's set up and functioning correctly before sharing around: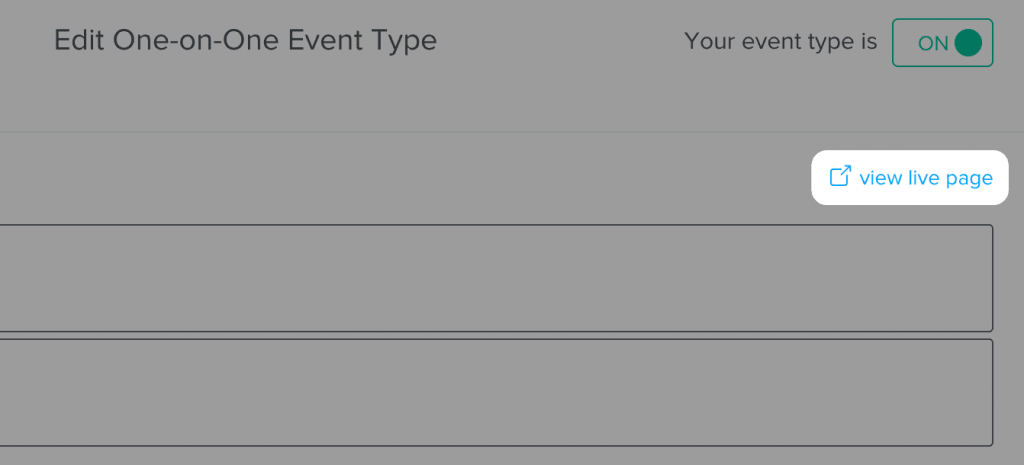 While the booking page itself is quite bare, it's easy for non-tech savvy parties to use and schedule time: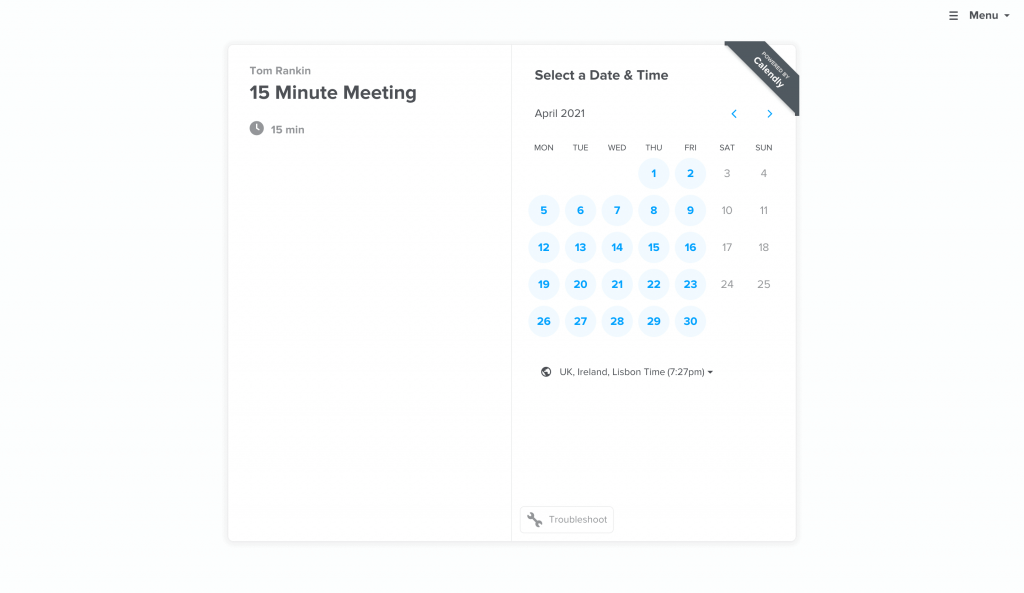 Once you select a date, time, and include any information required (like you name and email) your booking will be confirmed: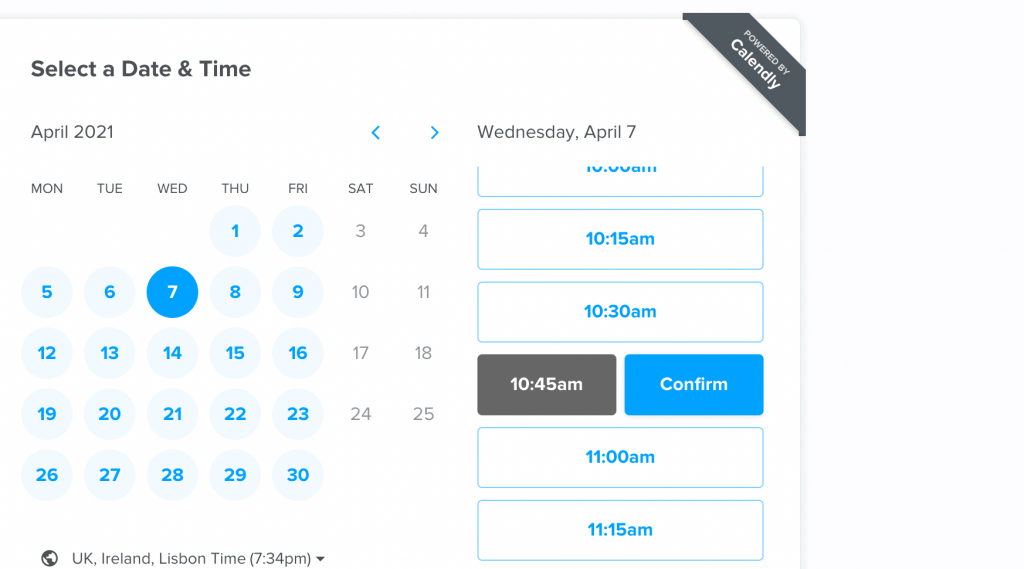 It's a pretty straightforward process, and the great news is you can have Calendly up and running within minutes. Still, there is one aspect of the tool that could leave you scratching your head.
Does Calendly Integrate with WordPress?
Given that Calendly has so many integrations, you'd expect the app to integrate to WordPress, too. Despite how popular WordPress is amongst Internet users (40% of all websites run on WordPress), Calendly does not offer an integration with platform.
While this is disappointing, Calendly does allow you to embed their form on your WordPress website—although results may vary based on your theme and customizations.
If you do decide to embed Calendly, there are two ways to do so:
Inline global embedding. This is the most permanent way to get the job done. Even so, you'll need to go hunting for the right template within your site's core files. This is a perilous task that could see you tank your site if you do the wrong thing.
Using the Custom HTML Block within WordPress. This is more of a user-friendly option. You'll add the embed code to WordPress' Custom HTML Block. While it's good for one page, you'll need to do this for every page you want to show Calendly on.
In our opinion, neither of these approaches is ideal.
With inline global embedding, you'll lack customization. What's more, if you change themes, you'll need to re-embed Calendly. And this is all without mentioning the potential cost of hiring a developer to make these changes—if you don't already have the skills yourself.
While using a custom HTML block within WordPress may be a good approach on a per-page basis, you may not be able to do this with some page builders depending on how your website is set up. Also, you'll have to duplicate this block your entire site to place your calendar on multiple pages.
All things considered, there is an easy way to get all the functionality and integrations your want from Calendly, and integrate it directly with WordPress.
It's Time You Met Simply Schedule Appointments
We've already covered how Simply Schedule Appointments compares to Calendly—but there are a few more things you should know.
Simply Schedule Appointments is an online scheduling plugin for WordPress websites. In plain english, it's Calendly for WordPress, and it can easily be installed just like any other plugin on your WordPress website: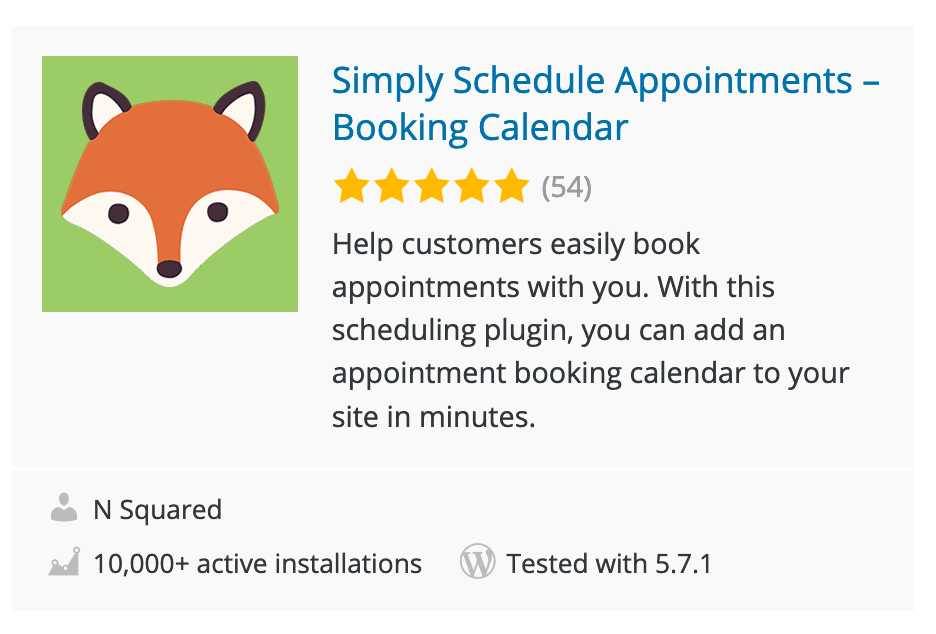 Simply Schedule Appointments offers a seamless integration with WordPress and Gutenberg blocks, as well as with all popular page builders—like Elementor, Divi, and Beaver Builder.
Simply Schedule Appointments directly integrates with other popular WordPress plugins, too. Their integration with Gravity Forms means you can use functionality such as conditional logic to create advanced scheduling systems not possible with solutions like Calendly:
Simply Schedule Appointments also integrate with tools in the Google Suite—allowing you to sync appointments with your Google Calendar and automatically provide unique video conferencing locations via Google Meet or Zoom.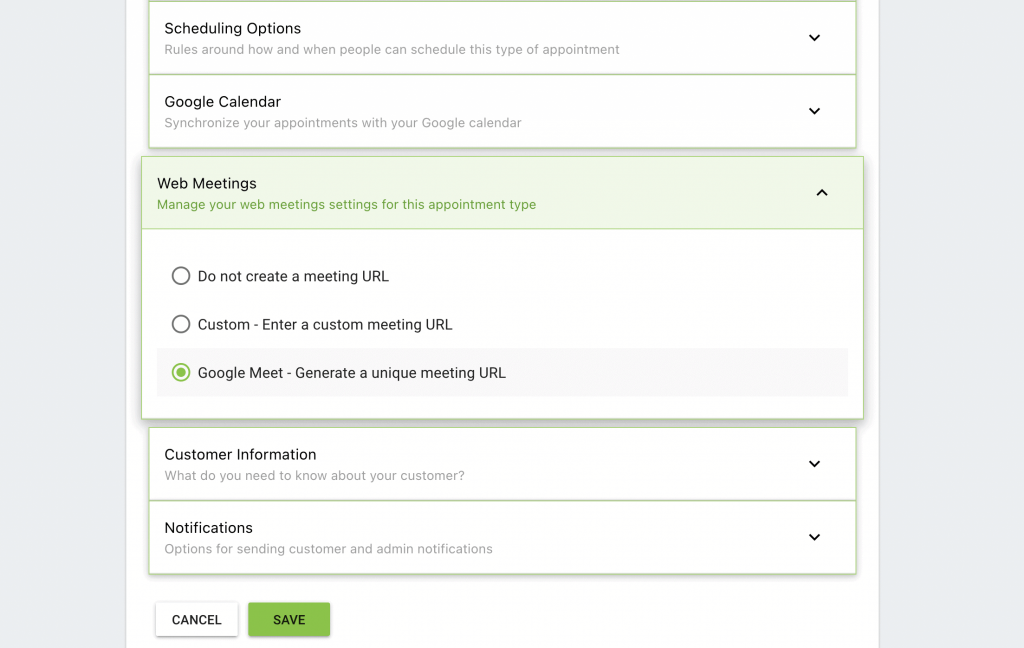 The plugin also has a number of integrations, such as payment gateways with Stripe and PayPal, that allow you to charge for bookings or paid consultations.
Combine this with the affordable pricing, top-notch support, and unrivaled customization options, and you'll find Simply Schedule Appointments has no equal when it comes to WordPress users looking for a scheduling solution.
Simply Schedule Appointments Lets You Simply Schedule Appointments
Keeping control of your schedule is an essential day-to-day task. If you let it, you could spend excessive time dealing with the meetings you have booked in. Solutions such as Calendly exist to help keep the administration down.
While Calendly has a lot of good features and functionality, it's not perfect. Simply Schedule Appointments gives you a WordPress-based approach to automating your schedule, with a greater set of flexible features. What's more, most of the functionality can be yours for free. Calendly has a good feature set, but as it's hidden behind a premium subscription, it could hit your budget for more than a few users.
Are you considering Calendly, or is Simply Schedule Appointments hitting the right notes for you? Let us know in the comments section below!
Image credit: Alexander Suhorucov.
Try Simply Schedule Appointments
Love it or get a full refund within 30 days!