Before we jump in, you should know there's change afoot! Google has made the decision to replace Google Hangouts with their more popular, flagship video conferencing app, Google Meet. That said, there are still some valid reasons for knowing how to schedule a Google Hangout session.
For example, you may have clients who like the layout and feel of Hangouts. Also, you may not need the advanced functionality of Google Meet – Hangouts sits within the Gmail ecosystem, and is easily accessible.
In this post, we're going to look at how to schedule a Google Hangout. Before we get started with instructions, let's take a quick look at the current situation involving Google Hangouts and Google Meet.
The Situation With Google Hangouts and Google Meet
As is often the case in the world of tech, apps are built, evolve, and are eventually replaced when the cycle starts over. Google Hangouts was released in 2013, and in the world of tech, can be considered somewhat ancient.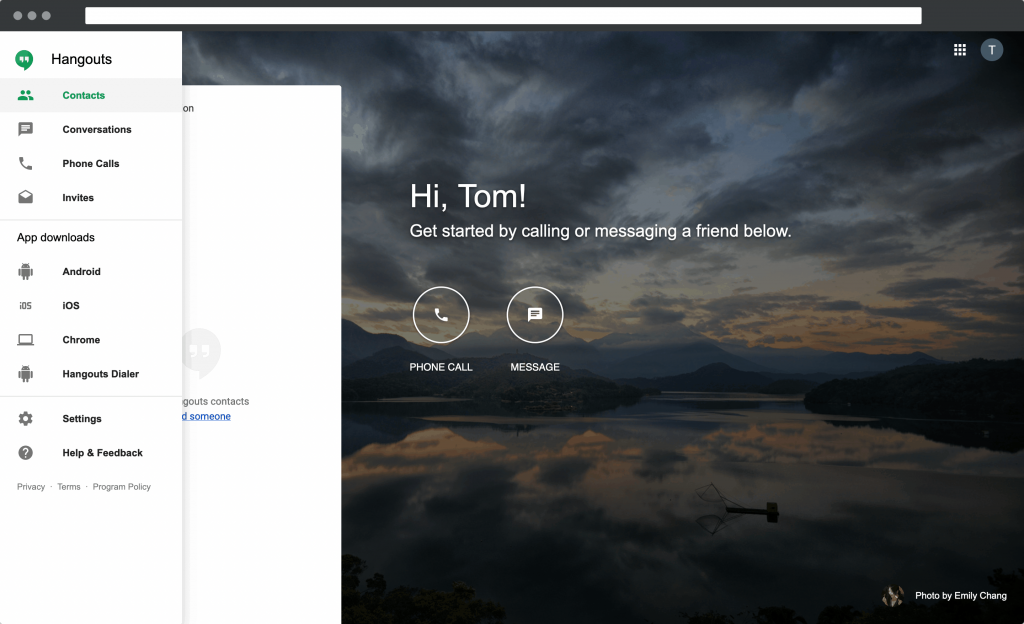 In fact, before this, Google offered Talk as a messaging service, and used Hangouts within Google+. As the majority of the world shifts and learns to work online, the solutions we use also need to adapt and fit our current needs.
As such, Google has made the decision to cease development of Google Hangouts in favor of working on the more popular Google Meet. In other words, Google will be sunsetting Google Hangouts within the first half of 2021, and will shift to promote Google Meet as its flagship video conferencing solution for its users.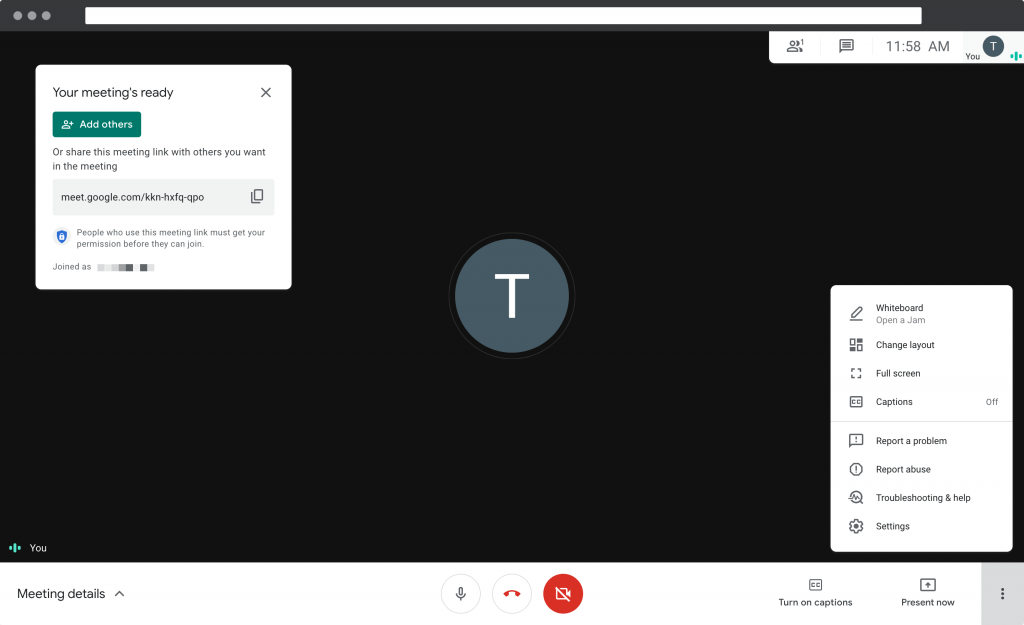 Formerly known as "Google Hangouts Meet", Google Meet integrates with the wider Google ecosystem. It offers better participant scaling, adaptive layouts, the ability to record your meetings, and much more. During the current global pandemic, Google Meet has been made free-to-use, which all but solidifies Google Hangouts is on its way out.
Overall, it's best to think of Hangouts and Meet as serving two different groups of users. Hangouts is consumer-focused – a quick video chat service without lots of bells and whistles, and Meet is a premium business solution that is set up for video conferencing and professional meetings.
How to Schedule a Google Hangout
One of the major changes of the switch over from Google Hangouts to Google Meet is in the level of integration with the general Google product line. In the past, to schedule a Google Hangout you would simply access your Google Calendar, set up an event, and select the option to add a video call.
However, Google Meet now takes that position, meaning Hangouts is trickier to slot into your meeting scheduling workflow:
As such, here's what we'd recommend:
Create an event in Google Calendar, although don't yet save it.
Set up a new Google Hangouts chat.
Add the link to your Calendar entry, so that the recipient can join the call at the right time.
While this process works for scheduling a Google Hangout, it's clear that Google now wants you to use Google Meet to connect and schedule video chats or meetings. Fortunately for users, Google Meet really is an all-around better tool for video meetings, and comes with plenty of advanced functionality that you might find helpful.
Google Meet Is Google Hangouts for Businesses
If it hasn't been clear enough already, you will likely want to use Google Meet for any business-focused video conferencing. Google Hangouts is no longer able to serve the needs of a business in 2021, so Meet should be your go-to solution.
In fact, if you read the official guidelines for how to schedule a Google Hangout, you'll find Google Meet named as the video service option. Here are a few reasons why it's superior:
As we mentioned, you are able to host more participants than Hangouts.
Google Meet lets you view high-resolution screen sharing in the mobile app.
Meet offers shared URLs for users who don't have a Google account, yet still want to access a video meeting.
There's also one more big reason why we recommend Google Meet over Google Hangouts for your video meetings and conferencing.
Simply Schedule Appointments Integrates With Google Meet
Google Meet and Simply Schedule Appointments work together to give you total control over your bookings. However, before you begin, there are some prerequisites you'll need to have in place:
A premium Simply Schedule Appointments subscription.
Google Calendar sync enabled.
The Plus, Pro, or Business plans for Simply Schedule Appointments are all ideal for integrating Google Meet.
Fortunately, we put together a straightforward guide to getting the job done. In fact, syncing the calendar is a breeze, although you may need to take a few minutes to set up your Google API credentials.
Once everything is up and running, head to the Google page within your Simply Schedule Appointments Settings screen in WordPress: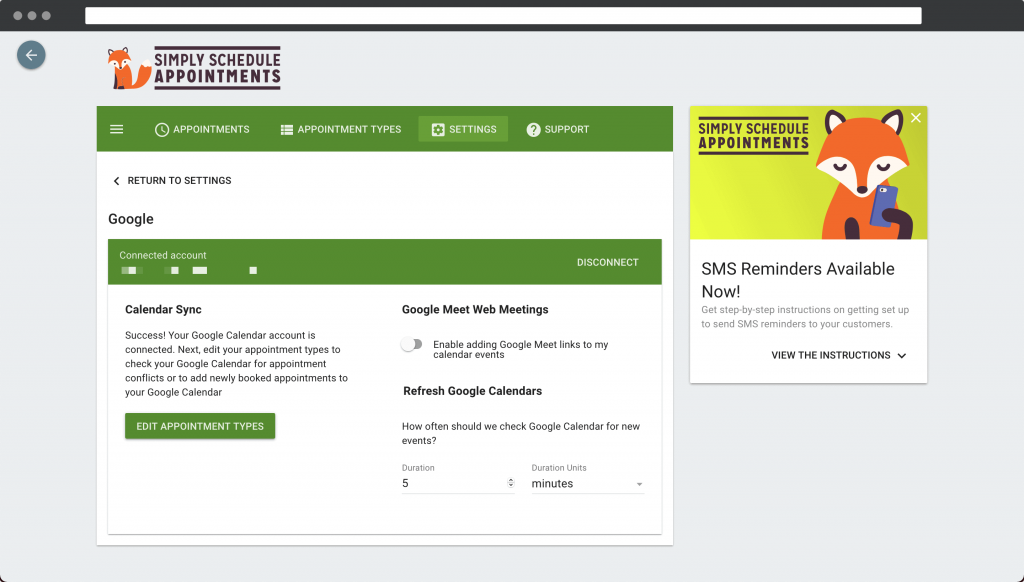 From here, toggle the Google Meet Web Meetings option, then hit the Edit Appointment Types button. If you click into one of the listed appointment types, you'll notice a few new options – specifically for Web Meetings: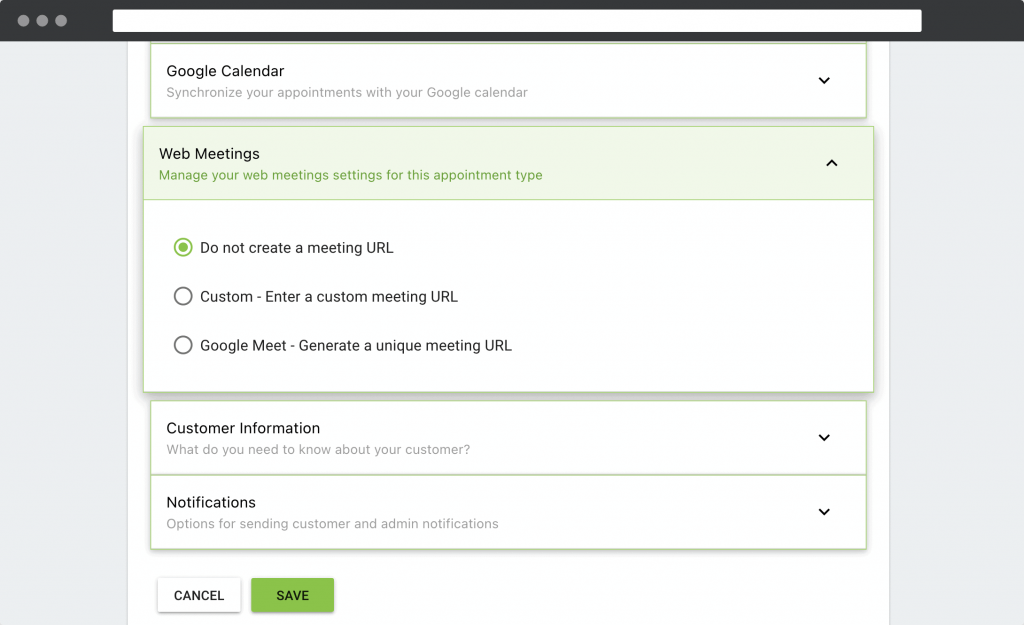 However, before you can generate automatic URLs for Google Meet calls, you'll want to sync a suitable Google Calendar from the relevant menu in Simply Schedule Appointments: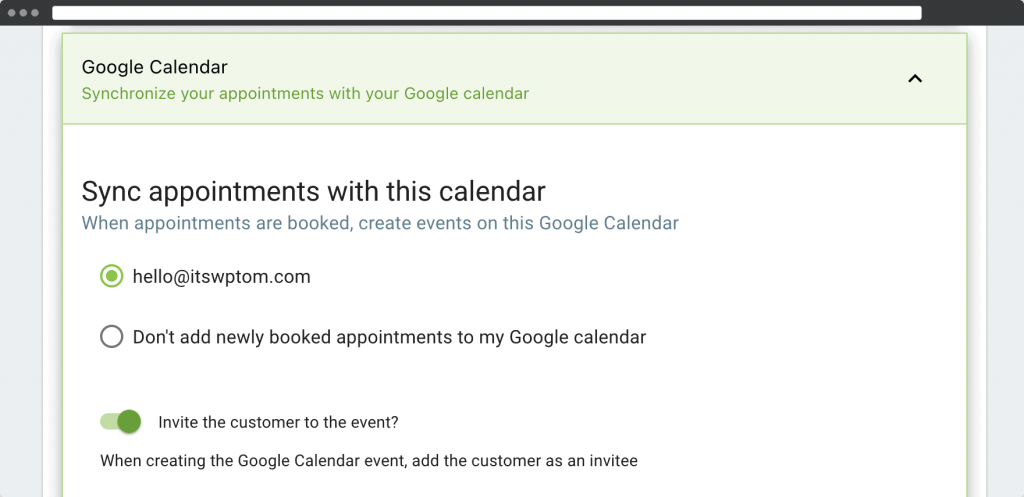 Once you save your changes, you'll be able to generate Google Meet URLs for appointments and invite participants automatically. Our guide on how to integrate Google Meet with Simply Schedule Appointments has the full details on what's possible, and how to set everything up.
Let's Meet and Hangout!
Although there could be some initial confusion between Hangouts and Meet, Google now offer two clear paths for video meetings within its ecosystem. For most businesses, Google Meet is going to be the superior option.
This is because it caters for more participants within a meeting, and offers a wealth of functionality designed for professional video interactions. What's more, you can integrate it with Simply Schedule Appointments for a full-featured booking system that gets the job done.
Are you going to be using Google Meet, or will you still need to know how to schedule a Google Hangout? Let us know in the comments section below!
Image credit: violetta.