Introduction
This guide is going to show you how to receive a beta update. If you'd like to be at the forefront of all our new developments, this is for you! You'll usually receive new features and bug fixes a week or two ahead of everyone else.
These features are fully functioning on our end. But since we cannot possibly anticipate all the possible themes and plugin environments, there may still be some bugs lurking in the code.
And although we understand that you're eager to try these. We hope you can also use better judgment when you opt-in to receiving the beta updates.
Please do not opt-in to receive beta-updates on a live production site unless you're aware of the consequences. We advise everyone to test the new features out for themselves on a staging site, that way you can be certain that your booking experience continues to work in your live site.
Turning on Beta Updates
To begin receiving the Beta Updates, go to SSA Settings > scroll to the bottom of the page and go to Developer Settings > Turn on the 'Get beta (pre-release) versions of SSA' toggle.
---
Update your Site to the Latest Beta
Now that you've opted-in to receive the beta updates, go ahead and visit the WordPress dashboard > Updates page and click Check Again.
If you need help updating, please see our guide on Resetting your License Key.
This will retrieve any new plugin or theme updates for your site (but, don't worry it won't update them yet). After you do so, you'll now see a new update for Simply Schedule Appointments, usually, there will be the word beta included in the version number.
Go ahead and update to the new beta version of SSA. And, ta-da, that's it!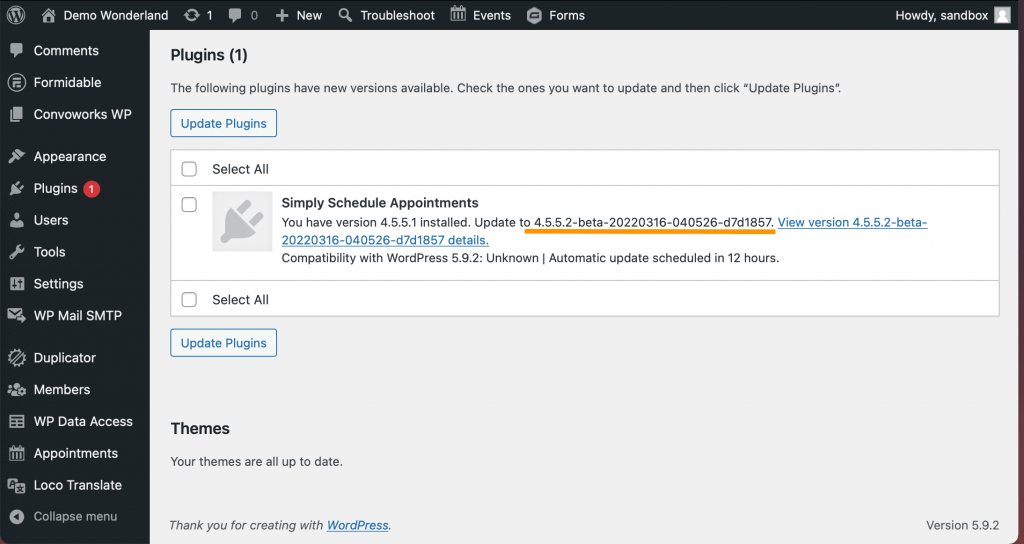 ---
---
Related Guides
---