SSL certificate required
Make sure that your site is set up with an SSL certificate. Just be sure the URL for your site starts with https and not just http. If you don't have an SSL certificate, contact your hosting company for help in getting that setup.
Getting set up with PayPal
If you don't have a PayPal account already, just head on over to their website and get one set up. PayPal will allow you to securely accept bank transfers, check payments, and credit card payments from customers all over the world.
A free PayPal Business account is required. You can either upgrade an existing PayPal personal account to Business, or you can create a new PayPal Payments Standard account.
With your PayPal email address, go to your Settings screen in the admin interface for Simply Schedule Appointments. Enable Payments, then click into Payments settings. Set your default currency, then enable PayPal and head into the PayPal settings.
Basic Settings
Display title

The name that will display to your customers for the PayPal payment option

Description

The description that will display to your customers for the PayPal payment option

PayPal email address

The email address for your PayPal account

IPN Notification URL

Assigned automatically by Simply Schedule Appointments. Not editable. Copy and past this value into your PayPal account IPN Settings
Once you've got your PayPal IPN URL, you'll just need set up your PayPal IPN Settings.
Advanced Settings
If you have a PayPal developer account, you can optionally enable Sandbox mode on your site. This is handy for testing payment scenarios and your connection to PayPal without having to enter real payment information.

Taking payments for appointments
With PayPal enabled and your PayPal email address saved, you can now edit any of your appointment types. You'll see a new section called Payments: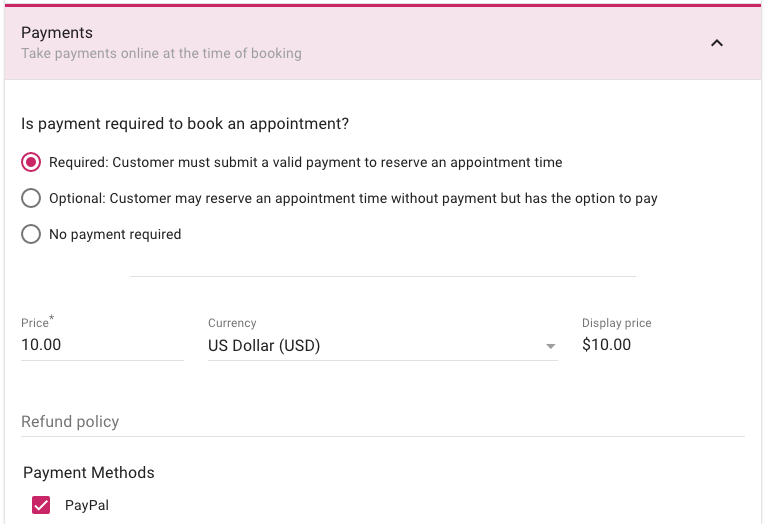 First up, the payment can be required or optional. If you mark the payment as required, then customers will have to provide a valid payment in order to book their appointment. For optional payments, customers can elect to pay later (likely in person at the time of the appointment) and will be able to book the appointment even without paying.
Then you can set the price of the appointment, the currency if it's different from the default currency you set in the Payments settings, and you can enter a refund policy. Save the appointment type and that's all there is to getting set up to accept payments while booking appointments.
Booking with payment
When a customer books an appointment with a payment, they'll see the price on every screen of the booking process.

After selecting a date and time for the appointment, your customer will be asked to pay. If you've selected an optional payment, your customer will also have the option to Pay Later.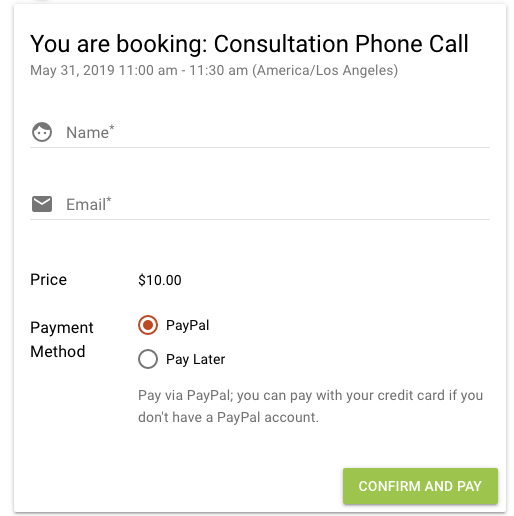 After clicking Confirm and Pay, your customer will be taken to PayPal to complete their payment. We hold the appointment for 10 minutes to give them time to finish up there. Once payment is complete, they're returned to a confirmation screen: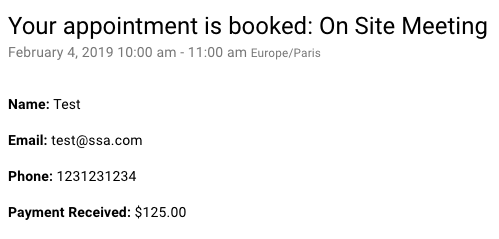 Payment details for you
Then, when you're viewing the upcoming appointment, you'll see that a payment was received.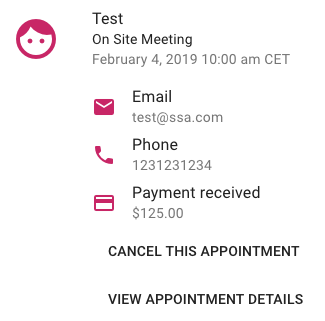 And you'll even be able to click the View Appointment Details link to see all the detailed information about the payment:

---