Looking for a flexible web conferencing solution that will blend in harmony with Simply Schedule Appointments? Then look no further, for the Webex integration is here to sate your web meeting needs.

Quick Overview
Editions

Plus (2.5.6.0)
Professional (3.5.6.0)
Business (4.5.6.0)

Helpful Links
---
Newest on the Block – Introducing the Latest Webex Integration!
Webex is an incredibly user-friendly video conferencing tool that allows users to collaborate and set up web meetings for teams of all sizes. This tool emphasizes focus on flexibility, inclusiveness, and security. In fact, it boasts nifty features for web meetings that include gesture recognition, automatic transcriptions, powerful meeting controls, and more.
Hand-in-hand, Simply Schedule Appointments, and Webex is an intuitive combination that will allow you to handle your web meetings in an orderly and neat fashion.
---
How to Book Appointments with Webex Meeting Links
Before we can dive headfirst into setting up Webex meetings to work with Simply Schedule Appointments, it is best to create a Webex account first. This way, you're able to keep track of your meetings with ease and sync the integration.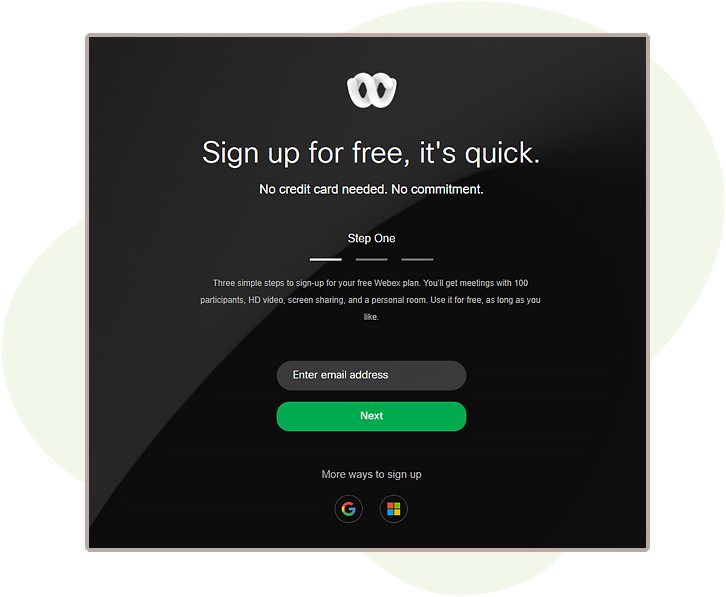 Once the account has been created, you will be able to log in through the cool little Webex card in the Simply Schedule Appointments plugin dashboard. This card is located within the Settings tab. After toggling it on, SSA will prompt you to authorize Webex. Once that has been achieved, Webex will be immediately connected to SSA.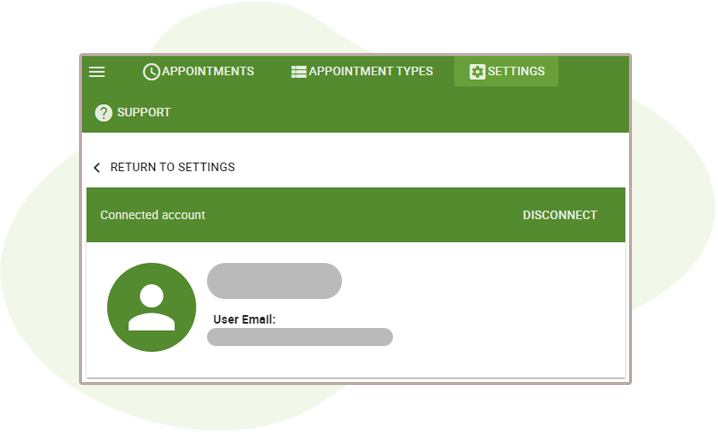 However, that's not all! The next step is to head to the Appointment Types that you fancy and would prefer to utilize for web meetings.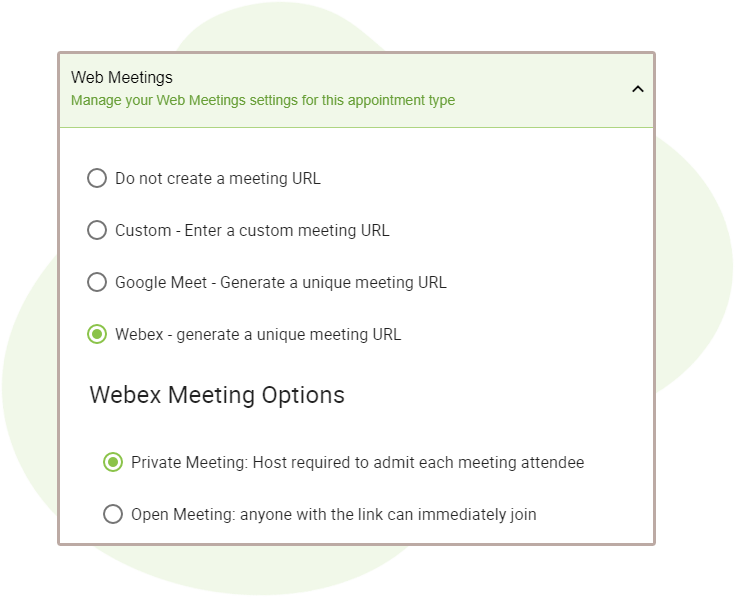 Within the Web Meetings tab of the Appointment Type's settings, you'll be able to select the Webex option and generate a unique meeting URL!
You are faced with two options:
Private Meeting – The Host is required to administrate each attendee that enters the meeting.
Open Meeting – Anyone with the meeting link can immediately join, no questions asked.
Once you've made your decision, you can save your settings. We would recommend booking a test appointment just to witness the magic unfold!
However, we would like to note that this integration is not compatible with our Team Booking feature at the moment. A single meeting link can only be used at a time. This could definitely pose an issue when there are a couple of team members trying to run a meeting at the same time. With that said, we would like to remind you to exercise caution when using both in conjunction with each other!
Learn more about how to finish setting up the Web Meetings feature in the plugin.
---
The Culmination of Your Efforts with the Webex Integration
And there you have it–a stylish and terrific video conferencing tool that works seamlessly with Simply Schedule Appointments.
Do you use Webex? What made you choose Webex over other video conferencing tools? Let us know in the comments below! 🙂
Try Simply Schedule Appointments
Love it or get a full refund within 30 days!