Introduction
In this guide we're going to show you how to export ALL of your bookings to a CSV file.
If you only want to export a small set of your appointments visit our other guide on the general export settings.
---
Exporting All of Your Booked Appointments
To get started, you'll need to go to the SSA Appointments page. From here you'll need to use the Views dropdown to select the Date Range View.
The Date Range View is the only view that allows you to select all of your booked appointments without having to use the Load More Appointments button. The only pre-requisite is that you need a general sense of when you began taking appointments.
After selecting the Date Range View, you'll see a screen like this where you can enter the following filters:
Start and End Dates
Appointment Types
Appointment Status
Team Member.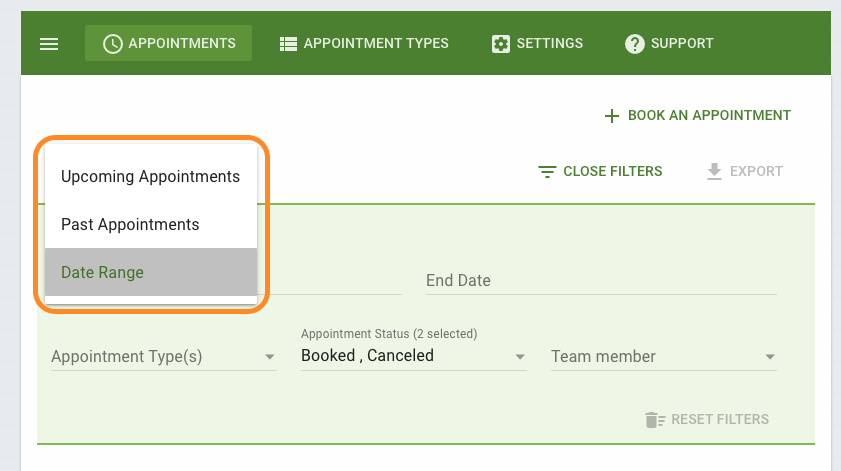 Using Start and End Date to Load All Your Bookings
Our export feature currently works by only exporting the loaded and visible appointments on the page. So by using the Date Range we will essentially be loading ALL of the appointments onto the page so that they're technically visible.
For this to work, you must fill out the Start Date. Choose a date that you know is for sure before the time that you began to use SSA. Feel free to give yourself a couple of months' buffer.
If you have 100s or 1000s of bookings, please be patient; the plugin is trying to load all of your bookings onto the page, which may take a while. If it seems like the page is frozen, give it a moment to finish loading.
Feel free to also use the other filters to narrow down on a specific set of appointments. For example, if you don't want to export the 'Canceled' appointments make sure to make those changes now.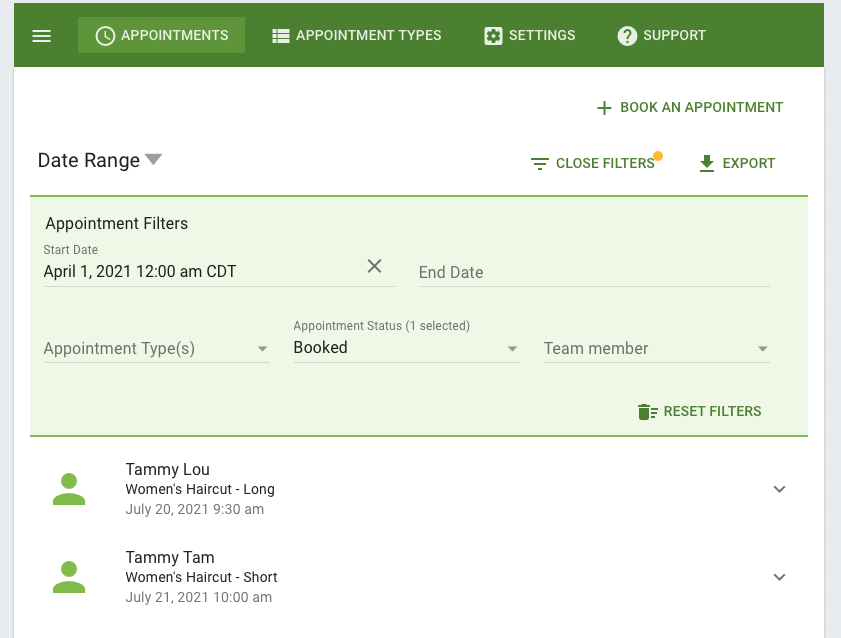 Export After The Page Finishes Loading
Once the page is done loading, you're welcome to use the Export button on the top-right corner. This should start the CSV download from your browser.
Visit our other guide for more information on the CSV file and what it includes.
---
---
Related Guides
---