There's no better time to be an independent consultant than now. The industry is currently valued at a whopping $250 billion, making it one of the most mature markets within the professional services industry.
From serving as an extra set of hands for outsourced work to outlining strategic direction, independent consultants today contribute to the success of many famous organizations. But with this level of repute comes great responsibility.
One way you can make your job easier is by using the right set of business consultant tools. Below, we've compiled the best professional software tools for an independent consultant—tools that will help you manage your business and time better.
---
Top Picks in Business Consultant Tools
Here's our list of business consultant software in each category:
---
Project Management Business Consultant Tools
Consultants have long been using project management tools to stay on top of their assignments, keep projects on track, and to help them meet deadlines. Some consultants are devoted to a particular tool, while others use different tools, depending on the clients they're working with.
Here are my top picks for the best project management tools for an independent consultant business.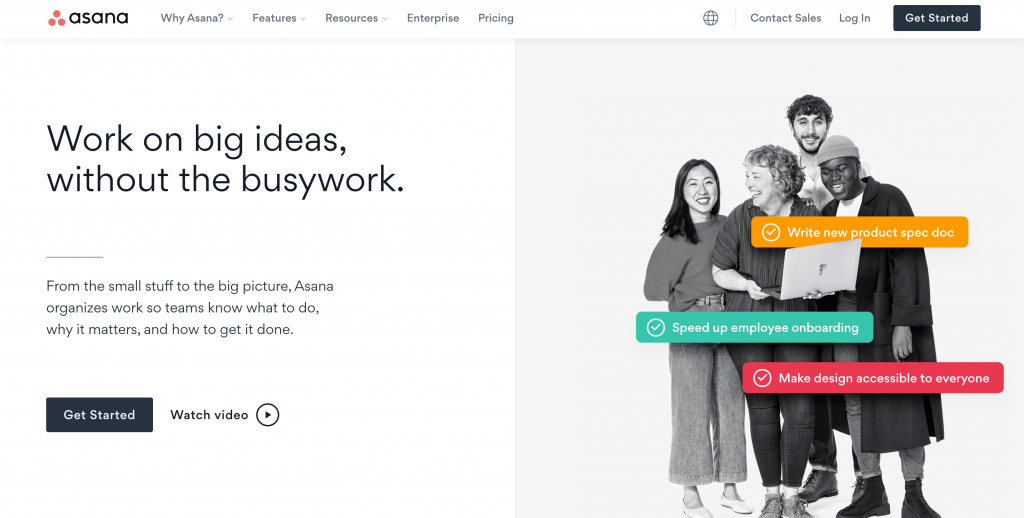 Compared to other project management solutions, Asana's automation features are more powerful and flexible—and affordable. Although it may be confusing at first, its vast capabilities are worth the effort it takes to get started.
Use it to automate processes, repetitive tasks, and workflows. Or set up custom triggers, rules, and actions using the graphical workflow builder.
Quickly break up a project into manageable tasks and keep track of each piece as it gets done. Even create separate projects for each of your clients. And, share tasks across projects so that you can keep an all-in-one space to manage your work across multiple clients.
That said, Asana's mobile app is very limited. While the app is generally fine to use, it definitely works better on a full computer screen. The mobile version doesn't do Asana justice beyond checking task status.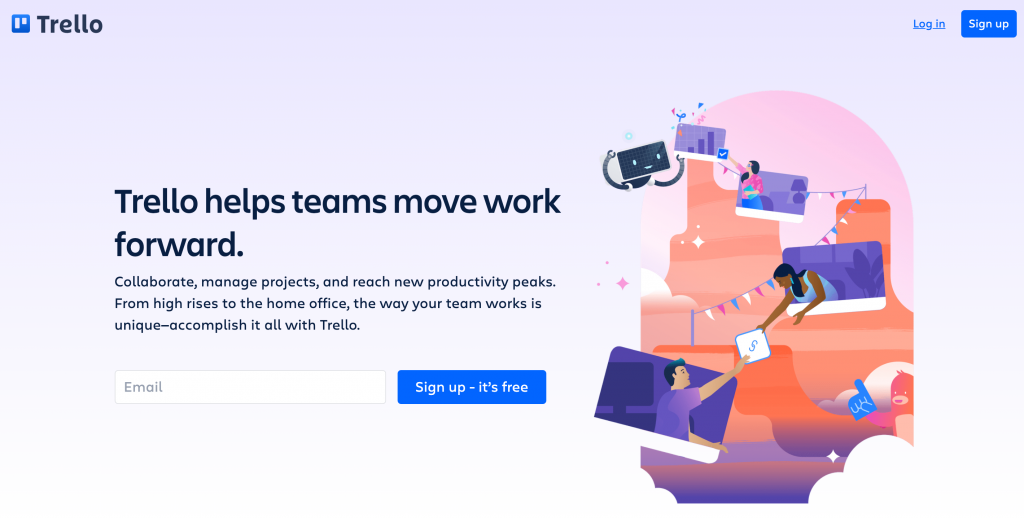 Most of my clients trust Trello when it comes to managing projects, and it's easy to see why.
Trello uses a familiar drag-and-drop Kanban-style task management interface that makes it easy to visualize task progress throughout the pipeline. Create boards for every project you're working on and add cards for the different tasks you have to do.
The tool also offers just the right amount of power, including Butler automation to Power-Ups and integrations.
But, don't expect reporting and analytics from Trello. You might want to look at other options if you want actionable insights related to projects at a higher level.
---
Appointment Scheduling Business Consultant Tools
Prompt and easy appointment scheduling can make the world of a difference for any business. Think improved operational efficiency and increased customer loyalty. That's why appointments are a key component across industries and use cases.
Here are my top tools you can install on your site.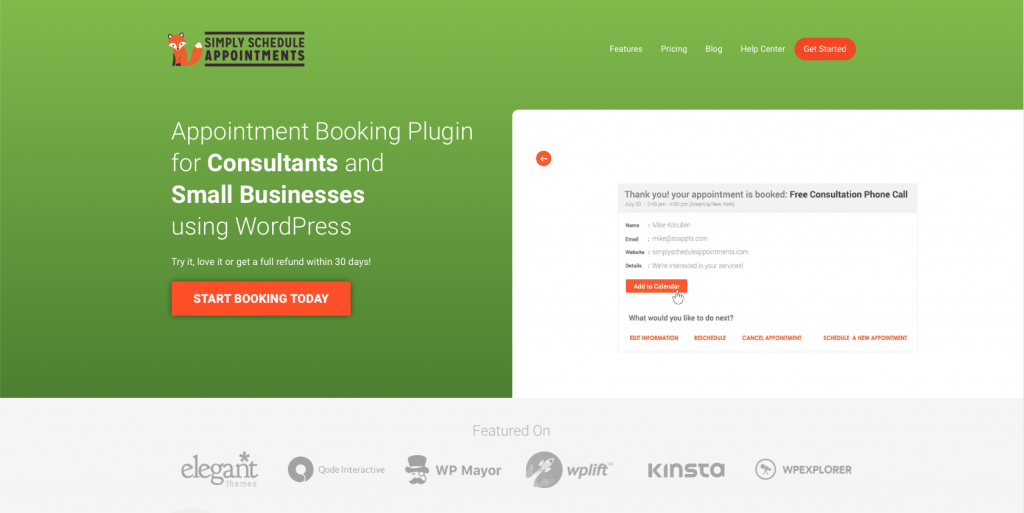 Simply Schedule Appointments can handle anything you—or your clients—throw at it, thanks to its clean customer-facing interface.
It supports an unlimited number of appointments, appointment types, and users and is fit for beginners and advanced users. It's particularly useful if you have a WordPress website where clients can schedule appointments.
SSA offers deep integration with WordPress, giving logged-in users the ability to schedule appointments without having to enter their names and email addresses. Once your clients have booked their appointments, the tool records your appointments and calls in the same place. This helps you organize your day better.
Thanks to the five-star reviewed customer support, you're assured of prompt and efficient service always.
SSA also comes with 20+ seamless integrations. You can sync it with Google Calendar and have customers pay you with PayPal or Stripe. Building customized workflows using other popular apps is also possible.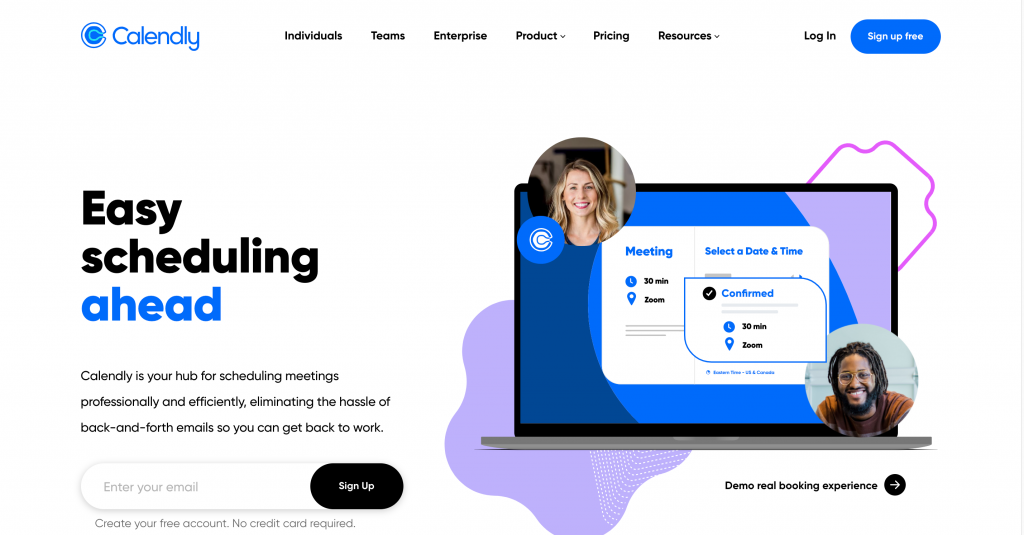 Calendly offers a lot of similar features compared to Simply Schedule Appointments. They offer a free tier of their software and it's easy to get started! Although it lacks the flexibility with WordPress websites.
Otherwise, it's a great solution if you want a quick link to send to your clients to book a time. In fact, you don't need a website at all to do this. Everything is hosted on their site and all the appointment management is done from there too.
---
Cloud Storage Business Consultant Tools
Cloud storage has made it easier to store, access, share and collaborate on files in real-time. It doesn't matter where you and your clients live. All you need is a stable internet connection, and you're good to go.
Another advantage of cloud storage tools for an independent consultant business is they also serve as a backup storage solution. Check out my top two options below: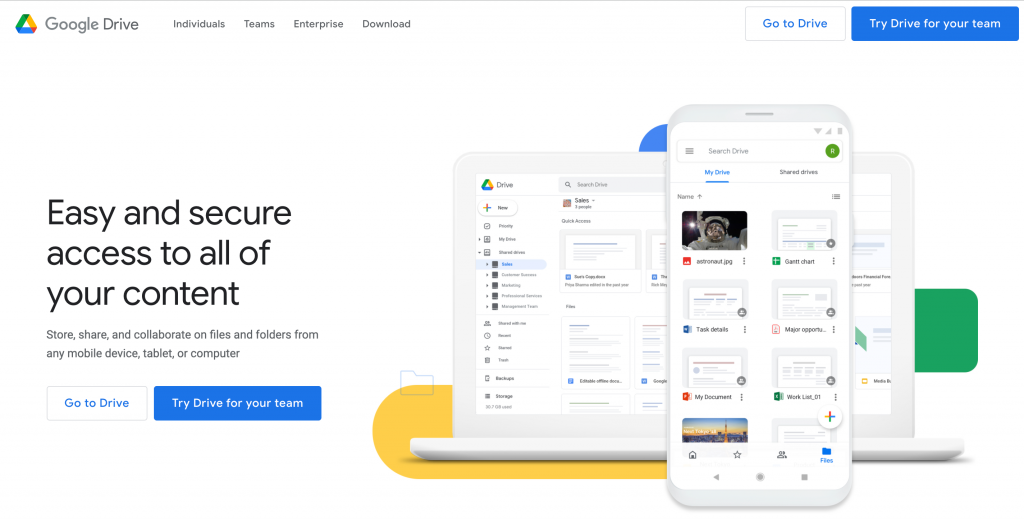 If you already use a Gmail account, you also have access to Google's suite of software tools—all packaged under Google Drive. So why complicate things by using any other cloud provider?
With Google Drive, you get a generous 15 GB of storage for free. Plus, you can integrate your work with the existing Google applications. For instance, you can collaborate in real-time using Google Docs, plus roll back changes and leave comments.
If you want more storage, subscribe to Google One's membership plan starting at $2 monthly or $20 annually.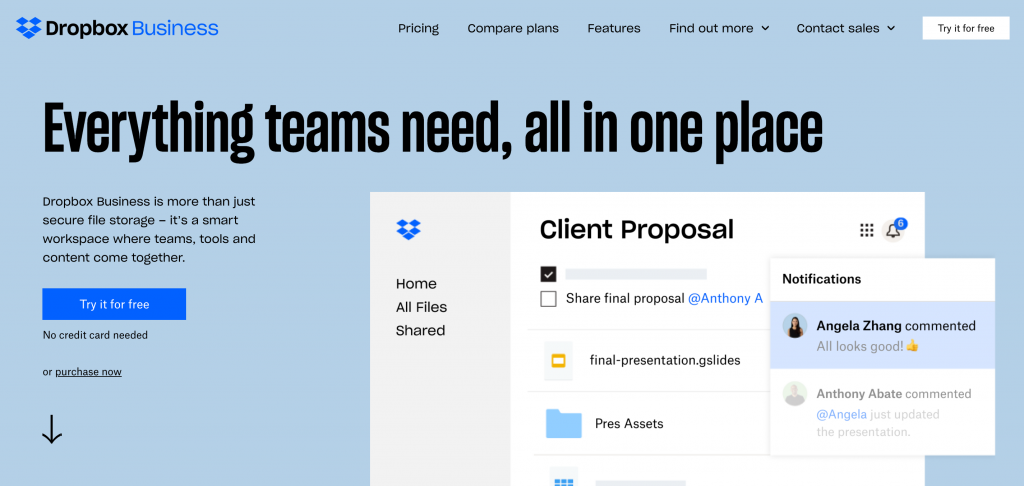 One of the main reasons I recommend Dropbox for an independent consultant business is the excellent collaboration.
Google Drive works great with Google Docs. But if you want to collaborate on many types of files, you'll want to take a look at Dropbox. As Dropbox can seamlessly work in multiple file formats, you can co-author all kinds of documents in real-time, which are then automatically uploaded to the cloud. As such, you don't have to ask your clients to send you a specific format.
The only issue is the limited storage. You only get 2GB, which when compared to Google Drive 15 GB is rather insignificant. If you need more storage, Dropbox's personal plans move up to 3TB for $16.58 a month. Dropbox Business plans start at $19.99 a month for 3TB storage.
---
Communication Business Consultant Tools
As an independent consultant, you'll find yourself chasing new prospects and maintaining contact with existing clients.
Using email isn't always enough. While email is great for formal communication, you need more laid-back tools to send clients quick nudges. Here are my go-to options for communicating with clients.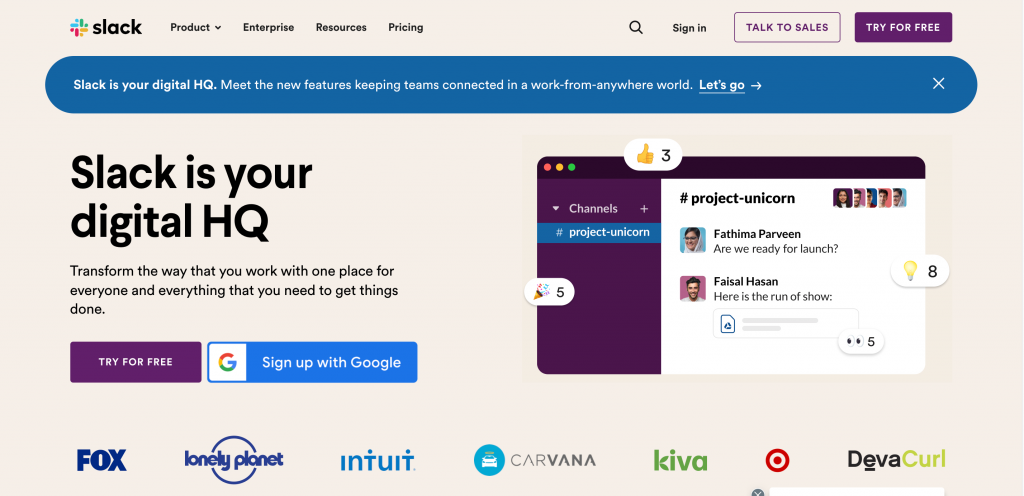 While email is great for structured communication, it can feel too much when all you need is a quick confirmation or approval from your client.
That's why you need Slack. This tool organizes communications that need a simple, quick response—or communications where email might be too bulky or annoying. It's the perfect way to remain in touch with your clients without being involved in everything.
Most companies already use Slack or a similar communication tool. So you can start communicating right away and ensure your client sees your recommendations on time.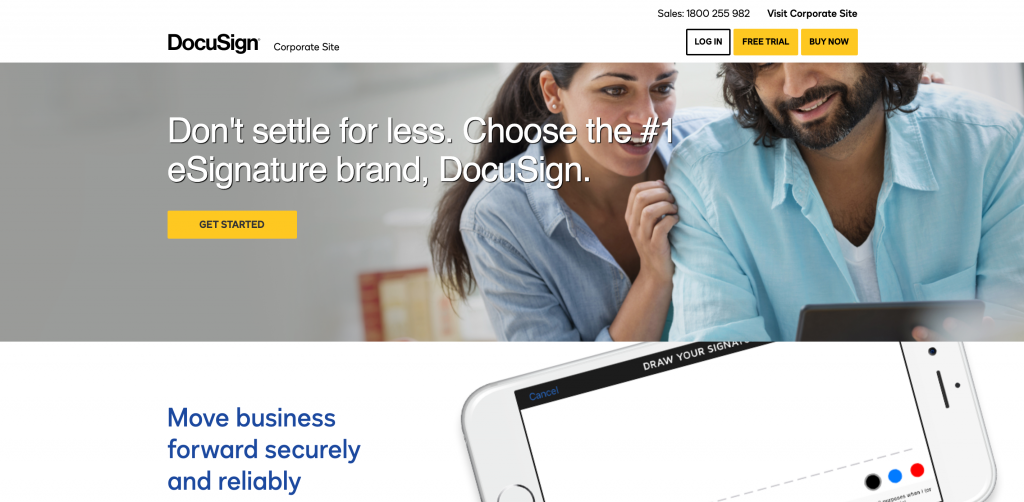 Whether you want to sign a PDF yourself or need your clients to e-sign on contracts, DocuSign has you covered.
It's an industry-leading solution that offers support for secure, cloud-based contract signatures and storage. Other features include a collaborative platform for contracts and negotiations, identity verification, document analytics, activity tracking, and tons of integrations.
It's set up to help you keep track of different documents at different stages in the signing process. You can also create templates for contracts you send over and over again to speed things up.
DocuSign isn't the cheapest option. But it's got you covered in the most advanced and complex aspects, making it worth your money.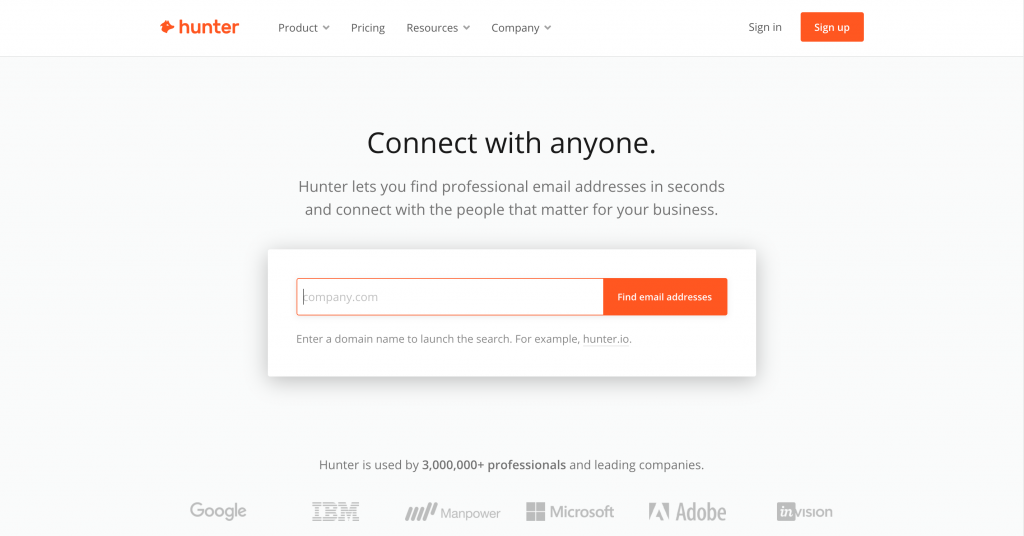 When pitching your consultancy services, you want to go straight to the decision-maker. Hunter.io can help you find the right email address to do this in seconds. It lets you search the prospect's company website by showing a list of available email addresses.
Top Tip: Cross-reference the results with LinkedIn profiles to make sure you have the right person.
This powerful tool will make an excellent addition to your outreach strategy. Use it for a range of tasks, ranging from crawling contact information to lead generation to email verification.
Additionally, you can personalize your emails at scale with custom attributes and track the performance of your outreach campaigns. The fact Hunter.io also allows you to set up and schedule follow-ups mean you can again save precious time.
---
Productivity Business Consultant Tools
One of the best things about being an independent consultant is flexibility. You own your time and choose the projects you want to take on. You're in total control.
But there is also a downside…
With no one to supervise you, losing focus or procrastinating is easy. No more, though. Here are the best productivity tools for an independent consultant to stay on track and meet every deadline.
One of the more difficult parts of being an independent consultant is handling multiple websites and accounts at once. This also means you'll have access to a lot of client passwords that you need to keep safe.
You can use 1Password to create a usable database of client credentials, securing your logins. How? When you use a specific username or password combo, 1Password will bring it up for you automatically. But you have to be logged in and use the browser extension for this to work.
1Password also boosts security, ensuring all sensitive information stays protected always.
Keep your client passwords on different vaults. Delete all information with a single click when a project is over. You can also add and remove people to ensure your passwords are never on the loose.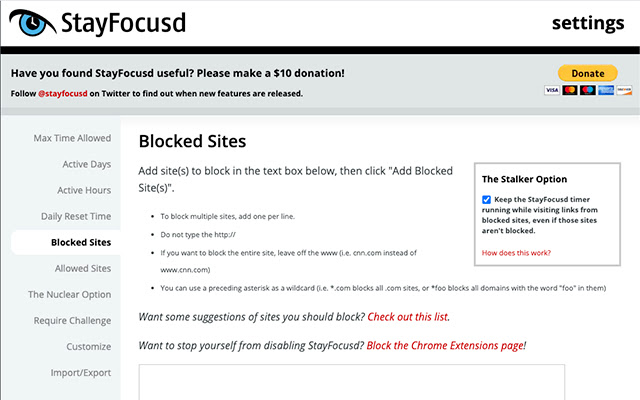 You're at your desk and have the best intentions to finish that one task. One hour later, you're still surfing Twitter or Instagram, and your work progress is zero. Embarrassing.
StayFocusd is a browser extension that blocks your access to distracting sites during work time to boost productivity. Although a bit extreme, it's a no-willpower-needed solution that lets you focus on the task assigned.
If you don't want a complete cut-off from your favorite distracting sites, you can limit access. Set a specific amount of time you can spend on that site every day.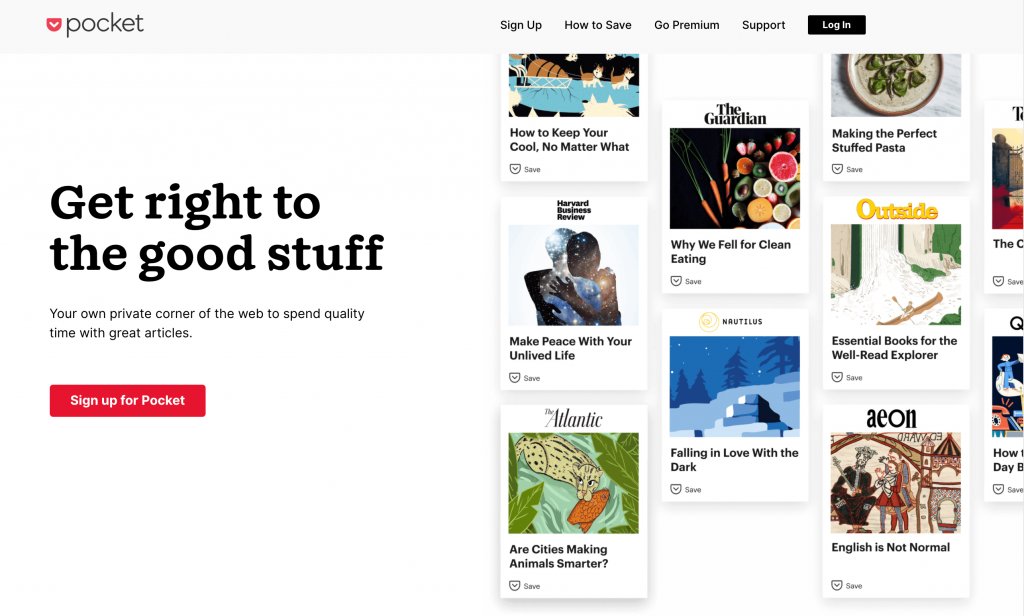 When working or browsing the internet at random, you often come across articles, links, and videos you like to refer to later. You may find an interesting article that can help your clients get better results. Instead of committing it to your memory or bookmarking it, you can save it to Pocket.
Pocket is like your own private corner of the web, where you can save useful resources for later.
I like its interface that lets you keep track of your saved links, documents, and videos. All the data is displayed in a pared-down, ad-free interface that can be viewed as a list or a grid. This gives you a clean and consistent reading experience across all devices.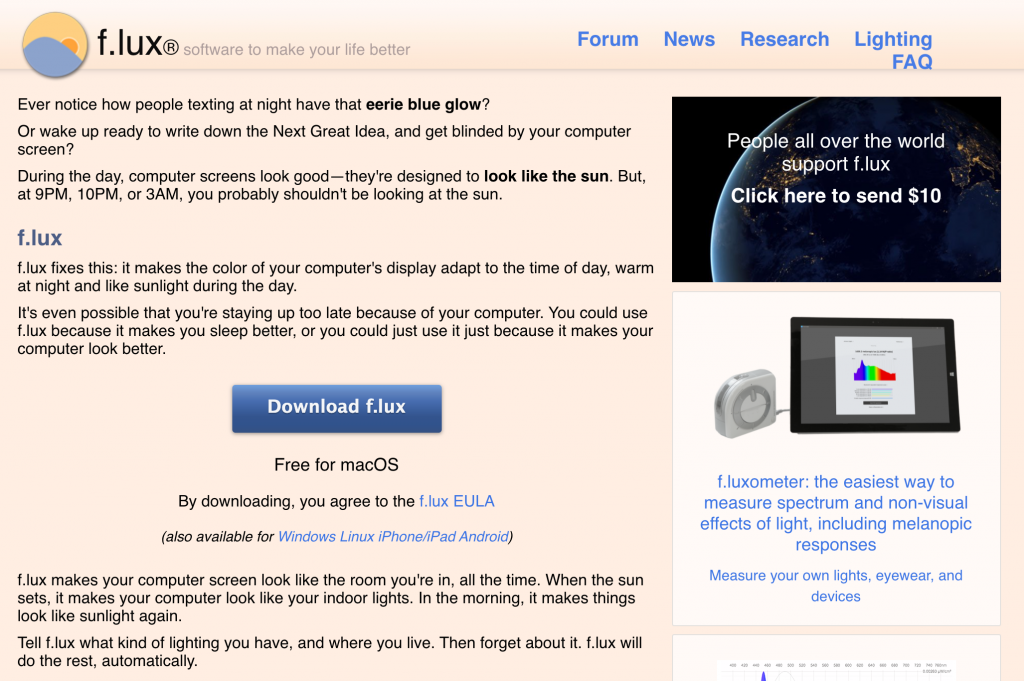 With teams going remote, you're likely spending a lot of time in front of your computer. The problem is that with growing screen time, eye strain is always a concern.
If this is you, you should definitely try f.lux. It's a free tool that turns the screen brightness down to a dull yellow tone to reduce screen glare. The good thing about this tool is it changes the light settings to reflect the room you're working in.
f.lux uses your location information and then based on sunrise and sunset, automatically adjusts your screen settings. There are also options for Dark Room and Movie Mode for a more personalized experience.
---
Proposal Business Consultant Tools
Cold emailing works. No surprise here. But your business development toolkit has to be much more expansive if you want to succeed. To expand (or add to) your clientele, you'll have to regularly make proposals displaying your value and expertise.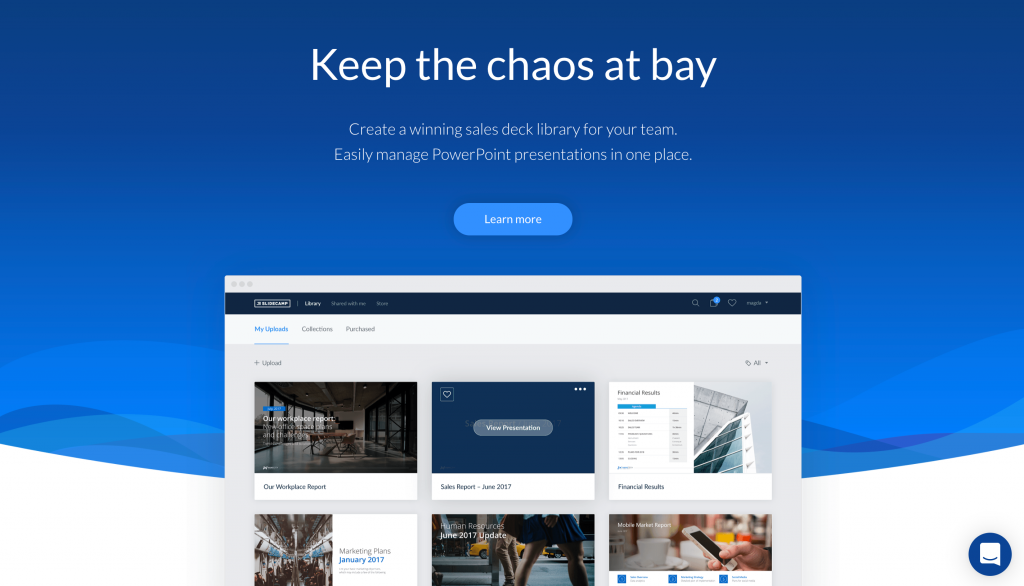 One of the best ways to convert clients is to make things convenient for them.
If your consulting service is easy to explain, walk your clients and prospects through your proposal using a video. No need to spend time on calls or give in-person sales presentations. Plus, SideCamp's dashboard reporting provides insights to identify which presentations trigger the highest engagement.
Pretty amazing, right?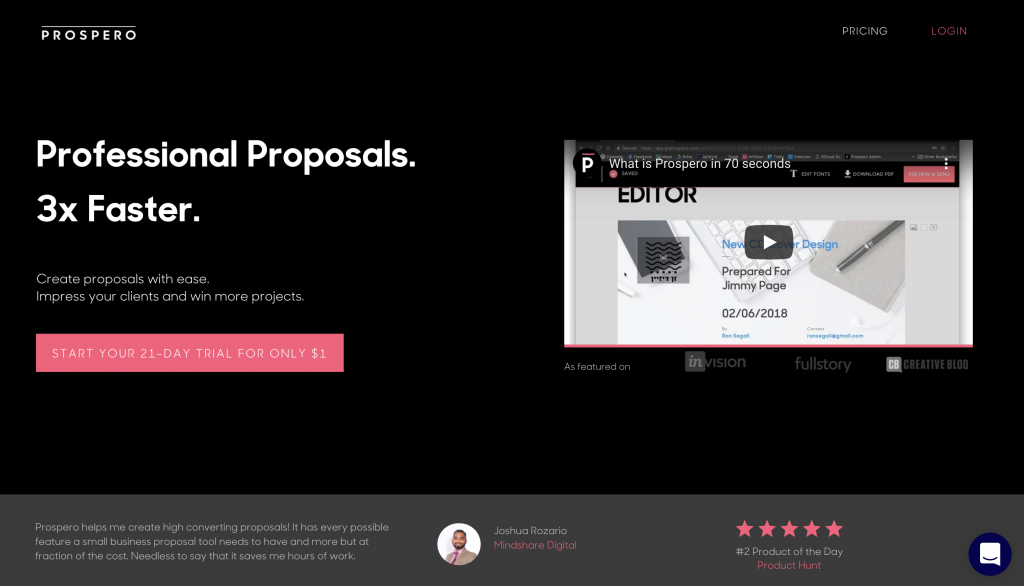 Prospero lets you create proposals and price each project. What I like best about this proposal tool is its simplicity.
Once you start a proposal, Prospero will ask you a series of questions related to your rate, estimated time to complete the project, and the nature of your work. Note: Prospero covers web and app design in addition to print and branding proposals. Based on the information you feed in, it'll help you create a proposal with ideal pricing.
---
Finance Business Consultant Tools
Independent consultants are responsible for their own finances, including budget management receiving payments, and tax filing. Below, I've compiled a list of tools that will make this part of the job easier.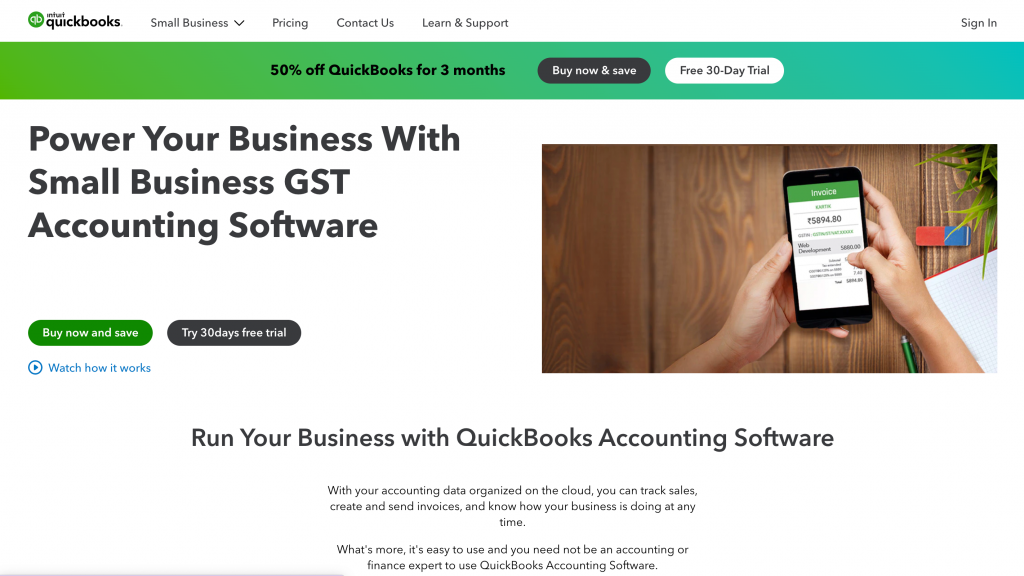 You've already heard about QuickBooks. That's how popular it is.
It's an accounting software tool that connects with your bank accounts to help you track your income and business expenses. Besides bookkeeping, you can also use QuickBooks to manage and pay contractors or yourself and track quarterly tax payments.
Sole proprietors can use a separate product called QuickBooks Self-Employed to separate personal and business finances.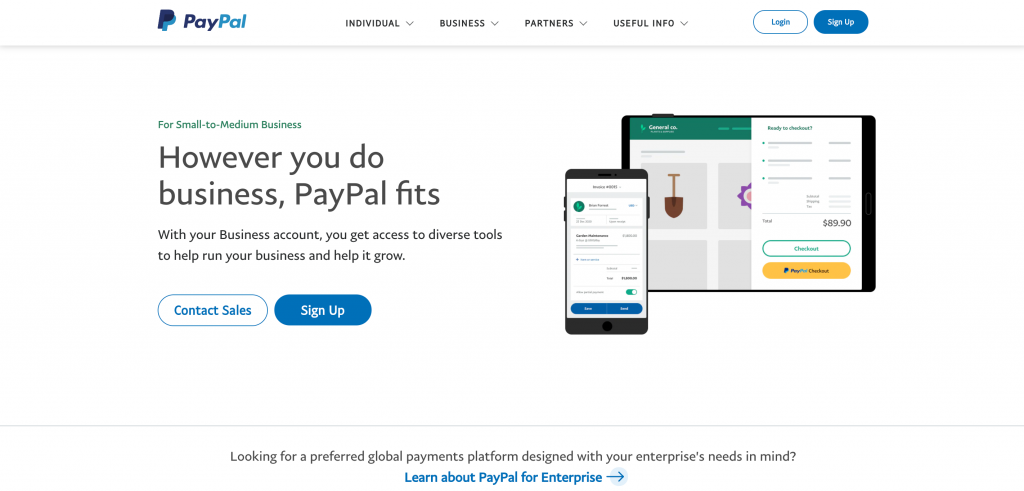 If you plan to work with clients globally or are already doing so, you'll likely want to avoid bank transfers. Not only do they cost a lot in fees, but money can also take a long time to arrive.
That's where PayPal comes into the picture. A flexible method to get paid, PayPal is available in over 200+ countries and supports 25 currencies. You can send and receive payments without having to worry about security.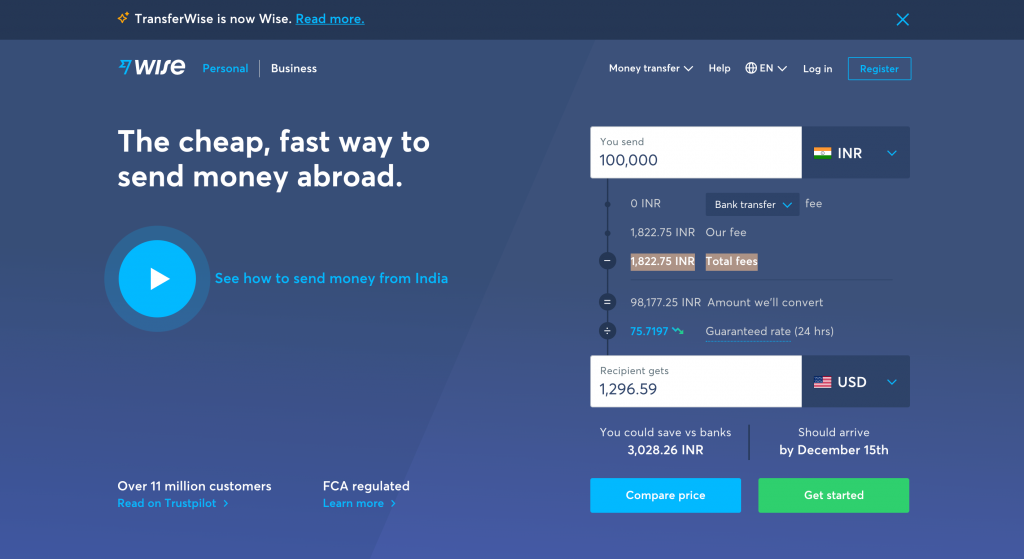 PayPal is great, yes. But while PayPal's transaction fees are reasonable for small transactions, when handling larger transactions, the transaction fees can get quite pricey. These fees can eat up a big part of your paycheck, sometimes hundreds of dollars on a single transaction.
You can save money on those fees by using Wise, where funds go through a local bank account. This means you can use the real-time exchange rate to send or receive payments while avoiding bank charges.
Wise is much cheaper than PayPal. If you deal with international payments often, use Wise's borderless account to get paid like a local and use multiple currencies.
---
Are You An Independent Consultant? What Tools Do You Use?
Using the right professional tools for independent consultants will make scaling your business easier. You can save time, maximize performance, and ensure better client relationships—all by getting and implementing the right tools.
What do you consider the best professional tools that every independent consultant should use? Let me know below.
Try Simply Schedule Appointments
Love it or get a full refund within 30 days!