Acuity Scheduling is intuitive appointment scheduling software that offers users a real-time view of your available time for your customers. But it's limited when it comes to WordPress.
Acuity Scheduling turns 15 this year and its design and capabilities haven't kept pace compared to the newer appointment scheduling plugins like Simply Schedule Appointments. As a result, the booking process for WordPress users becomes slower and a tad… tedious.
Read on as we list our top picks of the best Acuity Scheduling alternatives for WordPress that make appointment booking seamless and easy.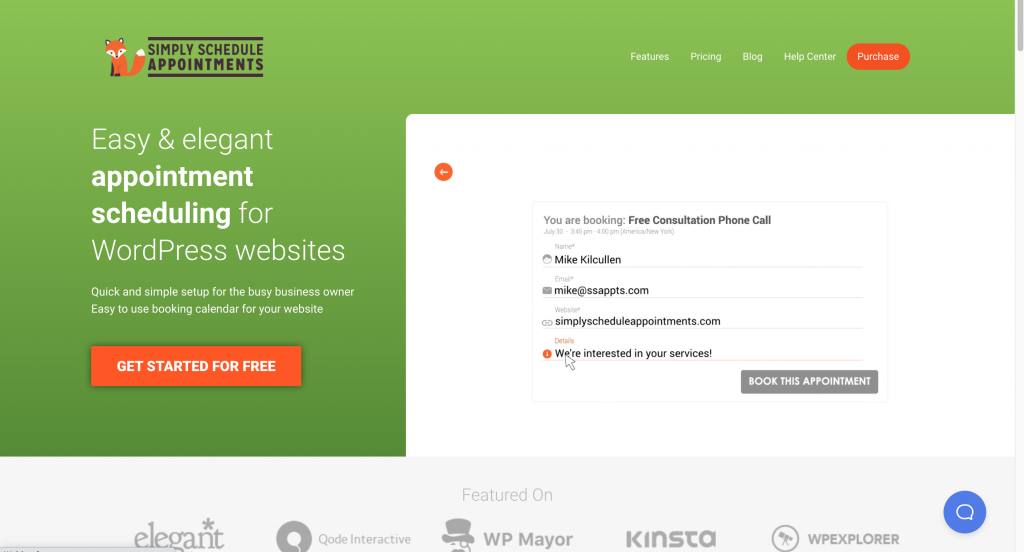 If you're looking for an agile tool that can handle just about anything you or your customers throw at it, Simply Schedule Appointments is all you need.
It can support an unlimited number of appointments, users, and appointment types on every plan, making makes it one of the best Acuity Scheduling alternatives for WordPress for all types of businesses.
The plugin offers deep integration with WordPress. Your logged-in users don't need to enter their name an email address every time they want to schedule an appointment with you, and you can easily show your users their upcoming appointments right on your own site. You can also integrate with other WordPress tools you might already be using like Gravity Forms, WP Fusion, and Formidable Forms.
It also means it's a snap to build a great looking scheduling page thanks to seamless integrations with tools like Divi, Elementor, and Beaver Builder.
Simply Schedule Appointments is a great fit for beginners to advanced users. First-time users will be impressed that they can get their appointment scheduling set up in less than 5 minutes. At the same time, Simply Schedule Appointments is powerful and customizable in the hands of seasoned developers.
It has a user-friendly interface that helps you manage your schedule optimally. The booking form is highly customizable so it can blend seamlessly into your theme and allows you to create a visually appealing schedule for your visitors.
While Acuity Scheduling allows you to display your availability and allows your customers to book on your site, that's as far as the WordPress integration goes. You'll still have to log into their service separately to manage your availability, appointments, update settings, and so on.
In contrast, Simply Schedule Appointments puts everything in a single spot. All of your appointments, availability, vacation days, settings, etc. are right there in WordPress, saving you time and helping make things more efficient.
What's more, you can set up unlimited email and SMS confirmations, reminders, and notifications to ensure your customers don't forget about their booking.
Pricing
Simply Schedule Appointments pricing tiers include:
Plus Edition — $99 per year
Professional Edition — $199 per year
Business Edition — $299 per year (unlimited team members)
Test drive the tool with no risk, thanks to a 30-day money-back guarantee on all plans.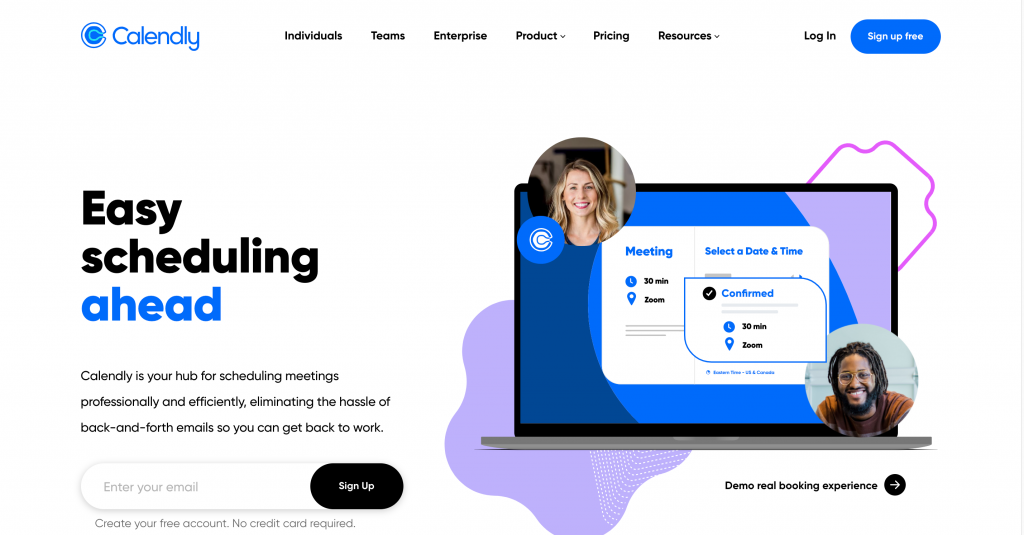 Calendly is a popular appointment scheduling app designed for small teams and entrepreneurs and is our second choice for the best Acuity Scheduling alternatives for WordPress.
All you need to do is set your availability preferences on Calendly and share your scheduling link via email or embed it on your website. Your calendar is auto-updated as visitors start scheduling meetings with your business.
To ensure you don't get double-booked, it offers third-party integrations with popular applications like iCloud, Google Calendar, Office 365, and Outlook. Customers can also schedule group meetings, one-on-one sessions, and round robin-style appointments as well.
Calendly's security, though top-notch, has certain caveats.
The plugin doesn't store personally identifiable information, and nor does it access your information or read your emails. While this helps win the customer's trust, you won't have access to any prospect information.
Compared to Acuity Scheduling, Calendly has more simple and straightforward features. Because of that, the learning curve isn't as steep, making it suitable for teams with limited technical knowledge.
Same-day customer support to ensure quick and efficient service is another significant plus point.
Pricing
Calendly has plans for two categories of people: Individuals and Teams.
Under Individuals, you get three plans:
Basic — Free
Premium — $8 per team member per month
Pro — $12 per team member per month
Under Teams, you get the Enterprise plan suitable for large businesses looking for advanced security, control, and support requirements. To learn more, you'll have to contact the sales team for a customized quote.

Bookly can automate the booking and online scheduling of your services, saving you a lot of time. It's a fully customizable and responsive plugin with a sleek and visually appealing front and backend design.
The plugin is a good choice for businesses offering professional services, such as salon appointments, tutoring, and health and wellness checkups. To book appointments, users have to select a service, choose their desired time and date, enter personal details (name, phone, email), and make a payment.
One of Bookly's biggest USPs is it lets you create custom pricing and availability for different employees.
Suppose you own a professional development institute. Each trainer or teacher can set their own rates. Visitors can then choose the trainer or teacher they want from a drop-down menu when booking a class.
Similar to Simply Schedule Appointments, you can also set up automatic text and email notifications with Bookly. These notifications will remind both the staff member and the customer about their upcoming appointments. Another option is to set up recurring appointments. Your customers will get added to a waiting list pending cancellations, attached files, and rate your services.
Bookly processes payments or deposits as well. This ensures you don't miss out on earnings because of no-shows or last-minute cancellations. If you don't want to force customers to pay in advance, you can set an option to make the payment on the day of the booking.
Pricing
Bookly has a unique per-feature pricing model. It's available on a perpetual license at $89. While you don't get a free trial, it does offer a free version.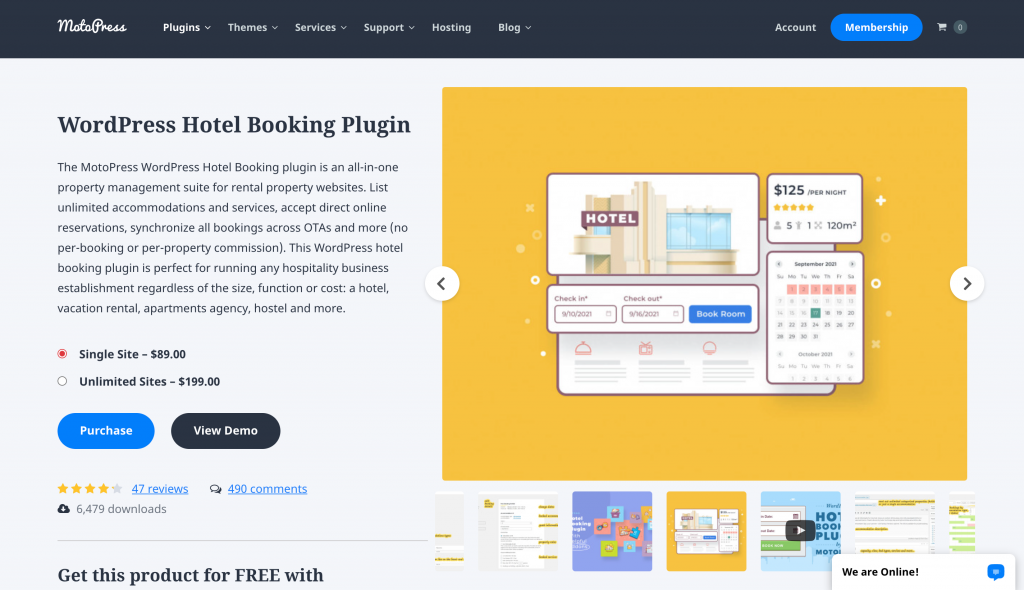 If you're looking for a booking plugin for your hotel or vacation rental, look no further than MotoPress.
Rental property websites can use this fully integrated property management tool to allow users to synchronize their bookings across multiple online travel agencies, list unlimited services and accommodations, and accept online reservations. All accommodations can be fully customized by adding certain amenities like price, bed size, sleeping capacity, and more.
The good thing about MotoPress is that it lets users manage multiple properties and presents guests with sorting options to help them find the best fit for them.
We particularly like the dynamic season pricing feature that lets you regulate your pricing, depending on the time of the year. In addition to increasing or decreasing rates, you can create different price points depending on the length of a guest's stay at your property.
Lastly, MotoPress's availability calendars are color-coded to make booking easier for visitors. You can create fields for check-in and check-out dates, as well as for the number of adults and children. Visitors can also book multiple accommodations with a single booking placement.
Pricing
MotoPress costs a annual fee of $89 for a single website and $199 for unlimited sites.
If you create a MotoPress membership, you'll get the Hotel Booking Plugin for free. Based on what you choose, MotoPress memberships cost $249 yearly or a one-time payment of $699.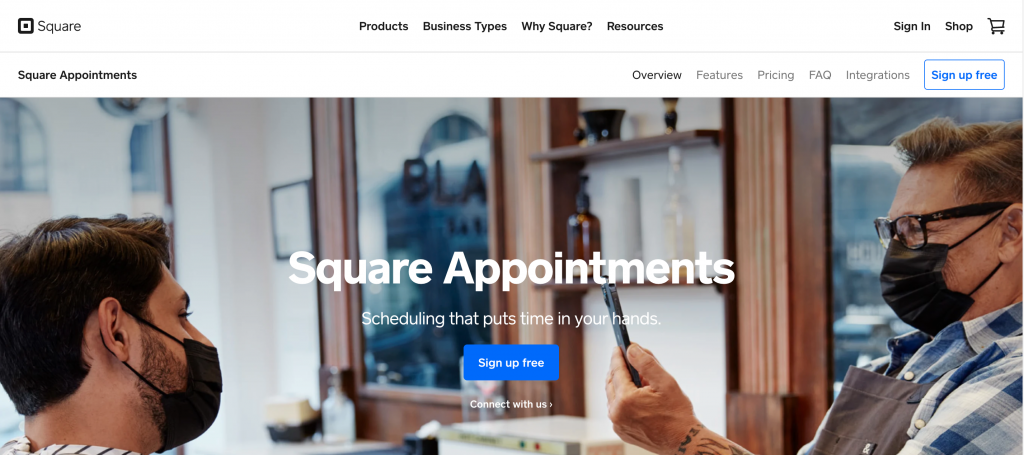 You can use Square Appointments to manage your business on your desktop computer or your iOS and Android devices. It comes packed with well-rounded features that include tools for effective calendar management and for selling complementary products.
You can offer customers different ways to book appointments online, such as setting up a free online booking website, creating a custom website with Square Online, adding a booking widget to your existing website, or embedding your appointment calendar to your existing website.
Square Appointments can sync with Google Calendar, allowing you to customize your availability and manage clients directly from the app. Recurring clients is another unique feature that lets you keep a card on file for all your regular customers.
The plugin also has a unique client management feature.
Import your customer contact list into Square Appointments as a CSV file and save detailed profiles containing each customer's personal details, appointment schedules, personal history, and credit card information. You can also add personalized notes to each profile to remind you of their preferred services.
Square Appointments has an amazing range of features and customization options. But is somewhat limited when it comes to flexibility and add-ons. If you don't mind the lack of integrated forms or widget and brand customization options, you can give this plugin a shot.
Pricing
Square Appointments had a non-traditional pricing structure designed based on how many staff calendars you need. While 1 staff calendar has zero monthly fees, plus 2.6% + 10¢ in-person processing fee, 10 staff calendars involve a $90 monthly subscription, plus 2.6% + 10¢ in-person processing fee.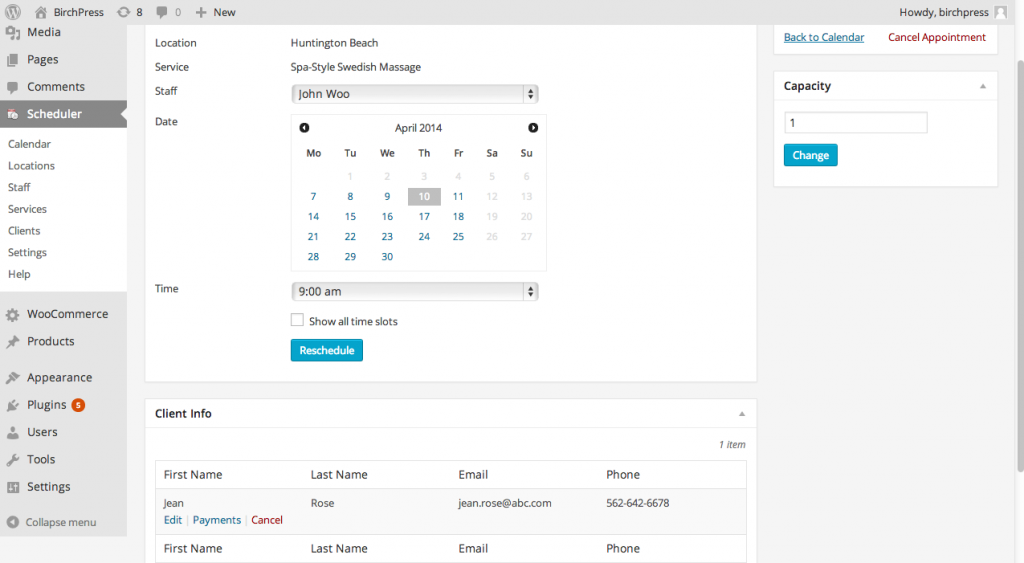 Next on our list of the best Acuity Scheduling alternatives for WordPress is BirchPress.
With BirchPress, you get a built-in form editor and the ability to embed your form on your web pages via shortcodes. Sync the plugin with your online calendars, such as Google Calendar and iCal, to stay on top of your schedule and availability.
The entire process of scheduling and keeping up with appointments can be done right in your WordPress dashboard.
BirchPress can integrate with PayPal and other payment gateways like WooCommerce. So your clients can pay you as they book an appointment without extra hassle. You can easily process payments without having to depend on other third-party payment gateways.
BirchPress makes an excellent Acuity Scheduling alternative because of its handy holiday blocking feature that lets you block dates that you're unavailable throughout the year. You can also customize appointments to your needs by configuring signup forms.
Other useful features include advanced customization capabilities, group bookings, and automated reminder email notifications. You can also send emails to your client whenever an appointment has to be booked, rescheduled, or canceled.
BirchPress would make a great fit for those working in the automotive, healthcare, fitness, salon and beauty, and health and wellness space.
Pricing
BirchPress offers three pricing plans to cater to diverse needs. These include:
Personal — $99 per year
Business — $199 per year
Business+ — $249 per year
There's also a one-month money-back guarantee. If you don't like BirchPress, you can always get a refund.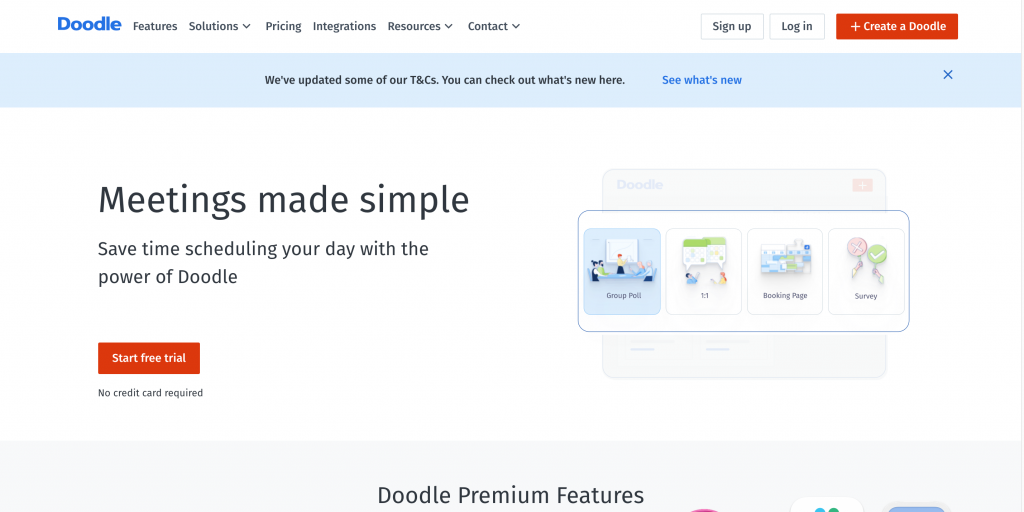 Another Acuity Scheduling alternative for WordPress, Doodle is designed to cut down on the back and forth associated with scheduling appointments with multiple people at once.
At its core, it's a polling app that allows you to block off days for personal and professional reasons, as well as business commitments. Pick the date and time options, and then crowdsource to find an appointment that works best with everyone's schedules. What's more, your invitees don't have to create a Doodle account to participate in the poll. Alternatively, you can send out a personalized link to attendees, where they can request a meeting based on your availability.
As the meeting host, you have to provide specific details, such as a topic of discussion, meeting location, and timing. Follow this up by opening the available time slots to hold a meeting and send out email invites for participants to respond.
It can easily integrate with and update all popular calendars, meaning you don't have to maintain two different schedules or worry about things falling through the cracks.
The fact Doodle integrates with popular email providers and commonly used applications like Zoom, Slack, and Zapier further simplifies the process. You can also see multiple meeting times at once, which considerably simplifies organizing meetings and helps you better understand when the majority of the invites are available.
Pricing
Doodle's pricing tiers include three plans:
Pro — $6.95 per month
Team — $8.95 per user, per month
Enterprise — Request for a personalized quote
You can opt for their 14-day free trial to get a feel of the tool. No credit card information required.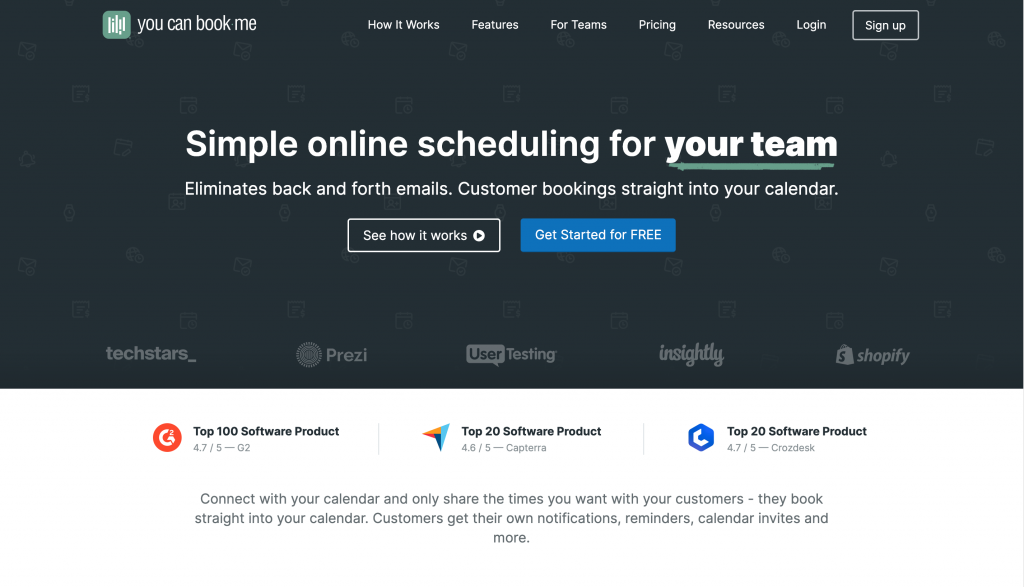 YouCanBook.me is a web-based scheduling tool that makes it easier for you to plan interviews with clients and exchange messages.
It allows customer booking straight into the calendar and can integrate seamlessly with iCloud and Google Calendar. Additionally, the plugin offers a personalized scheduling page that helps customers book their appointments easily and also notifies them when the appointment time arrives.
The setup is pretty simple too. All you have to do is connect Google or iCloud Calendar to the YCBM account and choose the right features. You can then control your availability through the calendar and publish the new booking grid to your website, Facebook page or send it by email.
Super convenient, right?
As soon as a visitor makes a booking, YouCanBook.me will send you an immediate notification, and the booking will also pop straight into your calendar. Customers can reschedule their bookings as needed as well, which will automatically update your calendar.
You can collect any information needed when the customers book and host virtual meetings, thanks to integrations with apps like Zoom by sharing the conference link. Adding location details for face-to-face meetings is also possible.
Other features include configurable booking forms, personalized booking links, customized calendar events, and SMS and email notifications.
Pricing
YouCanBook.me has a simple pricing structure based on the number of calendars you use. It starts from $10 per calendar per month. A 14-day free trial is also available.
Acuity Scheduling Alternatives for WordPress
We hope this guide helps you zero on a reliable and easy-to-use Acuity Scheduling alternative that can streamline your appointment scheduling process.
Simply Schedule Appointments and Calendly are our top recommendations, but you can consider other tools on our list to maximize your productivity. To make the right choice, figure out your requirements and budget, and then choose a tool that fits the bill perfectly.
Try Simply Schedule Appointments
Love it or get a full refund within 30 days!