When2Meet is like a virtual middleman that can create events, send out invites, and identify appropriate time slots to hold meetings. But since it doesn't have many advanced features, many users want something a little more advanced and intuitive.
An efficient meeting isn't only about what occurs during the meeting but also what happens before, choosing the right appointment and meeting scheduling app is incredibly crucial. You need a tool that makes it easier for your customers to book appointments online, re-schedule and rearrange on short notice, and manage schedules appropriately to save your time.
In this Simply Schedule Appointments guide, we'll list eight of the best When2Meet alternatives that are highly advanced and efficient to help you control your schedule.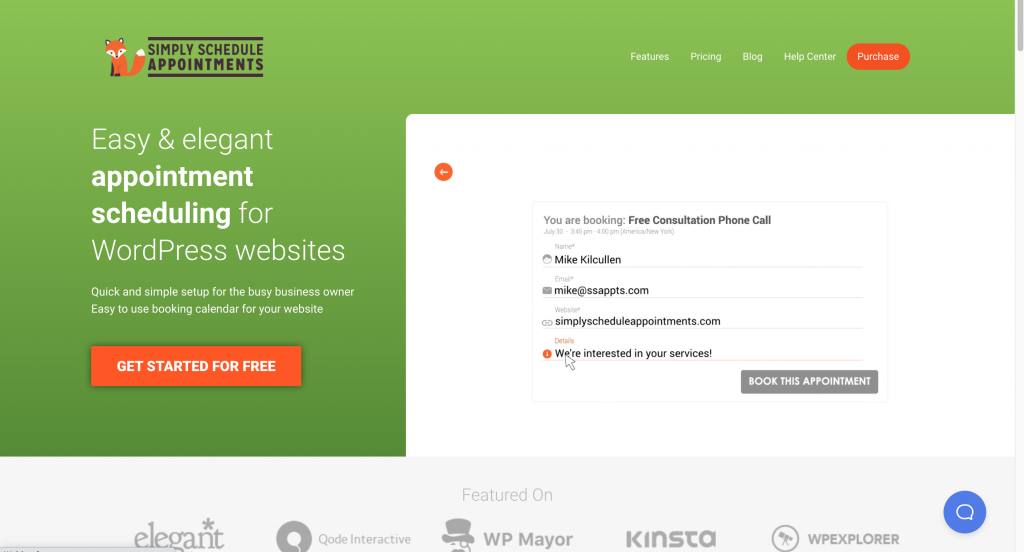 This isn't just us tooting our own horn, but we've earned our place on this list.
Simply Schedule Appointments is a powerful scheduling plugin. You can use to easily manage all your service appointment requirements. With its clean customer-facing interface, your website visitors can choose from a predefined list of services with available times and dates. Exactly why it's one of the best When2Meet alternatives you can get your hands on.
The direct benefit? No more back-and-forth for you or your client to find a time.
Once they're ready to book their appointment, SSA will capture all the information to make the process totally hassle-free on their end. What's more, the fact that all your appointments and calls are recorded in the same place will help you organize your day better.
And that's just scratching the surface!
This amazing WordPress scheduling tool offers 20+ seamless integrations. You can sync with Google Calendar, take payments with Stripe and PayPal, and tons of other popular apps to build customized workflows. Moreover, the interactive setup wizard is super easy to use and can set up an appointment within five minutes flat.
Lastly, you also get same-day customer support. Our five-star reviewed customer support team assures prompt and efficient service always.
Key Features
Connect to all your calendars
Control your availability
User-friendly admin dashboard
20+ seamless native integrations
Integrate with 3,000+ apps through Zapier
Same-day customer support
Goals and conversions tracking facility
Own your data
Translation-ready
Easy styling options to match your site
Pricing
Simply Schedule Appointments pricing tiers include:
Plus Edition — $99 per year
Professional Edition — $199 per year
Business Edition — $299 per year (unlimited team members)
You can also test drive the tool with no risk, thanks to a 30-day money-back guarantee on all editions.
If you have a WordPress site, Simply Schedule Appointments is the obvious choice.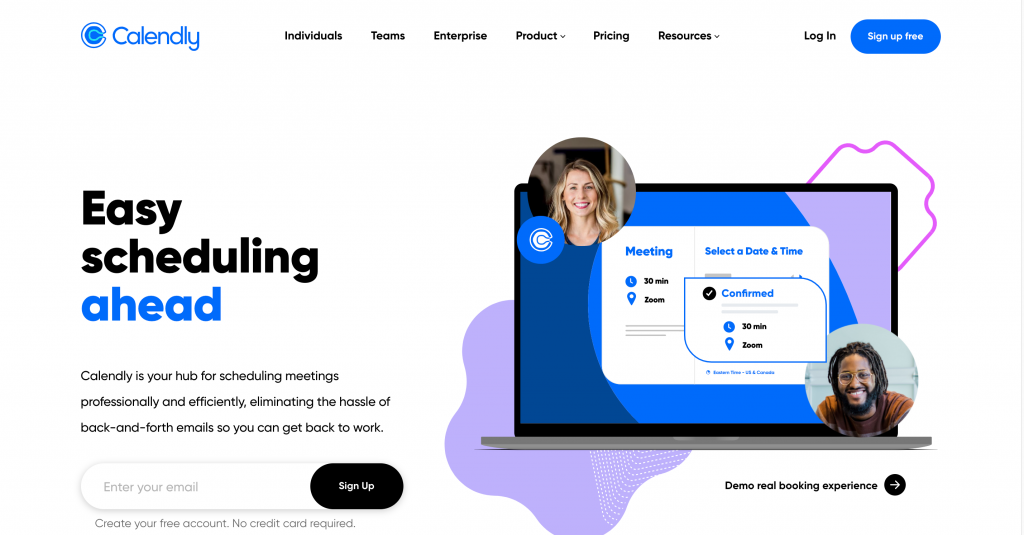 Calendly takes the second spot on our best When2Meet alternatives list. If your site isn't on WordPress, Calendly is a great option. You can use it to create your own calendar rules and share the link to your scheduling page, allowing your clients to start setting up their appointments.
Calendly is a good option for individual professionals like recruiters, teachers, entrepreneurs, salesman, and personal trainers. This is because it's capable of holding all kinds of meetings, like one-on-one, collective, round-robin, and group meetings. The tool also gives you access to a wide range of functionalities to streamline workflows. This includes centralized billing, buffer time, intelligent time zone detection, among others.
Another interesting thing about Calendly is its scheduling limits feature. You can set certain restrictions to prevent double-booking or similar mishaps. For instance, you can make a rule that prevents people from booking an appointment with you less than a few hours before the time.
Key Features
Connect to all your calendars
Control your availability
Set the right meeting for the right goal
Several third-party integrations
Pricing
Calendly has plans for two categories of people: Individuals and Teams.
Under Individuals, you get three plans:
Basic — Free
Premium — $8 per team member per month
Pro — $12 per team member per month
Under Teams, you get the Enterprise plan that's suitable for large businesses looking for advanced security, control, and support requirements. You have to contact the sales team for a customized quote.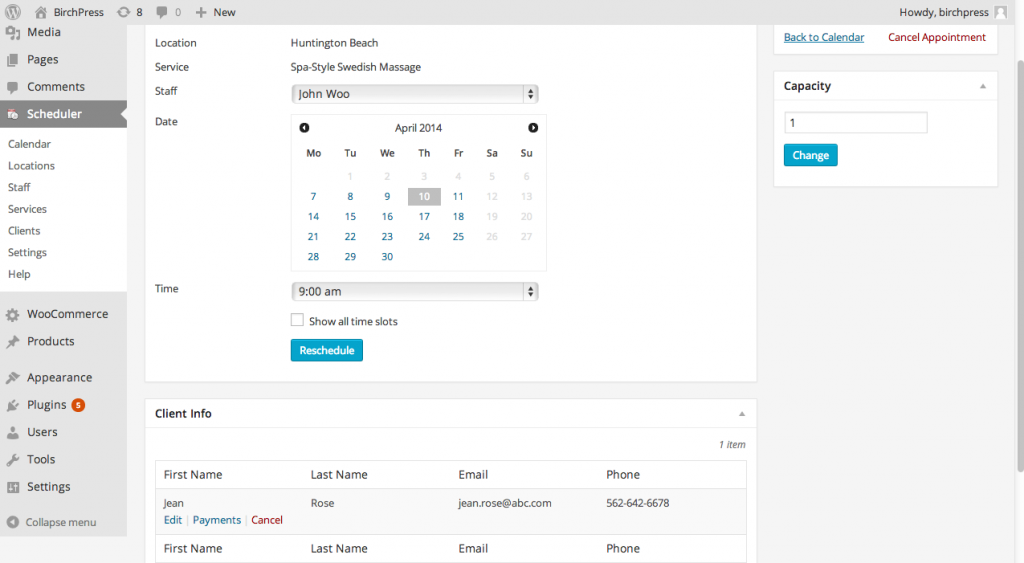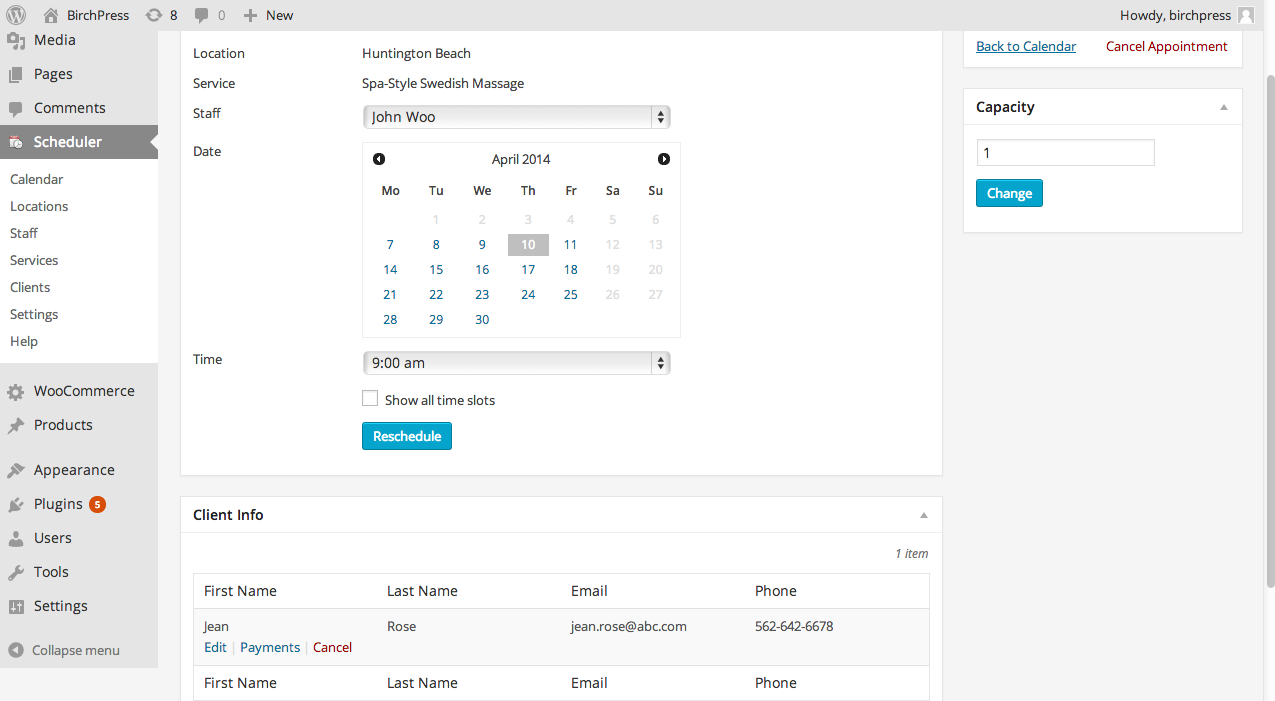 BirchPress is another top choice to consider if you're looking for When2Meet alternatives that make payment processing hassle-free and secure.
This tool is a modern booking system, which can be embedded into your WordPress website or post. It can integrate with PayPal and other non-traditional gateways like WooCommerce. This will permit clients to pay when they book appointments in a few simple steps.
What's more, you can use BirchPress's incredible holiday blocking feature to block the dates you're unavailable for booking throughout the year. Further, it can integrate your booking calendar with any other calendar you use, such as Google Calendar, Android, iCal, and Outlook.
BirchPress can be a viable option for users in the health and wellness, fitness, salon and beauty, and automotive niches. It'll always keep you on top of things by sending reminders and emails when someone schedules, changes, or cancels an appointment. This is very useful for promoting unparalleled efficiency.
We also like how this tool lets you customize appointments to your needs by configuring signup forms.
Key Features
Automated email notifications to staff and clients
Cancel/Reschedule appointments by customer
Set booking availability for a specific time period
WooCommerce and PayPal integration
Group booking and reminder mails
Custom booking form based on business needs
Pricing
BirchPress offers three pricing plans to cater to diverse needs.
Personal — $99 per year
Business — $199 per year
Business+ — $249 per year
There's also a one-month money-back guarantee. If you're not completely satisfied with BirchPress, you can always get a refund.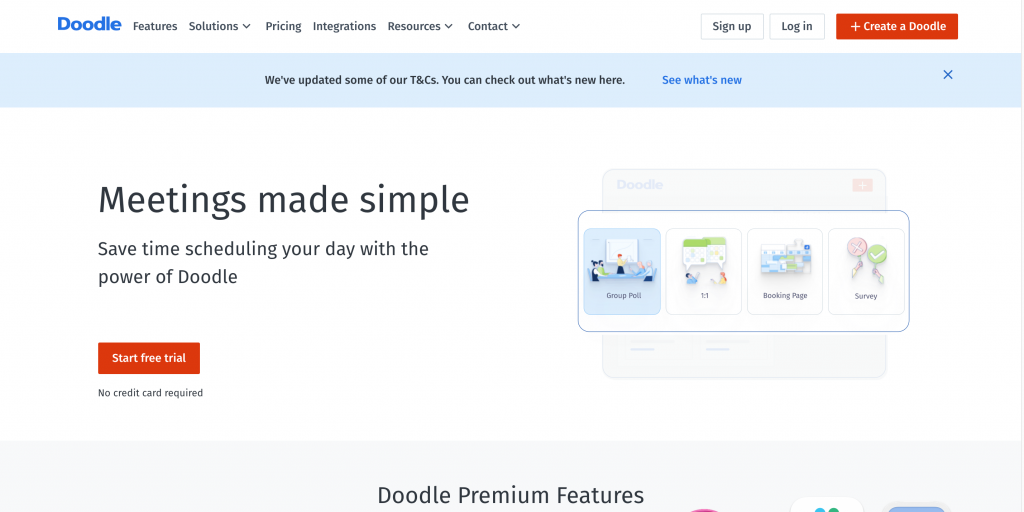 Doodle can take care of all your business and personal events. From booking meetings to arranging family dinners, it makes everything easy and convenient.
Doodle uses a unique polling system to streamline scheduling with several participants. As the meeting host, you'll have to provide appropriate details like the topic of discussion, location, and so on. Then you'll have to open available time slots to hold the event before sending email invites for participants to respond.
Doing this lets you see who's free and who isn't, with a tally of available people.
In addition to polls, Doodle also offers a bookable calendar, surveys, and more. It can integrate with Google Calendar and a few of the most common desktop schedulers.
One of the coolest things about Doodle is how you can see multiple meeting times simultaneously. This, in turn, simplifies the entire meeting organizing process and know when the majority of the invites are available.
Choosing between Doodle and When2Meet is definitely a close call. Precisely why you should pick between them based on your requirements.
Key Features
No-fuss appointment scheduling
Slack integration and customized SLAs
Collaborative scheduling
Create multiple calendars
Basic calendar integration
Cloudflare security and Secure AWS hosting
Pricing
Doodle's pricing tiers include three plans:
Pro — $6.95 per month
Team — $8.95 per user, per month
Enterprise — Request for a personalized quote
You can opt for their 14-day free trial to get a feel of the tool—no credit card information is needed.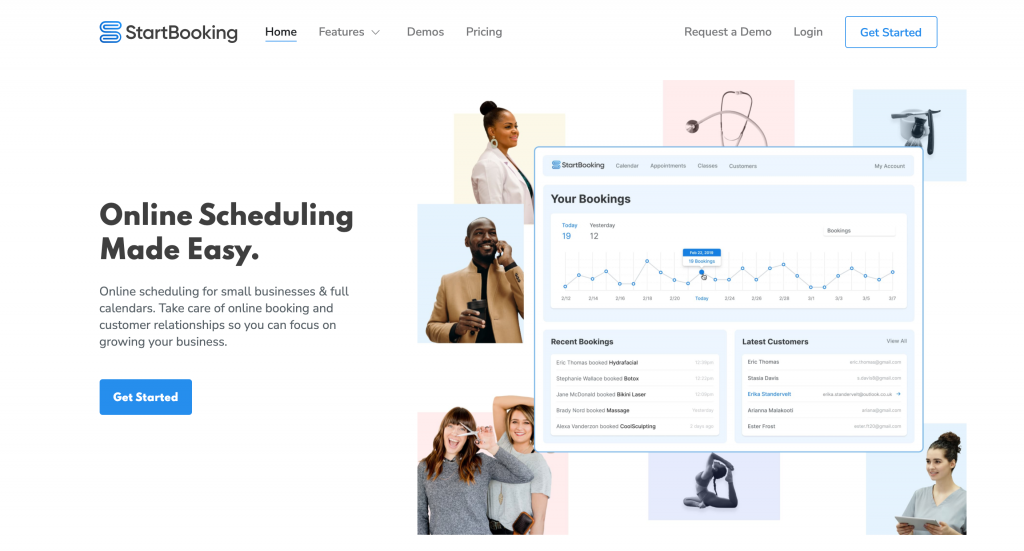 StartBooking is a reliable appointment and booking form plugin. It lets you easily set up appointment and booking forms before adding them to your WordPress website.
You can customize these forms according to your requirements. For instance, you can add your working days and hours, available time slots, let customers choose the staff they want to talk to, add multiple service services and users, and so on.
This isn't only convenient from your viewpoint, but even your customers would appreciate it.
All your appointments are organized on your dashboard once confirmed. In turn, this allows you to view and manage all your bookings from a single place. Moreover, you can integrate StartBooking with Google Calendar, which will initiate multi-device compatibility. In other words, you'll be able to view your bookings on all connected devices.
This tool is an excellent option for WordPress users in the service industry. You can use it to offer a reliable and professional online booking experience to your clients. Plus, you can integrate it with Stripe for easy payment processing to capture online payments when your customers book appointments.
Other features include class and group booking, unlimited appointment management, and clean customization.
Key Features
Integrated and easy-to-use calendar
Individual and multi-user accounts
Classes & group booking
Custom customer profiles
Smart Booking Technology
Powerful integrations with best companies
Pricing
StartBooking currently offers two pricing subscription plans:
Individual — $12 per month for unlimited sites and appointments
Business — $28 per month for unlimited sites and appointments
Again, you can avail of a 14-day free trial before making the final payment.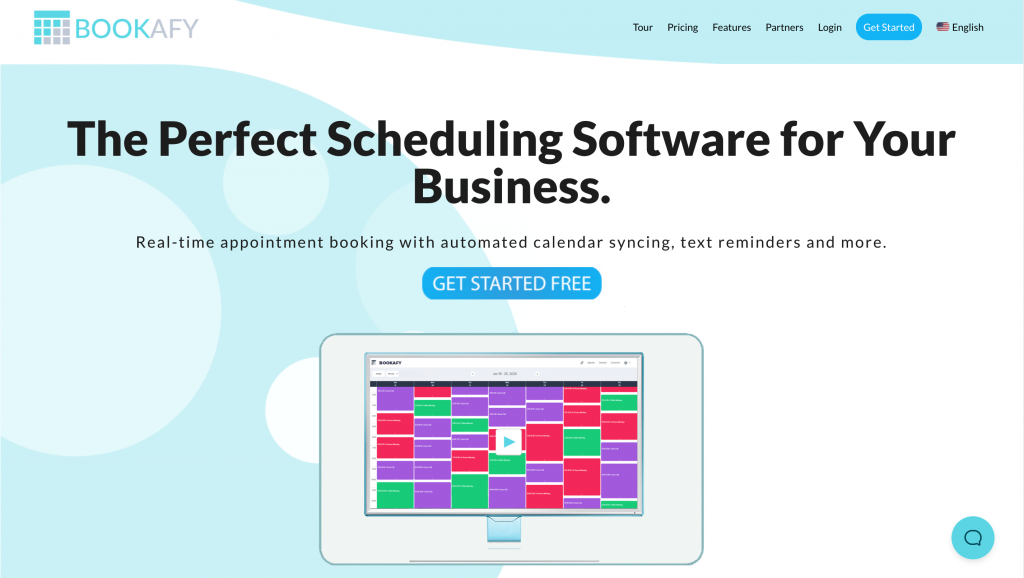 A cloud-based appointment scheduling software, Bookafy is a trusted When2Meet alternative preferred by various industries because of its excellent intuitive design and affordability.
Bookafy is a free service that enables customers to schedule unlimited appointments and types. It provides a time tracking plugin, a booking system, and a calendar sync software—all fitted in one beautiful application.
Yes, we said 'beautiful' since Bookafy's website is just that—in addition to being intuitive. This combination can be particularly useful for your business since not only does it help your branding, but also makes the whole scheduling experience completely hassle-free.
As soon as your customer or colleague schedules a call, they'll get a reminder and text containing all the meeting login details. You can also accept payments whenever your clients book an appointment through the Bookafy interface.
Third-party integrations include Skype, Zoom, Outlook, MailChimp, and several other engagement mobile applications. Syncing client information to your CRM, as well as your own personal calendar, is also possible.
Key Features
Skill-Based scheduling
Multi-User appointments and round-robin routing
Set future appointment limits
Email notifications and SMS reminders
Set meeting buffer times
Show staff availability
Pricing
You can choose from the following three Bookafy plans:
Pro — $7 per month
Pro+ — $11 per month
Enterprise — Request for a customized quote
Bookafy offers a 7-day free trial to users. While we appreciate the demo, it's still considerably short when compared to its rivals.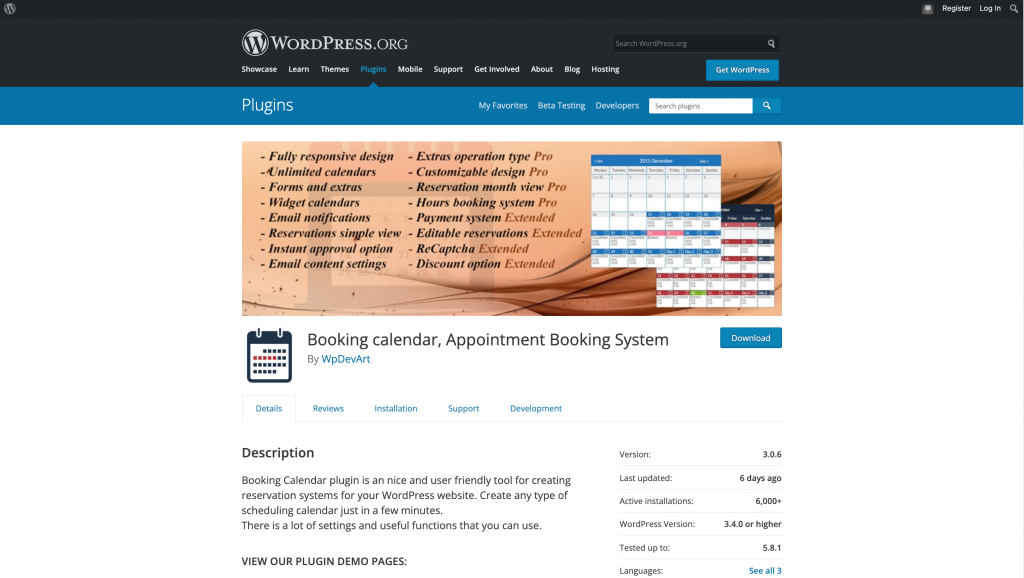 Booking Calendar is one of the more robust When2Meet alternatives.
Your site visitors can browse through your availability and make reservations for specific time slots and days. Or, you can search available properties and services for certain times and dates. After integrating the tool with popular payment gateways, you can set up a system where your customers pay online for their bookings.
Interestingly, Booking Calendar allows you to set different rates for different seasons. So if you charge higher rates during a busy season or for the weekend, you can set rates reflecting that. Setting rates as a fixed cost per day or as percent from the original cost of booking resource is another possibility.
Yet, what we like best about Booking Calendar is how easy it is to manage appointments.
With everything presented on the admin dashboard, you have the option to manually approve or decline meetings. You can also set up email notifications for new bookings and filter and sort appointments using predetermined parameters.
Key Features
Friendly booking interface
Approve or decline bookings
Booking resources
Booking form and availability calendar configuration
Integrations with many payment gateways
Pricing
Booking Calendar offers tons of pricing tiers based on the number of sites you own.
For Single-Site edition versions (Usage on one website)
Personal — $47.40
Business

Small — $89.40
Medium — $149.40
Large — $209.40

Multi-User — $389.40
The prices will increase if you opt for Developer or Multi-Site edition versions, which are designed for usage on two websites and five websites, respectively.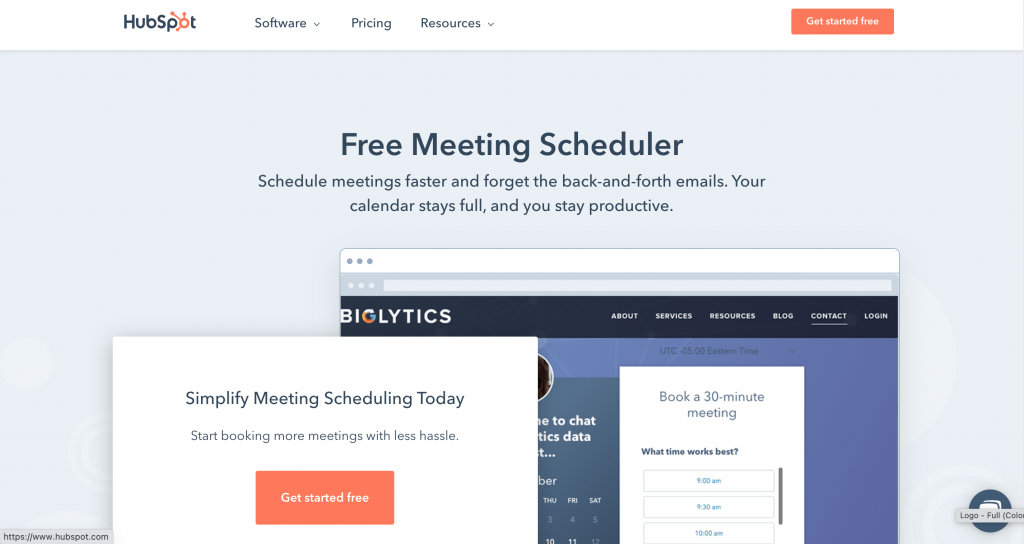 HubSpot Meetings can be a lifesaver for those wanting to save time when it comes to appointment scheduling. This When2Meet alternative can effectively handle all administrative tasks, ranging from customer relations to business to sales. And while it does that, it ensures you never have to play that never-ending game of phone tag.
Like other tools on this list, HubSpot Meetings lets you embed your scheduling link on your business website. Besides this, you can unlock new customization features by using it with other HubSpot software. For instance, you can create customized email templates to streamline workload and decide when to send the emails. You can then track your email marketing metrics too.
It gives customers the option of meeting with more than one person in your company—provided you allow it. This is done through a group meeting link. You may also send prospects that don't have a designated sales rep a round-robin meeting link, which will auto-match them with available sales reps.
HubSpot Meetings can integrate with several other software, including Google Calendar, Office 365 Calendar, Outlook, Gmail, and G Suite.
Key Features
Automated direct meeting scheduling
Group and round-robin meeting
HubSpot CRM, Google Calendar, and Office 365 Calendar integrations
Calendar embedding on website
Email templates and metric tracking
Pricing
HubSpot Meetings is totally free being a part of HubSpot's CRM software.
When2Meet Alternatives Galore!
We hope this guide helps you zero on reliable and easy-to-use When2Meet alternatives available right now.
Although Simply Schedule Appointments and Calendly are our top recommendations, the other tools are also highly efficient and will help you save tons of time and maximize productivity. So irrespective of your choice, you're assured of an excellent scheduling plugin for your WordPress website.
Try Simply Schedule Appointments
Love it or get a full refund within 30 days!