Introduction
Simply Schedule Appointments and Webhooks work together to trigger an action in Automate.io. Automate.io can then integrate with a variety of other apps such as ActiveCampaign, Salesforce, Zendesk, Evernote, and 1000+ others.
Example Use Cases
Send a Slack notification to your employees anytime someone books an appointment.
Add a contact to an ActiveCampaign from booked appoointments
Analyze appointment booked data by integrating with Google Sheets.
---
Setting Up A Webhook Trigger in Automate.io
Start by creating an account on Automate.io. To use their Webhooks feature, you'll need to use one of their plans that includes access to Premium Apps. But, you can still follow along with this tutorial if you're using the Free plan.
Create a New Bot
Once logged in, choose the Create Bot option in your Automate.io Dashboard. You'll be redirected to the Bot Editor screen. You'll need to select the Webhook app as the trigger, this is what we'll use to integrate with Automate.io on our end.
A bot is basically an automated task that you want to be run over and over again between two online apps.
Catch Hook Option for Webhooks
When it asks you to Select the Trigger Event, make sure to choose Incoming Hook, this will allow us to automatically receive the Appointment information and organizes the fields we pass to it.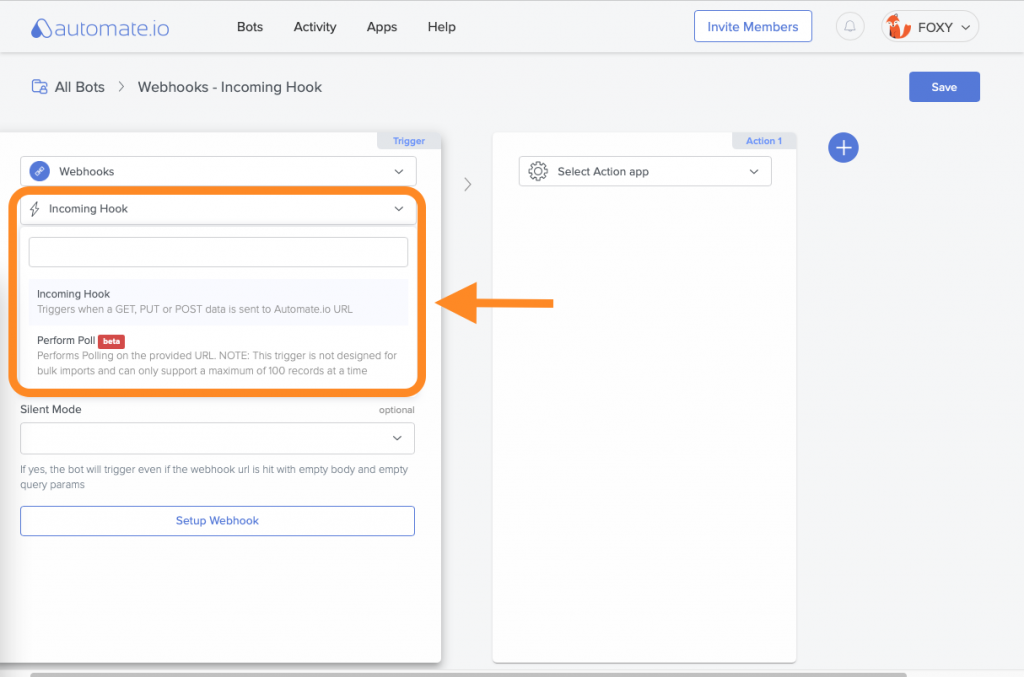 Setup Webhook
Click on Setup Webhook, a popup should appear with the Custom Webhook URL so that we can paste this back into SSA in the following steps.
Don't select the I'm Done button yet!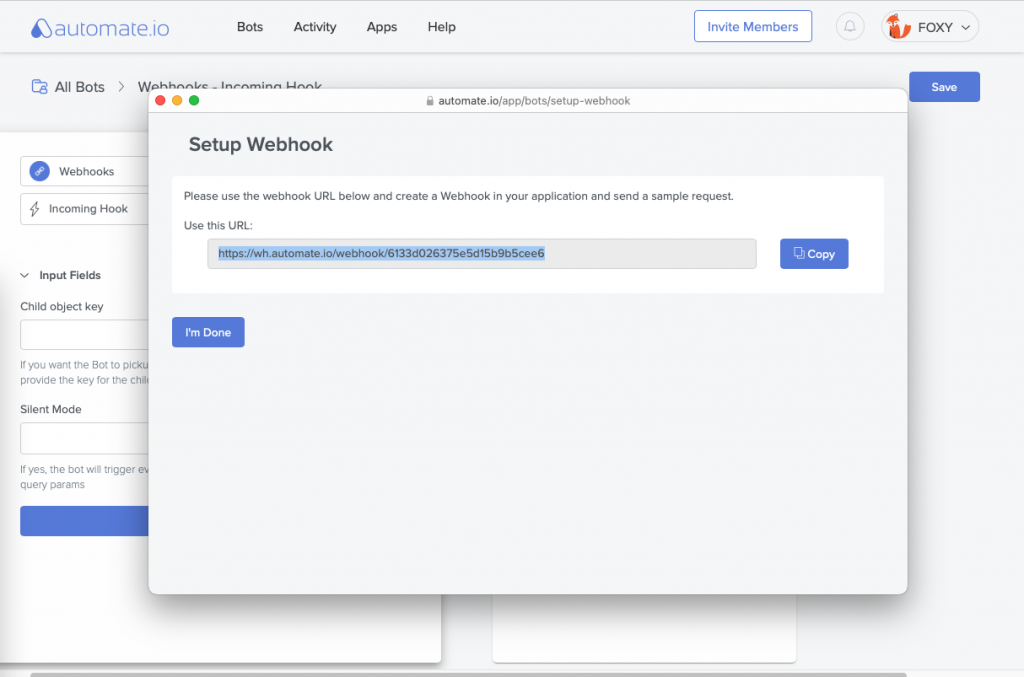 ---
Creating a New Webhook in SSA
Go to SSA Settings > Webhooks. Click the toggle to enable this feature, and then click Edit. On the Webhooks screen, click to Add a New Webhook.
Configure your Webhook in SSA
The SSA webhooks will automatically notify and send Automate.io Appointment information depending on the trigger you choose.
Name: An optional name for you to help keep track of your webhooks.
Token: A unique token you can use to verify the request. To refresh the token, click the refresh arrow on the right-hand side of the token field.
Trigger: Select which actions should trigger this webhook
URLs: The URLs where the webhooks will be sent
Appointment types: Select all appointment types, or select certain appointment types that will trigger the webhook
Pasting the Automate.io Custom Webhook URL into a New SSA Webhook
Under the URLs field, paste the Custom Webhook URL you copied from Automate.io earlier.
---
Finish Setting Up Webhook Trigger in Automate.io
Click on Setup Webhook again. Go ahead and select I'm Done now. This is going to prepare the editor to receive our test webhook and establish the output fields.
Go back to your SSA page and depending on what Trigger you chose for your Webhook, you'll need to set off that trigger. For example, if you chose Appointment Booked, go to your Booking Calendar and book a test/fake appointment.
From there you should see a list of data that got passed over from the appointment that you just booked. Click on Looks Good.
---
Setting Up Action in Automate.io
Lastly, you'll want to customize the new action in Automate.io, in this example I'll be creating a new Trello card whenever someone books an appointment.
Notice that the fields are filled in by Webhooks data that uses SSA Appointment Information. You're able to customize your actions using any of the data that gets pulled in from the payload delivered by the webhook.
Fields like the Name, Start Time, Timezone, Email, Custom Fields, etc… can go here.
Make sure to format your data the way you'd like to see it on your other application. For example, use new lines, dashes, commas, colons, etc…
Double-Check Last Details
In your Automate.io Dashboard, go to the Bots page and make sure your new Bot is ON.
And, that's it! Now you're ready to connect your Appointments to any other application supported by Webhooks 🥳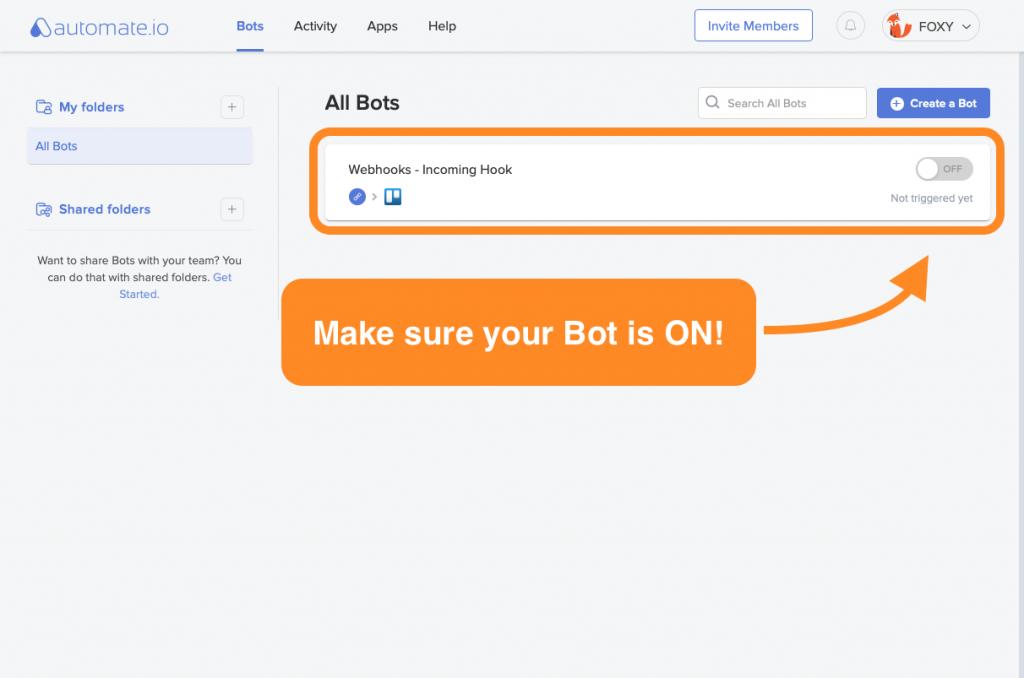 ---
---
Related Guides
---