When we were first thinking about how availability for appointments would work, we envisioned big blocks of time where you'd be available to take appointments, and your customers would be able to book any appointment that fit within that available block.
For example, if your typical workday was 9am-5pm and a customer wanted to book a 30-minute phone call with you, they could book that at any time. This works great for a lot of cases, but we've found as folks have started using Simply Schedule Appointments for more and more different cases that it didn't work for everyone.
The need for specific start times
One issue our customers started running into was the case for longer appointments. If a photographer is offering 2-hour photo shoots between 9am and 1pm, they don't want folks to be able to book a 10am-12pm spot because it fragments their workday and causes 2 hours of time where nobody can book.
Our customers also ran into issues with trying to offer tours that ran at specific start times. So 90 minute tours that were available at 9:30am, 11am, and 12:30pm, would run into similar problems. If they set their availability as open between 9:30am and 2pm, folks could book at 10am and 10:30am, when no tours were set to begin.
Introducing Set Start Times
In all editions of Simply Schedule Appointments, set start times are now an option when editing an appointment type. For each appointment type, you can select between offering availability blocks or you can specify start times that your customers can book.
Now, when you create or edit an appointment type, you'll see a new option available at the top of the Availability section:

When you flip that setting to Specific start times you'll see that the area where you specify the times you're available changes: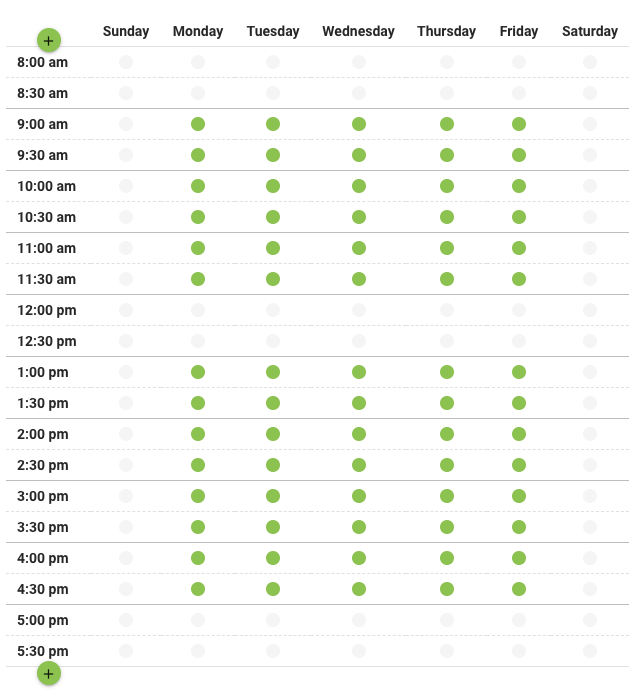 A pale gray circle indicates an appointment start time that is not available for booking. A colored circle indicates a time that is available.
We've also tried to make it easy to make bulk changes to the appointment times. You may click the headings for the time or the day to toggle all the spots in an entire row or column. You can also hold down the Shift key while clicking two start times to toggle all the spots between*.
* Notice Firefox users: Note that shift + click does not work in Firefox because of a long-standing bug in Firefox that prevents toggling a checkbox while the shift key is pressed.
But what about appointments for staff?
We know that many of you are anxiously awaiting the release of support for taking appointments for multiple staff. Getting that ready has meant re-thinking and re-working parts of our plugin, and we are hard at work on that and making progress. Since part of that refactoring process involves making some new features like set start times possible, we wanted to get that out to the folks that need it. Rest assured, it's all part of our upcoming staff feature. We have not forgotten!